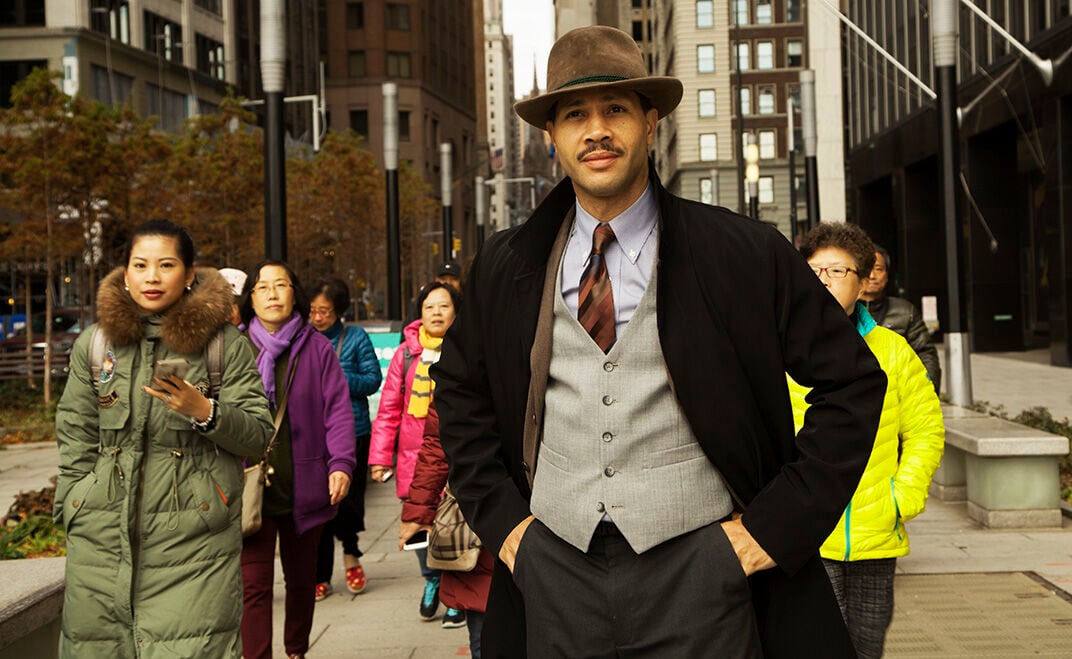 Actor Michael Chenevert remembers deciding which favorite son of Harlem, band leader Cab Calloway or Congressman Adam Clayton Powell Jr., he should work up for an acting exercise.
Both had charisma, talent and celebrity, but when he looked into their stories, it was Powell's that resonated with the 49-year-old actor.
Powell was New York's first Black congressman, elected in 1945 and representing Harlem for nearly 30 years even as he pastored the Abyssinian Baptist Church. While better known for his oversized personality and public controversy, surviving an attempted expulsion from Congress for financial misconduct, Powell worked for civil rights behind the scenes at a time that the much of the South was segregated.
That reminded Chenevert, a Detroit native, of his father, who also had pushed for civil rights. It didn't hurt, either, that others in his father's circles had remarked that Michael looked like Powell. "(Powell's life) hit the core of my being. It reminds me of my dad a lot," he said.
The resulting acting exercise didn't stay with his teacher, the celebrated Susan Batson, who encouraged him to take his "An Adam Experiment" to the stage. That led to a performance at Harlem's Apollo Theater and others around the country after Tyrha Lindsey-Warren saw its potential for Black History Month performances and started to produce it in 2018.
The Lindsey-Warren connection brings "An Adam Experiment" to Waco this weekend as part of the Waco Family & Faith International Film Festival that she founded last year. The actor will present two evening and two matinee performances of his one-man play on the Waco Civic Theatre stage, although his audience will be largely a virtual one, watching it online via livestream.
"An Adam Experiment" catches Powell on Oct. 4, 1954. It's about a month since the controversial integration of Central High School in Little Rock, one for which President Dwight Eisenhower had sent federal troops to protect Black students, and the day the Soviets launched Sputnik, the world's first satellite. At the same time, Powell's second wife, Hazel Scott, had moved to France that year after being blacklisted in Hollywood and was threatening to leave him.
The October date shows Powell torn by different aspects of his life. The congressman feared the start of the space race would supersede civil rights as a national priority, even as he disagreed with Martin Luther King Jr.'s strategy of peaceful confrontation to effect change, Chenevert noted. In two years, Powell would break with his party and support Eisenhower's reelection due to Democratic intransigence on civil rights and, as head of the House Committee on Education and Labor in the 1960s, Powell would play a crucial role in the legislation behind President Lyndon B. Johnson's "Great Society" programs and the 1965 Voting Rights Act.
As a Black congressman in the 1940s and 1950s, Powell confronted openly segregationist Southern congressmen, taking his guests to eat in the House's "whites only" restaurant and working for federal laws to criminalize lynching.
"He wasn't marching in the streets, but he could march up and down the aisles of Washington. He was in the rooms where things really happen," said the Brooklyn-based actor.
The invitation to come to Waco with "An Adam Experiment" arrived at a time when Chenevert had finished acting in the AMC series "Terror Lake Drive" and, the year before, "Godfather of Harlem." Production uncertainties due to COVID-19 have chilled filming on new television shows and films, he said, and a possible second season for "Terror Lake Drive" is presently in limbo.