Faces, hands, feet, hair, emotions, memories, thoughts, culture — they all come together in forming one's identity and a new exhibit of 21 works by contemporary African American and African artists opening Saturday at Baylor University explore the subject in diverse voices.
"Narrative As Reality: Constructing an Identity" looks at what elements get assembled as a person builds an individual story of who she or he is, with works ranging from small paper prints and colored ink drawings to a towering 10-foot-by-15-foot abstract diptych.
The exhibit comes from the personal collection of NFL player Kelvin Beachum, who starred at Mexia High School, and his wife Jessica, a 2011 Baylor University graduate, and follows a similar show at Southern Methodist University, where Kelvin attended college.
That, in fact, opened the door to Baylor's Martin Museum getting a similar show from the same collection. Jessica contacted the Martin Museum after the SMU exhibit — she couldn't let SMU one-up her alma mater without her trying, she said — and the Martin was more than willing to host the exhibit, which it will through Nov. 5.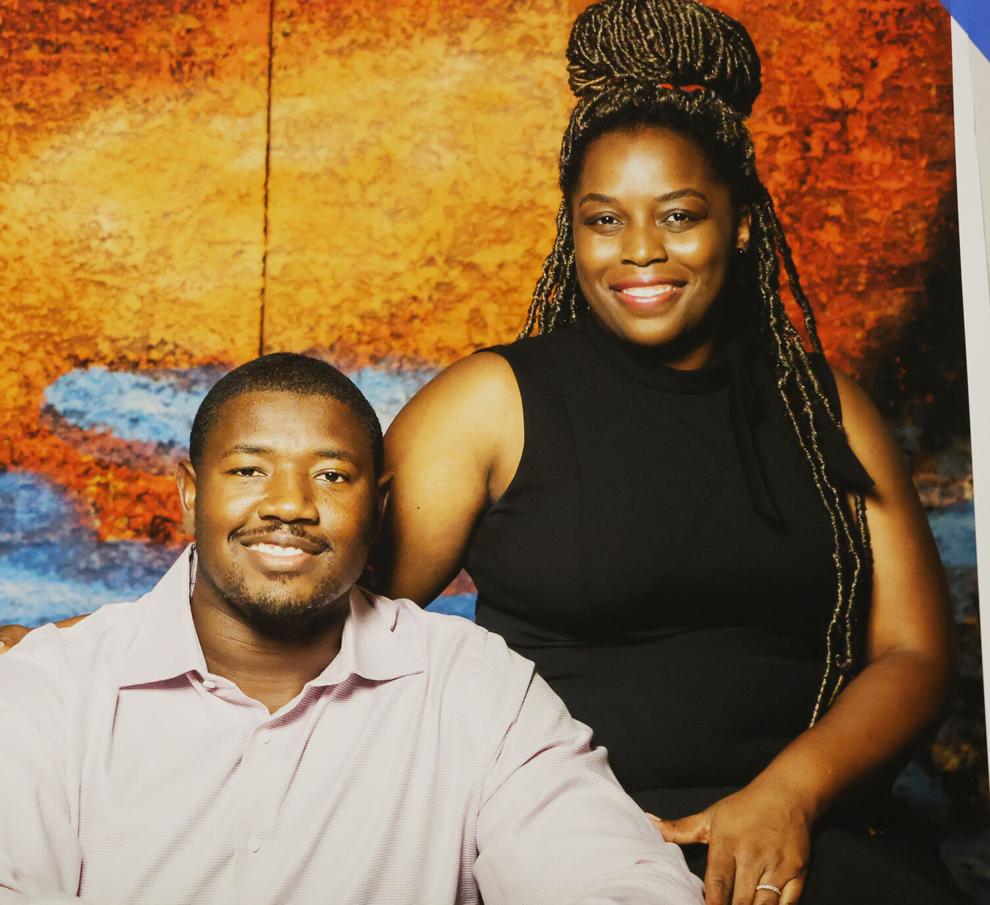 Collecting and showing art has become a shared passion for the Beachums and their interest dates back as far as their relationship: Their first date was to be a visit to the King Tut exhibition on display at the Dallas Museum of Art, but trouble with her car scrapped that date, she recalled in a recent phone interview from their home in Phoenix.
"Narrative As Reality" groups its works in three galleries, each with a different theme: Power and Process, Identity and Lived Expression. Styles from the 19 artists on display range from figurative to abstract and while paintings predominate, the exhibit includes stained glass, mixed media and prints, all created since 2019.
"There are different methods of art making, but the same story," observed the show's curator, Valerie Gillespie, art professor and owner of Dallas' Pencil and Paper Gallery. Gillespie works with the Beachums on their collection and said winnowing that extensive collection to the 21 pieces in "Narrative As Reality" proved no small task.
The Beachums will attend the opening reception Saturday, which runs from 10 a.m. to 2 p.m. and features children's activities and curator tours at 10:30 a.m. and 12:30 p.m.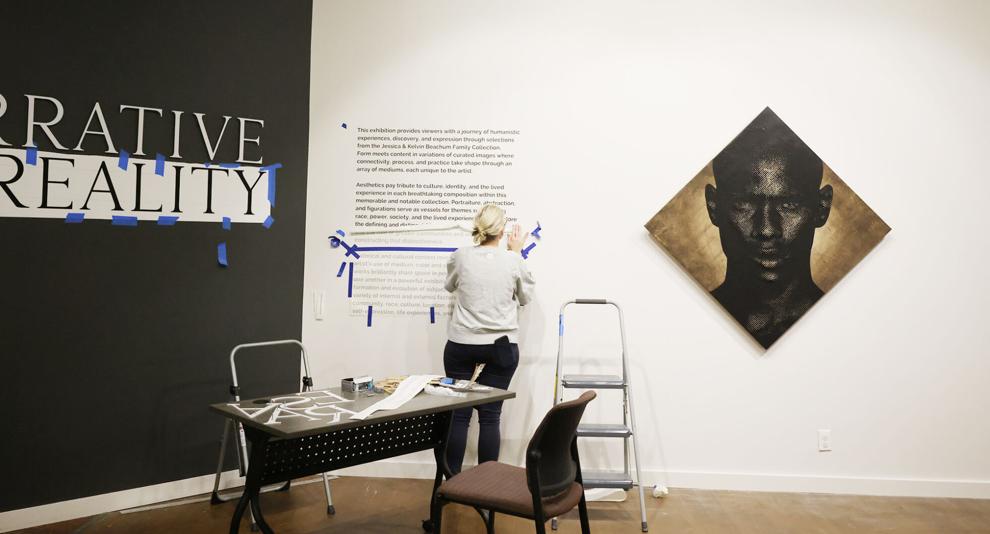 The show is dotted with striking pieces, including Mario Moore's detailed, autobiographical still life "Vanitas: The Fight"; Marcellina Akpojotor's portraits of young people made from crumpled fabric pieces; Alexis Peskine's "Filhos de Oxala," nails hammered into the shape of a face and one of Jessica's favorites; Nelson Makamo's 10-foot-long painting "DIJO"; Sonya Clark's scalplike "Cotton with Hair"; and "Yellow Bone," Athi-Patra Ruga's stained glass panel with vibrant red and yellow, and Kelvin's favorite.
The exhibit's dominant work, however, is Vaughn Spann's enormous 10-foot-by-15-foot abstract "Fleeting Memories and Lasting Moments," a work that Jessica admits is too large to display at their house and is kept at the Phoenix Art Museum.
Gillespie praised the Beachums for providing young artists a remarkable platform in the exhibits from their collection. "It's rare for artists so young to be in a museum collected in their career," she observed. The couple also make a point of meeting and visiting with the artists whose works they buy whenever possible.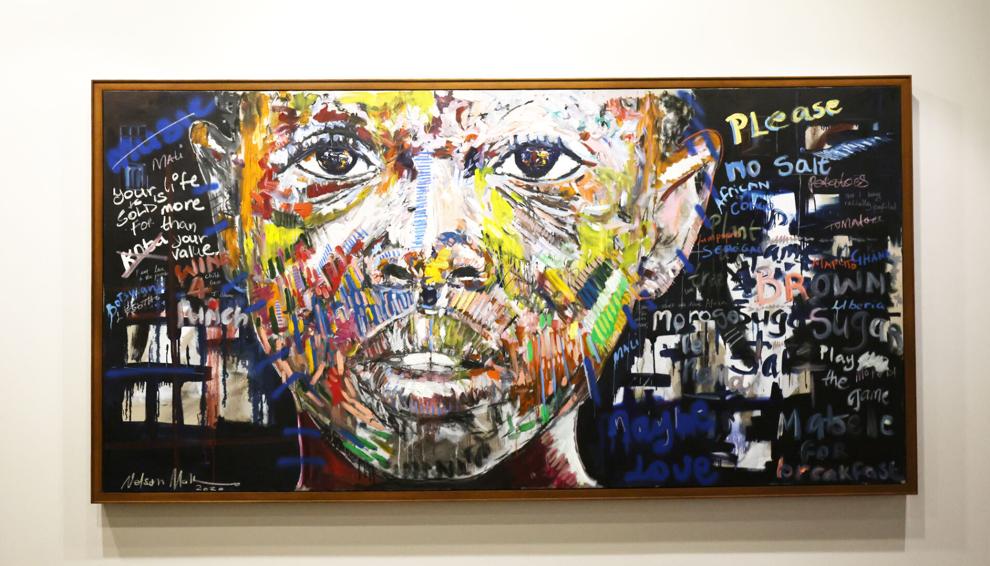 None of the works in "Narrative As Reality" were commissioned by the Beachums, but viewed and purchased in galleries. That's part of the fun, Jessica said, although the couple often has to restrain themselves from spending too much on such visits. "It can be addicting," she laughed.
Jessica grew up visiting museums and galleries in the Dallas area, but said most of the shows she saw at the Martin Museum while studying sociology at Baylor were for class assignments or credit.
There's a thread of Black expression and meaning running through "Narrative As Reality," but the Beachums' collection represents artists of varied ethnicities and cultures.
What's important to her and her husband, and the reason they put part of their collection on public display, are the conversations and learning that art can spark. "I hope (exhibit visitors) realize art is for everyone," she said. "Everybody is welcome. It's free so bring the children."