Collectors of Waco artist Kermit Oliver recognize his artistic signature: Realistic studies of people and objects connected by an invisible geometry. An eye for almost lifelike detail. Strong, yet natural color. Subjects illuminated by gentle light. Silk scarves impossibly filled with color and detail. Canvases whose sometimes enigmatic meaning is never exhausted by repeated viewings.
Ask the soft-spoken, 78-year-old artist what he means in a particular painting, however, and he defers to the viewer. "Everyone has a skill of art understanding and you want that understanding," he said, standing amid his works in the Art Center gallery. "Art is a lie, but we want you to realize a truth in your life. ... When you revisit (an artwork), you bring something new to it. This is your painting. You take control of it. My art is a way to find some truth everyone is able to understand."
It's telling, and intentional, that the Art Center of Waco is mounting a remarkable career-spanning exhibit of his work to open its downtown location beginning Thursday. "Kermit Oliver: New Narratives, New Beginnings" presents more than 40 of Oliver's paintings and drawings from 1970 to this year, including several of his famed scarves designed for the French fashion house Hermes.
The exhibit is the third Kermit Oliver show mounted by the Art Center of Waco and the largest, taking full advantage of the new center's galleries and a flexible multiuse space that dramatically enlarges the number of works that can be displayed.
Houston arts writer Susie Kalil curated the exhibit, working with Waco collector Thomas Leath, a friend of Oliver, to assemble the show from private and public collections. It draws pieces from private collections in Houston, Dallas and Waco, and public institutions such as the Amon Carter Museum of American Art in Fort Worth and the Museum of Fine Arts, Houston. Several of those paintings make their public debut, Kalil said, and the combination of familiar works with ones rarely seen creates some of the new stories suggested by the exhibit's title, she noted.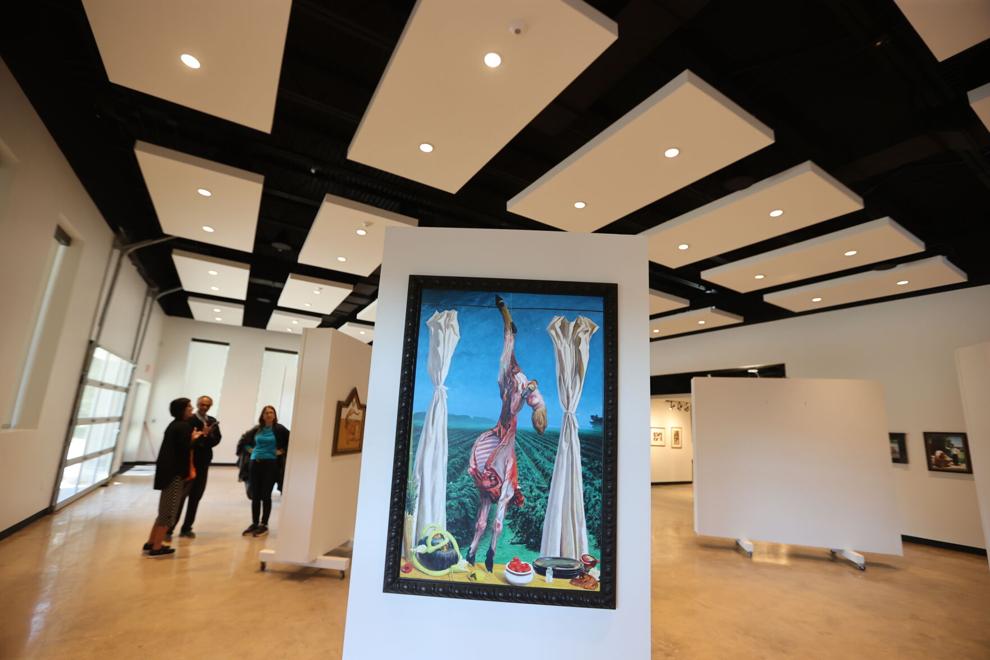 Oliver's work addresses universal issues of birth, death, life and regeneration, with symbolism that speaks beyond boundaries of gender, age, ethnicity or culture, she said. The stories he tells hang in private collections around the world and museums such as the National Museum of African American History and Culture, the Museum of Fine Arts, Houston, the Dallas Museum of Art and Baylor University's Martin Museum of Art.
"We need the kind of stories that Kermit is putting before us. The stories are personal to him, but up to the viewer to complete. Every person will see something different. The way the works are juxtaposed, each time you will see something new," she said.
Kalil first saw his works in Houston in the 1970s, but came into more direct contact with the artist when she was co-curator of the exhibit "Fresh Paint: The Houston School" for the Museum of Fine Arts, Houston. That appreciation of his work only deepened over the years as she followed his career and she hopes her book on Oliver provides a definitive introduction to him and his art for a broader audience. "His stories truly speak to everyone. In our divisive times, that's significant," she said.
Oliver grew up near Refugio, where his father worked as a ranch hand for the O'Connor Ranch. After art studies at Texas Southern University in Houston, where he met his wife Katie, Oliver started as an artist based in Houston in the 1970s. He began working with the United States Postal Service in 1977 and in 1984, he and Katie moved their family to Waco. The decades that followed found Oliver working the night shift as a mail sorter and doing his art in the mornings and early afternoons.
The odd work schedule coupled with a personal desire to keep to himself formed the story to outsiders in the art world of an accomplished but reclusive artist in Waco, represented for more than three decades by Houston's Hooks-Epstein Galleries but personally not interested in giving interviews or making the social rounds of collectors.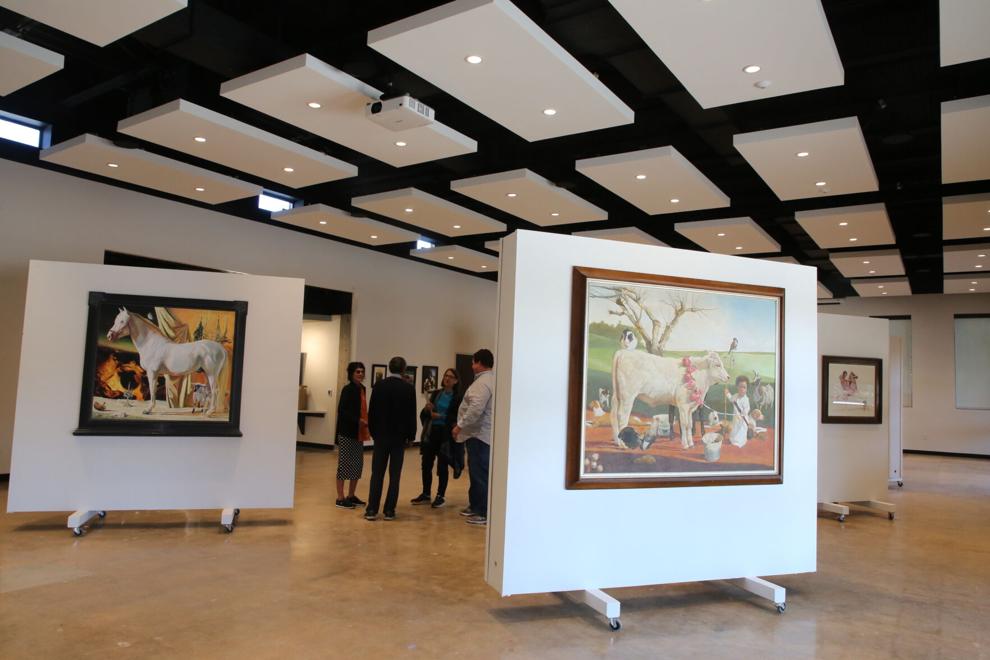 Part of that was due to his desire to keep his work free of outside influence, he said, preferring to draw on his own inspiration and interpretation, informed by an extensive library and readings. "He's the Mississippi River of art history," noted Kalil.
The Art Center show reveals several recurrent motifs or images in Oliver's work. There's his wife Katie, sons Khristian and Khristopher, and daughter Kristy, the latter a model for Ceres in the limited edition lithograph commissioned for the exhibit, "A Meadow Lark Carols Saint Ceres Before the Sacred Silos" — and, yes, it's those Magnolia silos. There are several self-portraits, which he found relatively easy to paint. "It's the easiest subject I have: I'm there," he quipped. And there are reoccuring objects such as a rooster, a calf, pomegranates and apples, blank pieces of cloth or paper, and a lute-playing angel descending from heaven, all placed on an invisible geometry of diagonals and intersections that Oliver places as a foundation to the drawing and painting he lays above.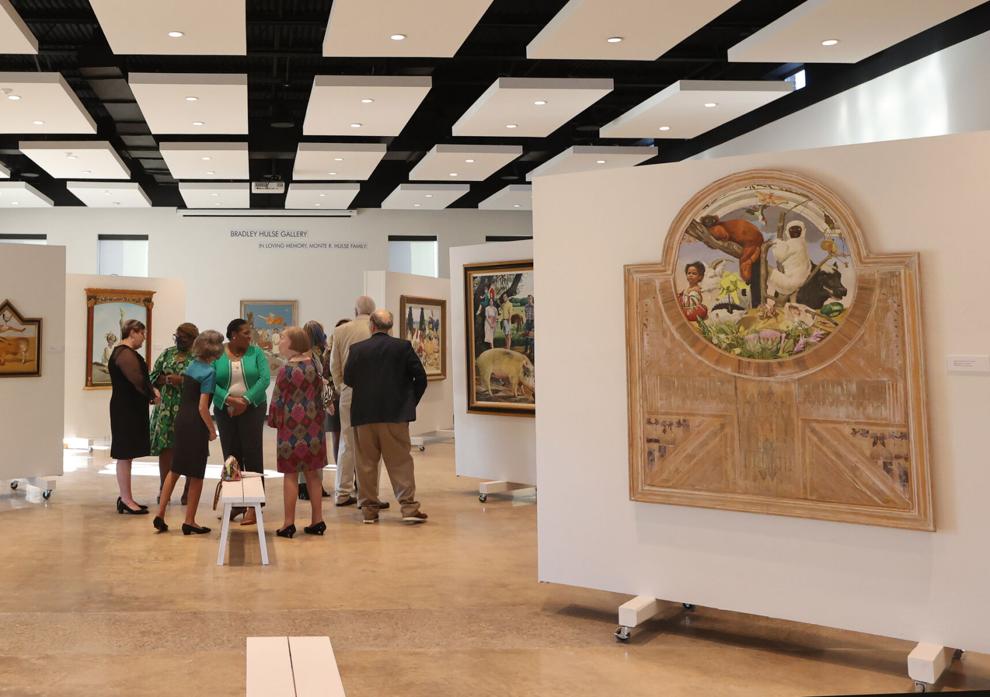 Some of Oliver's earlier works, inspired from his rural youth in Refugio, have a golden-brown sheen to them, which Oliver explains was a yellow ochre wash applied to obscure what he felt were his limitations as a artist.
That insecurity about his work would remain for most of his career, leading him to consider many of the paintings he sold to be incomplete or falling short of what he intended.
Seeing the complete range of his work in the Art Center of Waco exhibit, however, took his breath away. "It grabbed me ... I thought, damn, Kermit, you did good," he recalled with a smile. "This confirms that at last you are adequate."