Austin artist Ben Livingston plans on Waco ghosts supplying the invisible energy for his show debuting Friday at Art Center Waco, an energy powered by artifacts, images and memory.
Livingston's exhibit "Spirit Houses, Ghosts and Memory" expands his earlier creations of neon-lit spirit houses to what spirits from Waco would show up if invited.
Part of that invitation will come in gallery walls inspired by such Waco events, history and community touchstones as the city's Reservation district of legal prostitution, a Skip Ralls sculpture crafted from a chunk of steel cable from the Waco Suspension Bridge, the nearby 1896 Crash at Crush, storied East Waco barbershop the Jockey Club, a pistol owned by 19th century firebrand William Cowper Brann, an image of Waco founder Jacob De Cordova, St. Francis Catholic Church, former Hispanic neighborhood Sandtown, signage from a past Waco and more.
"Think of this as a funhouse mirror of a town," said Livingston, with an impish smile. "I have the most fun as an amateur anthropologist."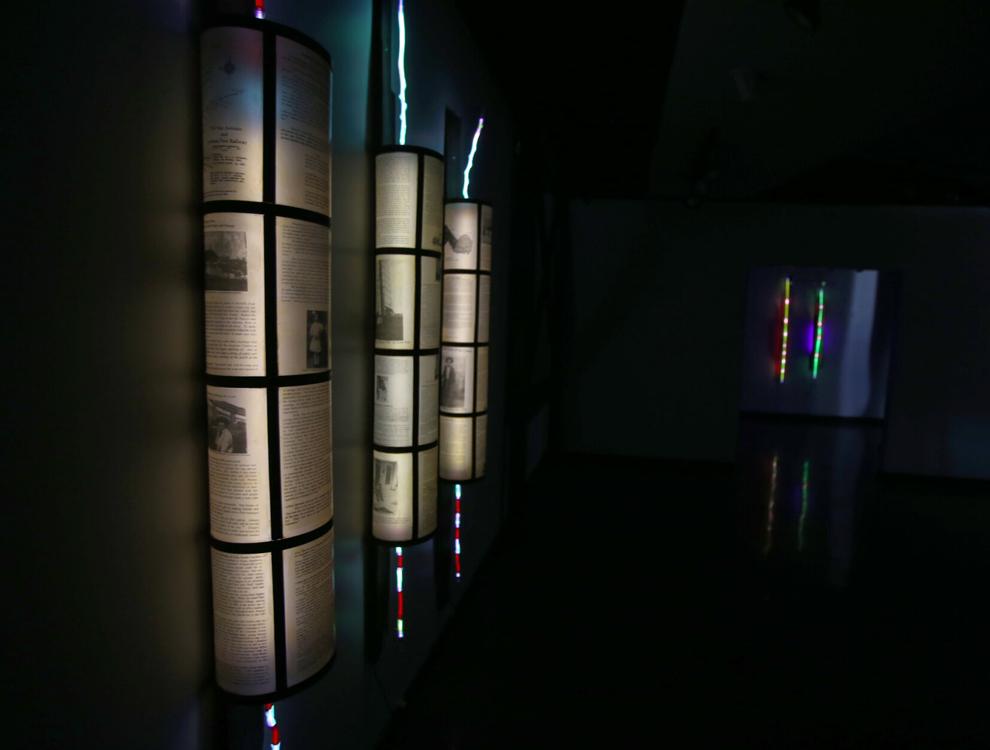 The artist hopes the local history and memory turn Art Center Waco into a spirit house of sorts, mirroring his artistic take on the spirit houses he encountered on trips to Thailand, Burma and Cambodia.
There he noticed small wooden houses, usually built from wood and metal scraps in poorer neighborhoods, that residents meant to attract luck-bearing spirits to their homes.
The spark that kicked off the 63-year-old artist's work with spirit houses came several years ago when Livingston witnessed the destruction of old frame houses in Austin that once housed enslaved people. Others heard the noise of demolition; he heard something else. "I literally heard this home screaming in agony. It was the sound of nails being pulled out and wood screeching, but it was kind of like a living thing," he recalled.
He paired that with years of working in neon to interpret the idea of an invisible energy inside a seemingly empty structure, creating an artistic spirit house.
On the outside, crafted from wood that once sheltered a family and witnessed its life, was a symbolic house. On the inside, glowing neon tubes made visible the energy that powered them.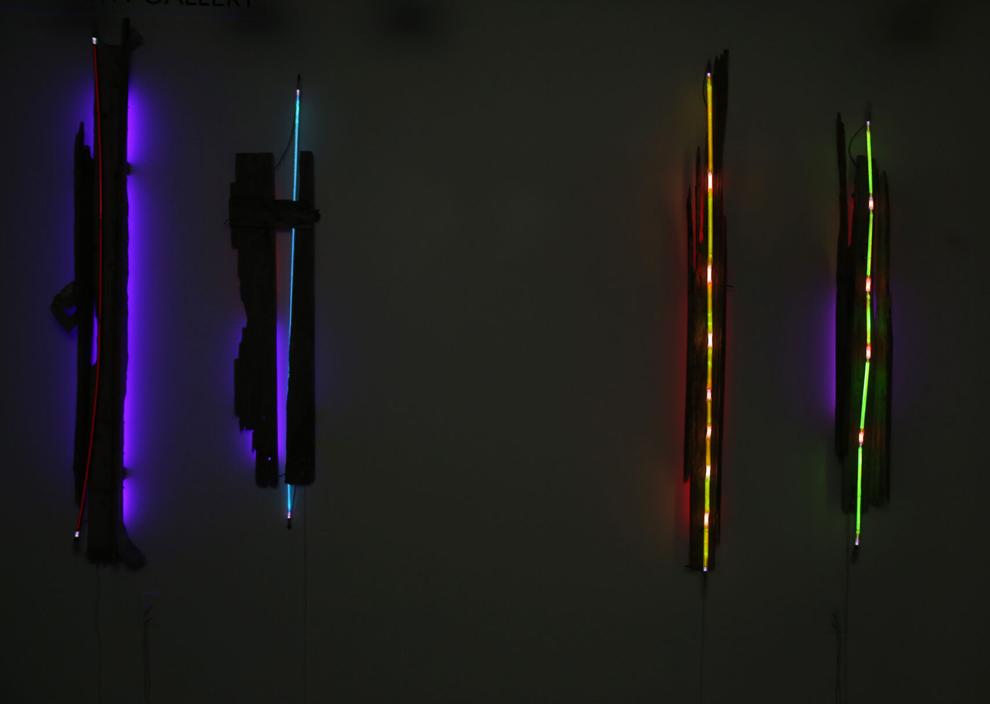 The five neon pieces in the show demonstrate Livingston's use of inserting phosphorescent materials into gas-filled tubes to create an opalescent effect, a technique that won him a National Endowment for the Arts fellowship to explore. Livingston is best known for his neon "Spirit Antennae" artworks, but the Victoria-born artist has spent much of his career crafting pieces in a wide variety of media. He's heavily involved in performing arts, too, with experience as a musician, actor, storyteller and lecturer.
With Livingston's neon pieces contained in two darkened rooms adjacent to the Waco displays, "Spirit Houses, Ghosts and Memory" represents a marked contrast to the expansive Kermit Oliver exhibit that the center opened with last fall, a show that filled each of the center's galleries and a large multi-use space fronting the center's outdoor patio.
Doug McDurham, the center's chief executive officer, said the opening exhibit was a notable success, drawing an estimated 3,700 visitors over its three-month run, including some 700 visitors in its final week.