Texas and Waco history as captured within frames is on display at Historic Waco Foundation's East Terrace house in the exhibit "Expansion: A Study of Growth in Texas and Waco from 1840 to 1920."
The paper slices of history aren't photographs or art prints, however, but maps of various periods, scales and subjects that track the change of Texas from a republic containing a measure of uncertainty to a state with defined counties, cities and a transportation grid. Waco, too, evolves from Waco Village on an early map to well-defined city blocks, neighborhoods, streets and railroad lines.
Baylor University museum studies graduate student Katherine Kiesling and history major Laine Harper curated the map showing, exhibited in two rooms, with selections that trace both state and city development and sample map styles and purposes.
Many of the 17 maps on display come from a "Contours of Discovery" portfolio of map reprints, published by the Texas State Historical Association, in the personal collection of Waco attorney Thomas D. Swann. Others are reprints from the Texas Collection's own considerable map collection at Baylor. Swann also recommended the Texas Land Office and its extensive holdings of state and county maps, though the current HWF exhibit doesn't have reprints from that collection.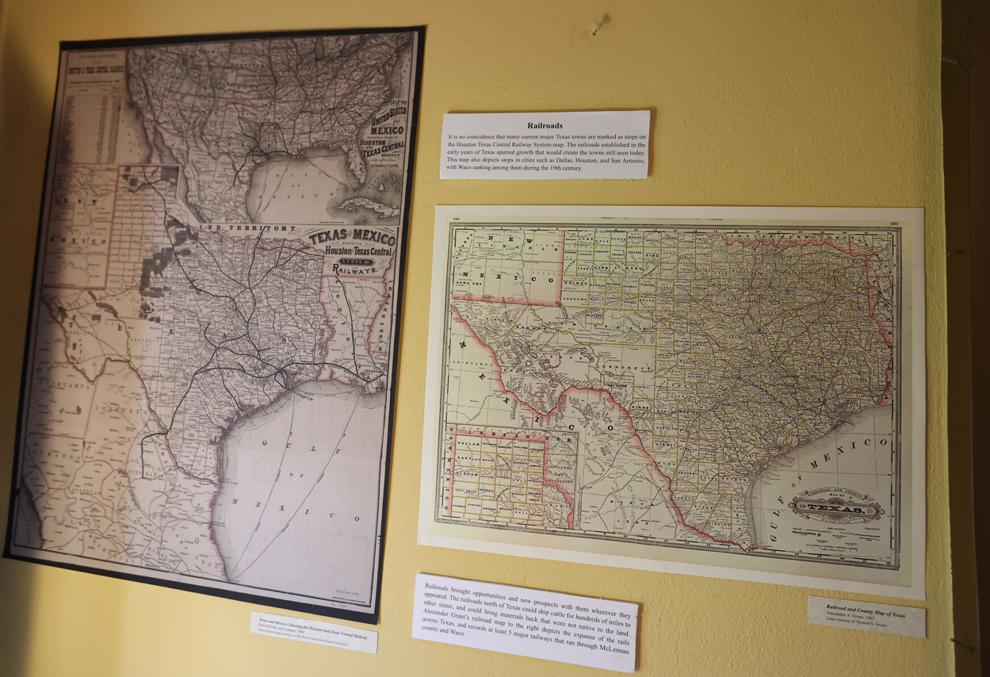 Swann said his interest in maps grew out of a love of history. "Basically, I really enjoy reading history and studying it," he said. "Maps are showing us a snapshot in time, where things were." Among his favorites are 19th century military exploration maps, particularly those from the early days of Texas statehood, when the U.S. Congress was interested in exactly what the nation had acquired in accepting Texas a state.
Detail in those maps show such features of interest to both explorers and settlers as watering holes and Comanche trails.
"Expansion" samples early 19th century Texas maps by German cartographer and scientist Alexander von Humboldt and U.S. Major Joseph H. Colton; state maps by Waco founder Jacob de Cordova and a former partner in land development, Charles W. Pressler; and national maps from 1844 and 1895 that detailed Native American tribal lands, then federal reservations where tribes were driven.
Railroad maps of Texas show a major reason for Waco's economic development in the late 19th century and early 20th with five railroad lines eventually intersecting in the city, connecting Waco and surrounding cotton growers to commercial markets. They also show a time when rail was king, before paved highways linked cities and states.
Panoramic or bird's-eye-view maps, popular in the late 19th century, provided a three-dimensional look at cities popular with city developers and promoters. Bird's-eye-view maps of Waco from 1873 capture a city with only one bridge crossing the Brazos River to a 1886 view with a new Baylor University planted on the urban landscape.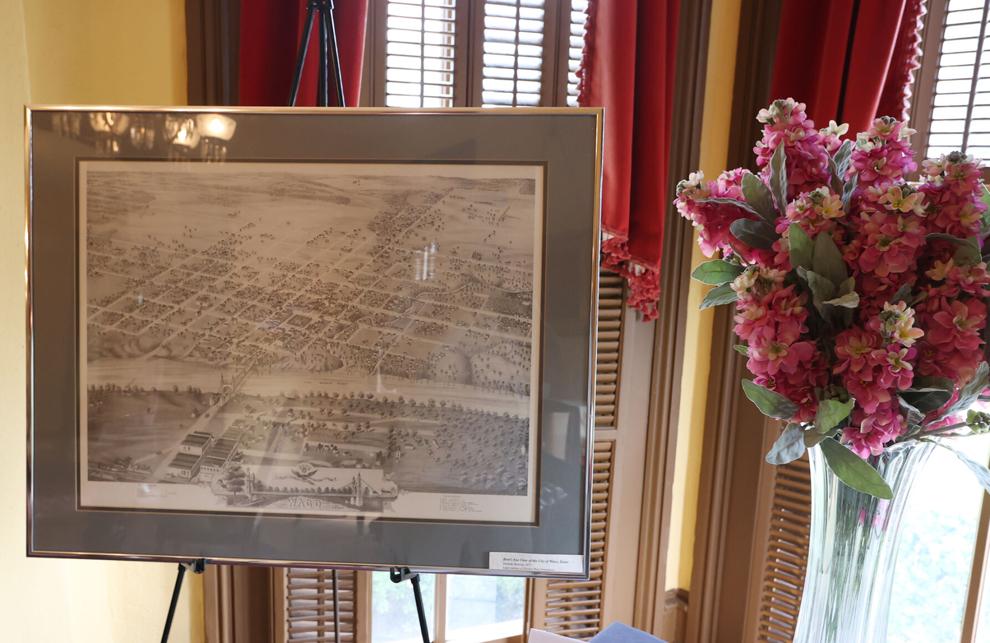 Two selections copied from a 1886 Sanborn Fire Insurance map offer a detailed look of the city square and a block of downtown Waco bordered by Washington and Franklin Avenues and Sixth and Ninth Streets, containing outlines of individual buildings, livery stables and the like. The Sanborn maps, many contained in the Library of Congress' extensive archive that's viewable online, were created for fire insurance purposes and their detail of building locations, construction materials such as wood or brick, and water sources such as wells gave insurers a better grasp of insurance risk.
More than a century later, those maps provide contemporary historians with a remarkable look at city life back then. "I love Sanborn maps. I feel like a detective when I'm looking at them," admitted Kiesling.
Waco city and zoning maps from 1877 and 1913 also offer a glimpse of past city life, with streetcar lines, a County Poor Farm located in East Waco and an Interurban train line that connected downtown with cities as far away as Denton. Those maps also show neighborhoods that got pushed out by later city development, such as Sandtown, where many Hispanic Wacoans lived before Urban Renewal projects made way for expansion of the Baylor campus in the 1950s and 1960s.
The exhibit's curators found themselves encountering bits of area history in researching local maps, from the planned 1896 locomotive collision outside of West known as the Crash at Crush — "Who knew that crashing locomotives was a thing?" Harper said — to the Reservation, a district of legal prostitution in Waco that operated for more than three decades.