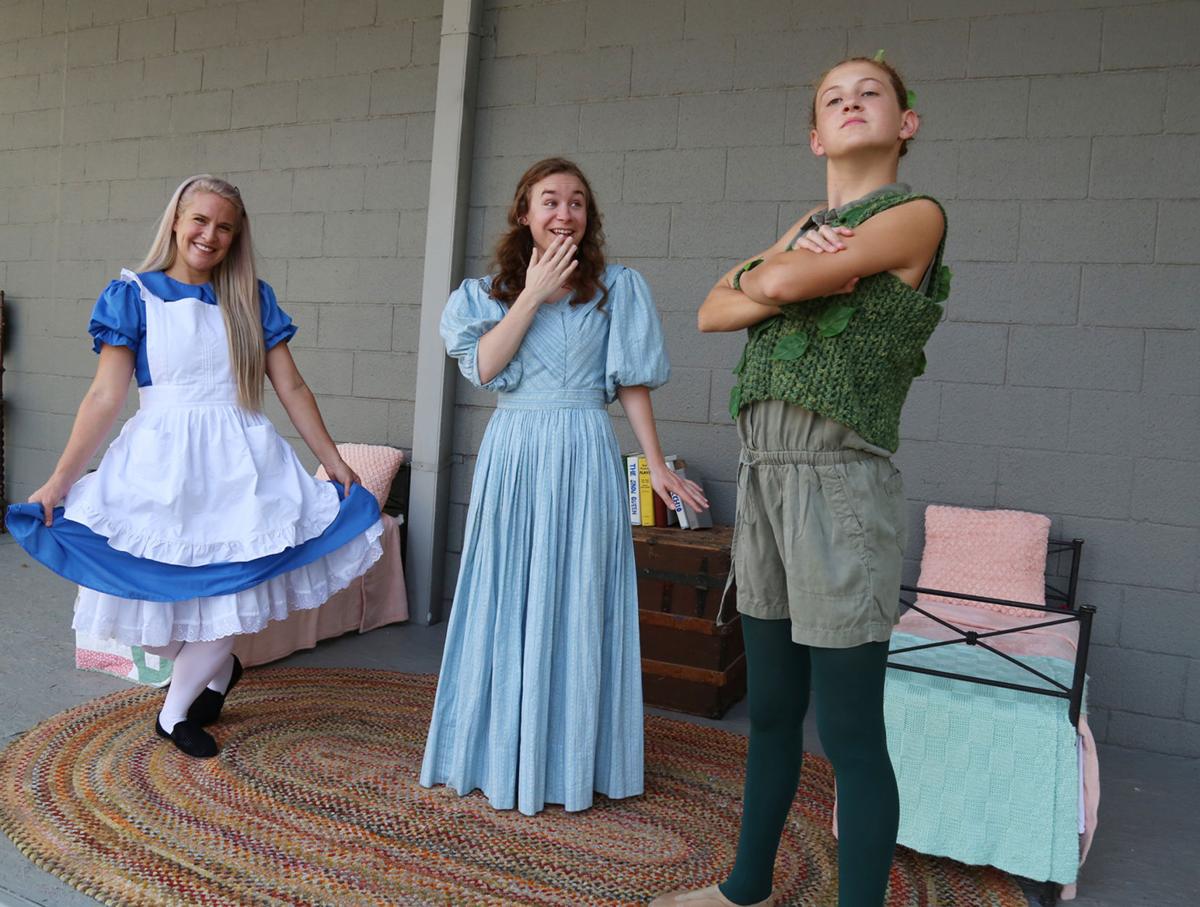 Editor's note: This weekend's performances of "Storybook Waco Variety Hour" were postponed indefinitely on Aug. 21.
So how do fans and practitioners of musical theater fill in the gap of live indoor performances that COVID-19 and fear of its spread has caused? Outdoor musical theater, of course.
The Waco Civic Theatre goes outside this weekend with three evening performances of "Storybook Waco Variety Hour," an ad hoc production that has costumed storybook characters singing and acting in small, socially distanced doses to socially distanced audiences.
What they hope isn't distanced is the family fun of it all. "We just wanted to bring some joy," explained director Krystal Spring Marshall, who said the inspiration for the production grew from a seed planted in the WCT's 2019 musical production of "Mamma Mia!"
Marshall, a Juilliard School graduate with multiple WCT credits during her time in Waco, played Rosie, one of the trio of friends who performed as the Dynamos. As is the case for many things in musical theater, life went on to imitate art. "We were cast as best friends and we actually became best friends," she said, as fellow Dynamos Julia Meek and Leah Murelli continued their friendship after the musical's final curtain.
As COVID-19 precautions closed down theaters across the country, including those in Waco, Marshall and Meek mused over a virtual coffee about what could fill the hole that was left. One thing led to another and soon the ball was rolling for what became "Storybook Waco Variety Hour."
The hour mashes up storybook characters, Disney musicals and songs. It's as if Alice from "Alice in Wonderland" invited Wendy from "Peter Pan" to a sleepover with the help of — well, let's say a particularly well-known English nanny whose Name (Disney says) Must Not Be Named. Joining them are friends such as Rapunzel, Red Riding Hood, Beauty (as in Beauty and the Beast), Peter Pan and Pinocchio.
It's the first major WCT production since March. State and local shelter-in-place orders cancelled the community theater's final two plays of its 2019-20 season. Then a cast member testing positive for COVID-19 ended a summer production of "You're a Good Man, Charlie Brown" before it could open in June.
Learning from experience
"Storybook" was structured with that recent experience in mind. Auditions were held over Zoom — "an adventure in itself," the director said — and the story broadened to accommodate some of those who auditioned. Rehearsals also were online with onstage blocking only in the final week. No more than three actors are in any scene and those awaiting their cues can either stay in designated spaces backstage or in their cars, Marshall said.
Actors in the 13-person company will sing to recorded tracks or a cappella and will perform without masks while onstage, using shielded microphones. Props will be wiped down after use, even while onstage (thanks, unnamed English nanny).
Audience members will pay for marked spaces appropriately distanced, with up to six people allowed per space. Spectators can bring blankets or folding chairs for seating, although those with chairs will be asked to sit toward the back to avoid obstructing the view for those seated on the ground.
Curtain time was set at 8 p.m., a Goldilocks middle ground of early enough to accommodate children's bedtimes and late enough to take the edge off Texas summertime heat, said Marshall, a mother of two.
Those attending are asked to wear masks, though not required, and they can bring food for picnicking. Pokey O's, Fuego Tortilla Grill and Waco Farms Salads food trucks will operate near the theater's front with items pre-packed and ready for grab-and-go.
General admission seating is sold online as the WCT moves away from paper tickets and Friday night's performance already is sold out.
Concerned about COVID-19?
Sign up now to get the most recent coronavirus headlines and other important local and national news sent to your email inbox daily.