Coming soon to Waco on a screen near you: local performances you once had to see in person.
Five months of shelter in place or shutdown orders, warnings about large gatherings and concerns about coronavirus spread in indoor spaces have effectively frozen entertainment presented in front of a live Waco audience.
There's the occasional solo musician or small band at restaurants or venues where alcohol isn't (now) the main revenue source. A handful of movies still play for viewers in the Waco Hippodrome's screening rooms with socially distanced seating.
Otherwise, the sound of silence has replaced the sound of applause.
With Waco audiences staying away either because of COVID-19 guidelines, performance restrictions or personal concern over contagion, Waco arts presenters are contemplating meeting their audiences where they are now: at home and watching online.
The possible collapse of many forms of entertainment — movies, theater, live concerts — has loosened past commercial and philosophical restrictions on online broadcast via streaming video and audio, simply to provide an alternate revenue stream, however slim and unproven.
Growing acceptance
Of those surveyed, 44% had added a video or music subscription service over the last month and 88% intended to continue the service after COVID-19 shutdowns. While 27% intended to attend a live event one month or less after a COVID-19 treatment or vaccine is found, and 14% had attended a live event in the last two weeks, 44% said they were likely to stream a virtual concert or event in the next two weeks with 47% believing it was important for the music industry to offer streaming or virtual concerts.
In Waco, some musicians and their bands have begun to stream in-studio shows or teach lessons online. Brazos Theatre shifted its monthly improv comedy and murder mystery dinner theater to online offerings of comedy, scripted and otherwise, presented via Facebook Live and the Zoom videoconferencing platform. Museums, the Art Center of Waco and the Historic Waco Foundation translated their in-person summer classes, tours and talks to online videos.
The Deep in the Heart Film Festival, too, is going online next month after COVID-19 considerations complicated its logistics and potential audience.
Even with the return of college and local schools to fall classes, a new normal — however transitional — with streaming video as a component seems ahead.
Local musicians
The Waco Hippodrome Theatre experimented with streaming some local musicians in early summer, including the husband-wife duo Aaron and Amanda Konzelman, who perform as Union Revival. Aaron recently became the Hippodrome's marketing and communications coordinator and while event promoters are still cool to the possibility of livestreaming their clients, he sees a greater chance of its use with local musicians.
Union Revival's livestreamed show worked well, he said, and shows promise, both in recouping money lost to smaller or no audiences and in building fan support.
"We are starting to bring back live music and specifically try to utilize a lot of local musicians and acts. I know that the shutdown has hit local artists really hard and I want to rebuild that scene in Waco," he wrote in a recent email.
Having live audiences are important to bring in revenue from food and drink, but Konzelman said reaching those presently preferring to stay at home still can help build the reputation of the Hippodrome as a live music venue and raise the profile of local artists.
"Any additional revenue stream for the artists and the venues is a win to me. For a lot of the local artists trying to build a following, and for us as a music venue, I definitely want to continue to stream performances," he said. "I really want to help establish downtown as a music, comedy and performance district."
Theater and more
While public concerts are on hold this fall for Baylor University School of Music ensembles, student performers and visiting artists, some recitals are appearing online through streaming video and the department has a livestream channel on its website for those performances.
Cameras are going up at the Waco Civic Theatre thanks to a grant from arts nonprofit Creative Waco. Director Eric Shephard said the shuttering of many theaters due to COVID-19 concerns has led many theatrical rights agencies to relax previous restrictions on streaming video of productions.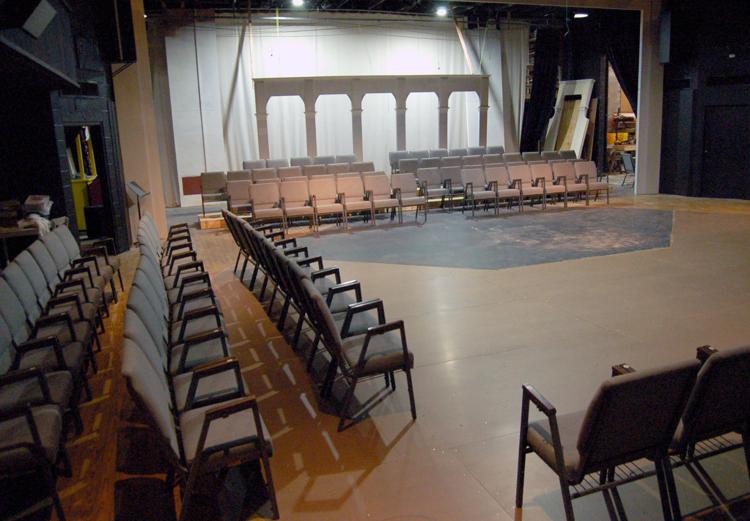 Those rights and the conditions on which they're given are becoming part of the standard contracts negotiated with community theaters, Shephard noted. Having cameras and the electronic equipment needed to support streaming video will open up that dimension for future productions.
Performing with streaming video in mind is getting more emphasis this fall at Baylor's and MCC's theater departments, where COVID-19 protocols this fall are pausing indoor performances before an audience.
Baylor theater arts department chairwoman DeAnna Toten Beard said her department is planning several productions this fall that will stream. That enables the department to provide theater for students with classes requiring it and necessary acting and production experience for theater majors.
Given that many theaters across the country are looking at streaming future productions, particularly after the Disney+ success with the Broadway musical "Hamilton" last month, she said it's important that Baylor theater students acquire hands-on experience in acting before a camera as well as staging and lighting for video — skills that more theater companies will want in their hires.
"There are so many things to learn and the best way to learn is to do them," she said. And while livestreamed audiences may not provide an in-person presence for Baylor actors, they may include viewers once separated by geography: theater alumni and parents.
COVID-19's impact on theater will lead to more focus on productions with small casts, new works written for Zoom and other online platforms and outdoor staging. The latter may see Baylor Theatre and the Mayborn Museum collaborate on productions staged at the Gov. Bill and Vara Daniel Historic Village, Toten Beard added.
The fall is somewhat fluid for McLennan Theatre, but streaming of some audience-less productions is a possibility, said MCC theater instructor Kelly Parker. The theater will have to make sure its performance rights clear any video recording or streaming video and an original adaptation of "Tristan and Isolde" planned for October may provide an opportunity.
Like Toten Beard, Parker sees streaming video as part of theater in the future and a necessary part of student training. "This will be a facet of what we do from now on, though probably a niche," he said.
Audiences now at home for the pandemic may decide they like watching their entertainment there, even though live theater always will have its pull. "I don't think everything will snap back into place," Parker said.
Filmmakers
That's a worry, too, for filmmakers, noted Chris Hansen, chairman of Baylor's Film and Digital Media Department and an independent filmmaker. Disney raised eyebrows across the film industry last week in deciding to release its major summer film "Mulan" as a $30 rental on Disney+ rather than a theatrical release first.
Before that, AMC Theatres and Universal agreed to narrow their window between theatrical releases and digital/video availability, a move that some industry observers believe will accelerate the move of movies to an online platform that some viewers prefer.
Hansen's latest movie, "Seven Short Films About (Our) Marriage," was just beginning its screenings at film festivals across the country when COVID-19 began to close down those festivals. Many of those, like the Deep in the Heart Film Festival, moved offerings and screenings to meet audiences online.
Will those viewers come back once movies return to theaters? The Baylor director said growing movie viewership online and over phones pre-pandemic suggest not all may. "Some people don't care (how they see movies) and that number is growing and growing," he said.
Stay up-to-date on what's happening
Receive the latest in local entertainment news in your inbox weekly!