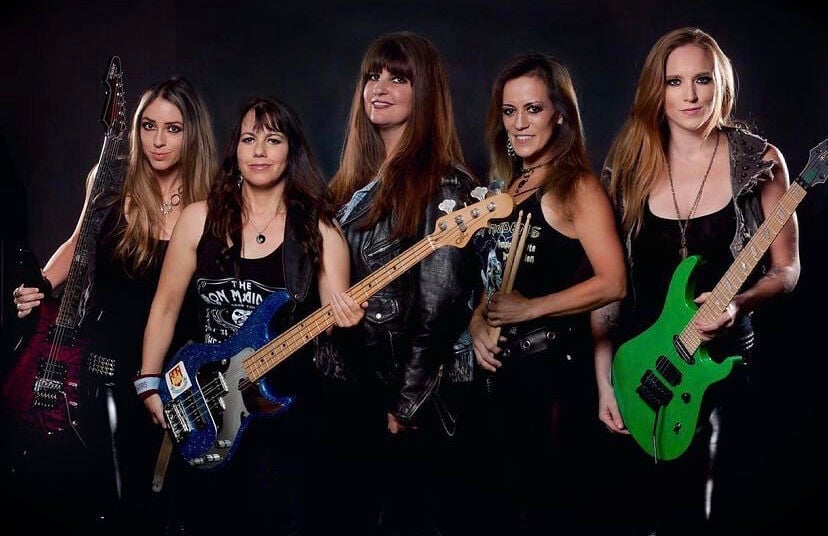 When rock guitarist Nikki Stringfield was in her teens growing up in Red Oak, she remembers her father jamming at home, on his guitar, practicing for shows with the 1990s band Medicine Man.
Flash forward to now and she's the performer with family watching her play, as she says they will Saturday night when she takes The Backyard stage with The Iron Maidens, a veteran all-female band that pays musical tribute to — who else? — famed heavy metallers Iron Maiden.
The 31-year-old Stringfield on guitar takes the part of Dave Murray in the original Iron Maiden band, a part she started playing about 10 years ago in rotation with others, but making it a full-time gig over the years.
For someone who was a fan early on and actually had Iron Maiden posters on her bedroom in Red Oak, it's a dream job. "I love playing Iron Maiden," she said during a recent phone interview from Los Angeles, home base for The Iron Maidens. "I started when I was 14 and YouTube was not around so I learned to play by listening."
Red Oak didn't offer much in the way of guitar-playing female role models, so after Stringfield finished degrees in radio-television-film and business from the University of Texas at Austin, she took advantage of a Warner Bros. internship in Los Angeles to relocate there.
It was an eye-opening and career-opening change. "When I moved out to Los Angeles, oh my gosh, there were so many female musicians here," she recalled. Earlier on, she met some of the players in The Iron Maidens, which started 20 years ago with drummer Linda McDonald. Stringfield found kindred spirits in the heavy metal tribute band and started to fill in when she could, eventually becoming one of the band's full-time guitarists.
Rounding out the current band beyond McDonald and Stringfield are lead vocalist Kirsten Rosenberg, bassist Wanda Ortiz and guitarist Courtney Cox. While COVID-19 sidelined the band's touring for more than a year, shelving 2020 shows planned for Australia and Europe, the band is back on the road and connecting with an avid fan base.
Stringfield spent her COVID-19 downtime working on her own music, writing and recording an expansion of her five-song EP, and playing in the band Heaven Below, in which she's the only woman. As a measure of her playing chops, Stringfield has two signature electric guitars created by Schecter Guitar Research.
Saturday will find her in her sweet spot, cranking out hard rock in front of loyal fans — and family. "We play the hits and the deep cuts ... We keep it interesting," she said. "The Maidens audience is so passionate."