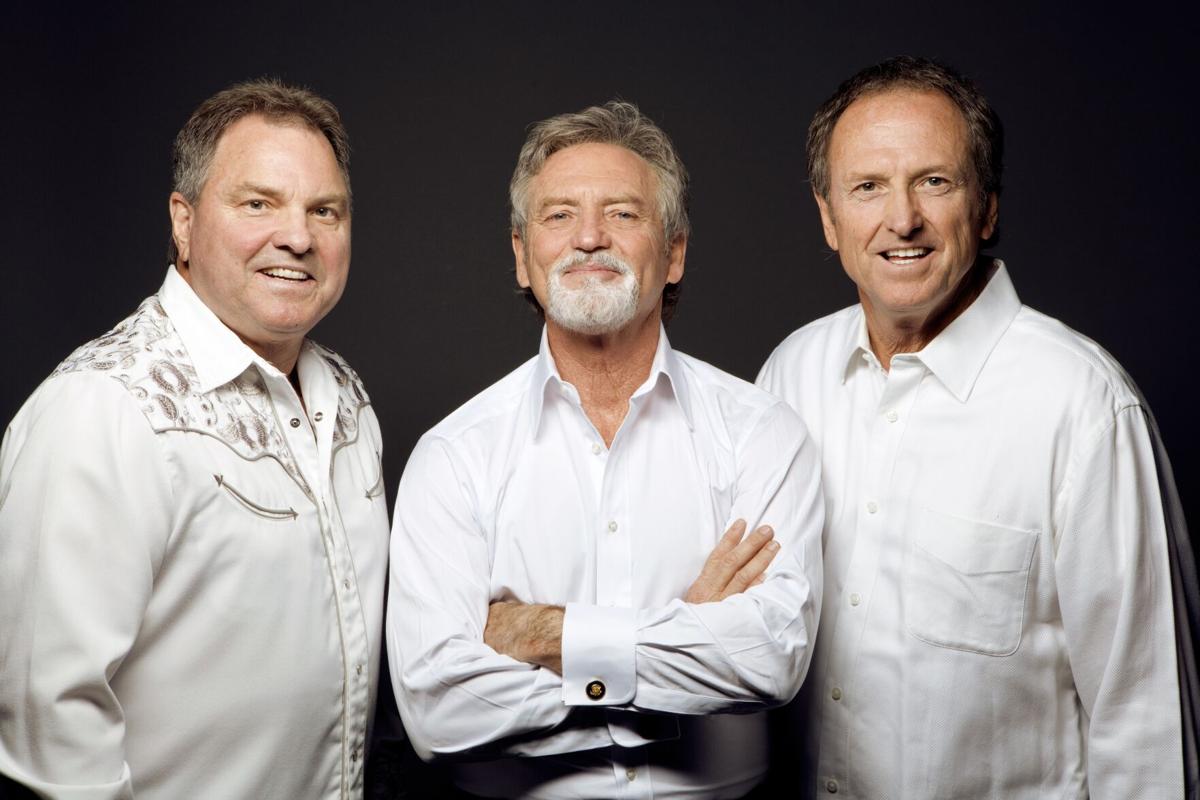 Rudy Gatlin, at 68 the youngest of three Gatlin brothers, knows their fans show up to be more delighted than dazzled. Delight in the country trio's considerable catalog of hits. Delight in their vocal harmonies. Delight in seeing entertainers in a comfortable groove cut over 45 years of performing.
Dazzled? That's just not the Gatlins' style — well, not too much dazzle. "Concerts these days are a lot of glitz. We do lights and video, too, but not too fancy," said Rudy, in a phone interview during a Dallas tour stop. "In this day and age, everything you see is so fast-paced, but at one of our shows you're not going to be bombarded."
Audiences will get plenty of Gatlin songs, though, with No. 1 hits like "Houston (Means I'm One Day Closer To You)," on Billboard's list of All Time Top Country Hits; "All The Gold In California," an Academy of Country Music award winner; "Love of a Lifetime"; and the Grammy Award-winning "Broken Lady," the brothers' breakout song from 1978.
Most are the product of older brother Larry's prolific pen, which earned him a spot in the Nashville Songwriters Hall of Fame and ranks him fourth among BMI songwriters in Top 40 hits.
The Gatlins — Larry, 73, Steve, 70, and Rudy plus guitarist Steve Smith — return to the Waco Hippodrome stage where they performed two summers ago.
The brothers grew up in West Texas in the 1950s and 1960s, singing gospel music and starring in their own television show in Abilene. Larry struck out for Nashville first after finishing college and touring with gospel group the Imperials. His songs caught the attention of Nashville stars such as Johnny Cash and Kris Kristofferson with Steve and Rudy arriving later as backup singers for Tammy Wynette.
The brothers united in 1976, performing as Larry Gatlin and the Gatlin Brothers, the start of a long career that took them around the world, frequent television appearances including their own ABC show, performances at such varied events as National Basketball Association championships, White House engagements, the World Series, National Football League games and the 2008 Summer Olympics in China.
They took a break from touring in 1994 to branch out in different pursuits. Larry starred in the Broadway production of "The Will Rogers Follies" and his own musical "Quanah" while Rudy joined revivals of "Oklahoma!" and "Annie Get Your Gun." By the early 2000s, they were back touring together, but at a more comfortable pace.
The pandemic froze most of that. Rudy estimated the Gatlins did five concerts last year, two of which were Christmas shows, but are rebounding with about 30 booked this year. After two farewell tours that weren't final, there's no thought of a third. As long as the delight is there, the Gatlins will be, too.