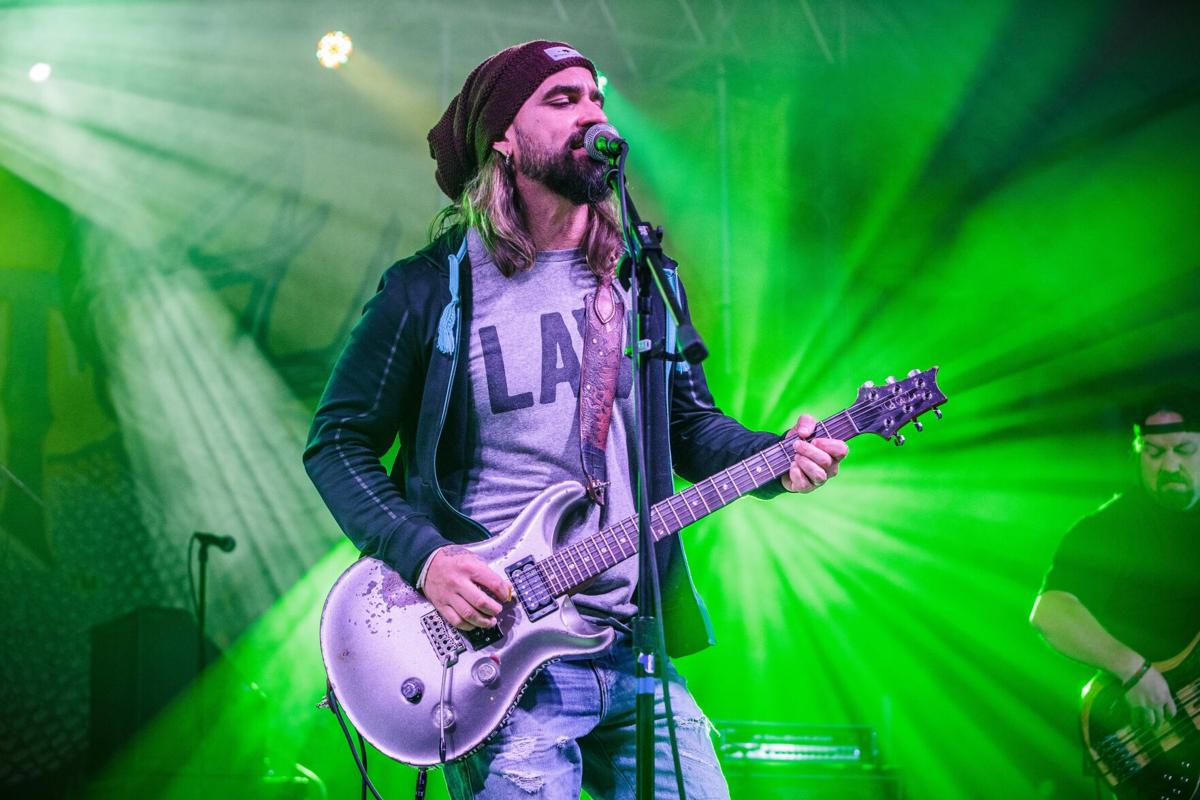 With much of "this whole weird thing" — the year 2020 — behind him, Cody Canada is looking ahead to 2021 without a feeling of gloom.
Canada, the Texas singer-songwriter who helped pioneer the rock-edged Red Dirt country movement of the late 1990s and 2000s, and his band the Departed is finding crowds returning, at least as local coronavirus measures allow. They've got new music to share and record. And after patching together Zoom concerts, private shows and his wife Shannon's School of Rock music education franchise to cover revenue lost to COVID-19 shutdowns, shortened tours and smaller audiences, there's a seasoned confidence that, if 2021 demands, they could do it again.
Canada and the Departed bring a two-hour show to The Backyard on Friday, with Waco a familiar stop for Canada dating back to his days with Cross Canadian Ragweed, and then the band he formed nine years ago after CCR broke up, the Departed.
Fans will get the hard-driving country they expect, with some new songs thrown in with the standards, Canada said.
Audiences are returning, although in smaller numbers due to venue capacity limits and, with few exceptions, masked. With a drummer who caught COVID-19, Canada considers masks a prudent precaution.
The first month of 2021 sees the the release of the latest album of Canada's songs, recorded last year at the annual MusicFest in Steamboat Springs, Colorado. The album features 17 songs as performed by a Texas country who's who: Randy Rogers, Wade Bowen, Stoney LaRue, Bruce Robison, Reckless Kelly, Casey Donahew and more.
The tribute and album, "The Years: A Tribute to Cody Canada and the Music of Cross Canadian Ragweed," almost didn't happen. MusicFest founder and promoter John Dickson had asked Canada about three years ago to consider a tribute for his music, but Canada turned him down, figuring it would bring him unwanted calls for a CCR reunion. "That ship had sailed. There was bad blood and I moved on," he said.
Dixon asked again, after Canada had played for a tribute to Bruce Robison, and this time the answer was yes. Canada's tribute took place last January, pre-COVID-19, with the album recorded over two nights.
Having family in attendance and old friends playing songs that were old friends was an emotional experience for the 44-year-old singer-songwriter. "I'm a pretty sensitive dude. I was so wiped out, smiling and crying," he recalled.
Any standouts on the release? That's a tricky question with so many friends and colleagues playing, but B.J. Barham's take on the title track, "The Years," hit home, largely because that song came from the time in Canada's childhood when his family split up.
Given that Steamboat tributes have honored such Texas musicians as Guy Clark, Billy Joe Shaver, Townes Van Zandt, Robert Earl Keen, Rodney Crowell and Bruce Robison, Canada is flattered to be in that company. Hearing others sing the songs he's performed for years brings a new context. "It definitely gives me a different perspective in my writing. It brought me back to where I was at a certain time. I'm older now. I have kids."
The new material he's come up with is shaped by who he is now: older, wiser, a father of two teenage sons and husband, and perhaps a little COVID-19 stir crazy from earlier in the year. "I'm an observational writer. It's hard for me to write about the same four walls I'm looking at," he said. So what has he observed over the last year? Politics, race, civil unrest, COVID-19.
Don't expect him to dwell there, though. One of the COVID-19 lessons learned is the cost effectiveness of releasing his songs online as they're ready, without stockpiling them for future albums. Today's fans are more likely to listen single by single rather than by complete album, he noted, and technology allows quality recording without the need for a professional studio. That realization persuaded Canada's wife Shannon, his business manager, to go along with his dream of building a home studio, he said.
A second COVID lesson came through weeks of scrambling to cover revenue lost by cancelled gigs and tours. Cody and Shannon were determined to keep paying their band. Cody cobbled together online Zoom shows and private gigs while Shannon ran their School of Rock franchise in New Braunfels. The school, in its third year, saw its enrollment drop by nearly two-thirds as weeks of COVID-19 shutdowns hit the pocketbooks of students' parents, but has since rebounded to approach pre-pandemic levels, he said.
Canada readily admitted his wife, sister to Wade Bowen's wife Shelby, has the business mind of the family. Early in their relationship, she reminded him she had the business degree from college. "She told me 'Play songs, write songs and have fun, and let me handle the rest,'" he recalled, adding he readily agreed.