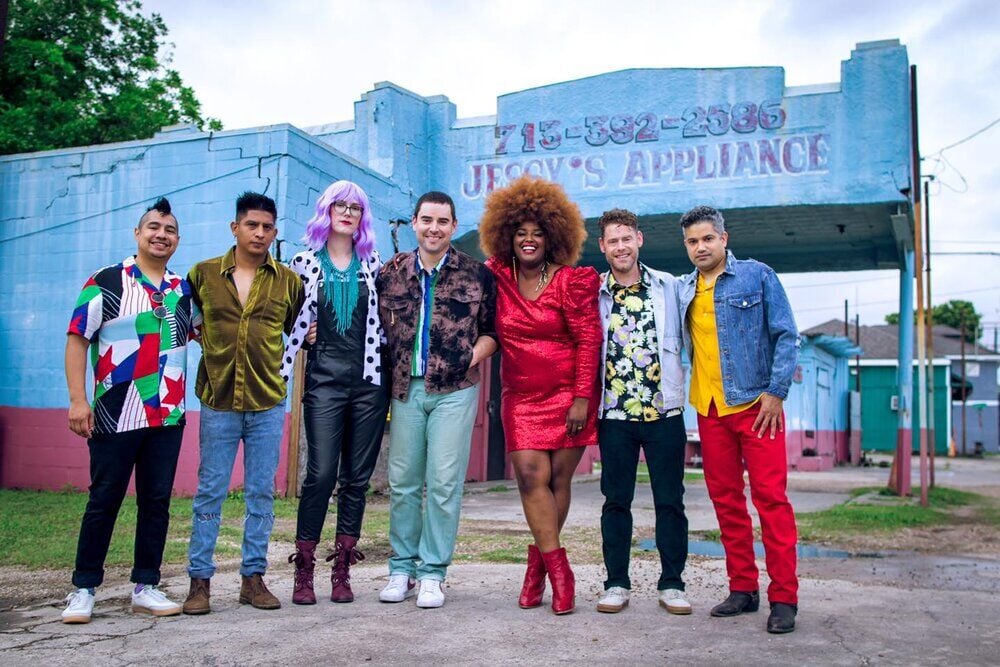 Teasing out the musical influences of Houston band The Suffers is about as challenging as defining the ethnic and international contributions to Houston's cultural stew: almost too many to name and too blended to separate.
That's why the band's percolating live brew gets described as "vintage R&B and classic rock & roll with dashes of reggae, country and hip-hop," as its Wikipedia entry has it, or "modern retro pop."
That's the catch-all phrase that lead singer and Houston champion Kam Franklin goes with, as it communicates the human communication and expression at its heart and a geography that links the music-rich cities of Houston and New Orleans.
As if it really matters when it comes down to entertaining and enlivening an audience, which the seven-member Houston band aims to do Saturday night when it performs at Magnolia Press as part of Magnolia's "Under Summer Skies" concert series.
"I don't care what people call it. I hear every genre," Franklin said in a recent phone interview. "There's soul music, but more than that. There's some Latin percussion ... A female voice leading."
And a New Orleans influence. "Not a maybe, but a definitely," she said, noting the thousands of New Orleans residents who moved to Houston for good in the aftermath of Hurricane Katrina.
Bassist Adam Castenada and vocalist Pat Kelly started the Houston band in 2011, with Franklin, a multi-year winner of Best Female Vocalist honors at the Houston Press Music Awards, taking over lead vocals shortly thereafter. Its growing popularity soared in 2015, thanks to appearances at Austin's South By Southwest Music Festival, a "Late Night With David Letterman" appearance on national television, and tours of the East and West Coasts and the South.
That was the year The Suffers — its name a reference from a 1978 Jamaican movie "Rockers," which identified artists as sufferers — had to decide whether to quit their day jobs. It wasn't easy. Franklin was in an oil and gas trading company, another member a NASA contractor with a teacher and a welder also contemplating career changes, she said.
"We were looking at saying sayonara to our 401(k) and insurance. It was a really risky thing to do," she said.
A few years after going forward with their music, The Suffers saw the pandemic shut down venues and touring for more than a year. It didn't kill the band, though, and sharpened the perspective on why their music was important.
"Music is healing. During the pandemic, that became real for me, more than it has ever been," Franklin said.
It also got Franklin, born and raised in music and musical theater, in touch with other sides of her creativity: The sequin dresses she used as a room backdrop for more than a dozen livestreaming performances last year delighted viewers enough that she's putting together her first visual art show in upcoming weeks.
What Waco audiences will encounter Saturday is a band that aims to please, with songs from past albums "The Suffers" and "Everything Here" sprinkled with new ones for an upcoming album.
"We'll be making sure the audience is having a good time," she said. "I'm a real big fan of escapism. We have a lot of full-band energy. And I like to laugh a lot," she said.
It's The Suffers' first Waco performance and Franklin's looking forward to it, even if some Houston friends can't get beyond past Waco stereotypes. "I'm excited to go to Waco," she said. "People have to remember cities are capable of change."