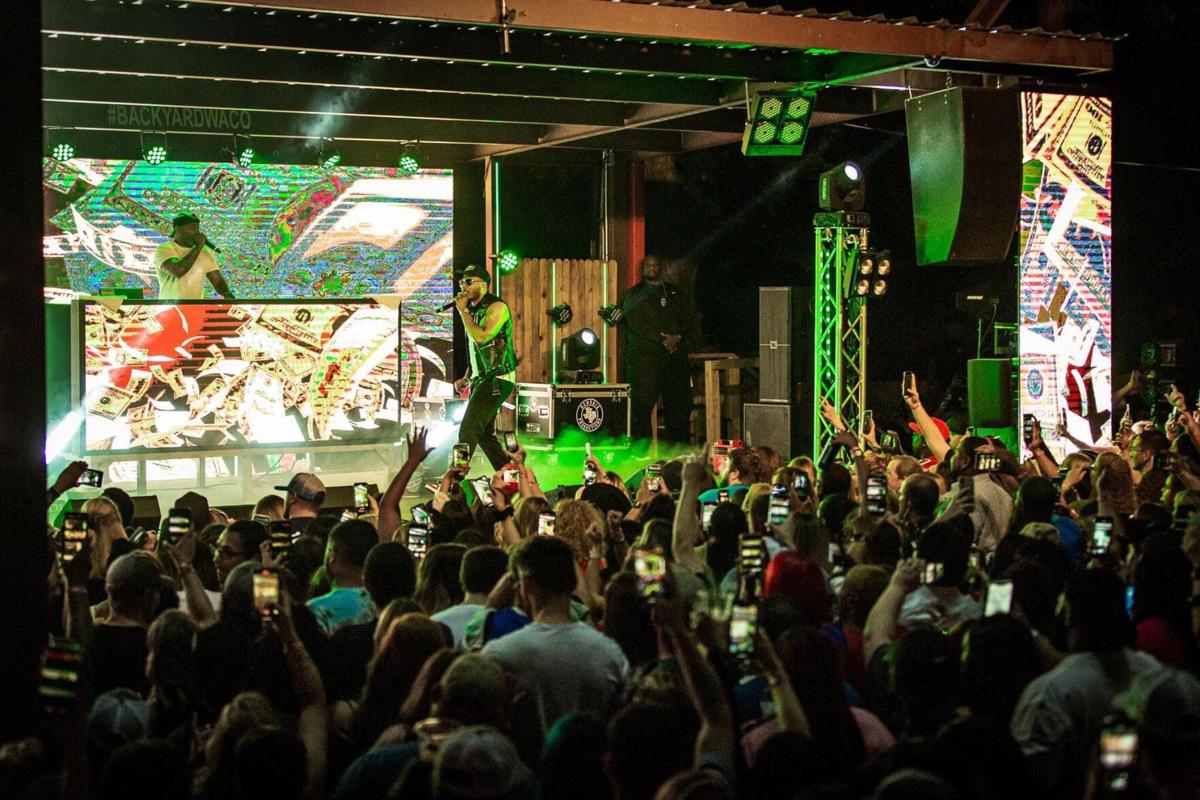 It's been awhile — more than a year — since Waco music fans could show up en masse for a concert, much less cheer and holler, but big shows last weekend suggest more of that may be ahead.
A year's worth of measures intended to limit coronavirus spread in the community such as venue closures, capacity limits, social distancing and gathering size limitations have silenced, more or less, most large concerts in Waco.
Relaxation of state COVID-19 mandates in recent months and rising vaccination numbers, however, encouraged of two of Waco's larger live music venues, Extraco Events Center and The Backyard, to take a chance and book shows with name artists, hoping Waco audiences would turn out.
The Backyard's Friday concert with rap/hip-hop star Nelly filled the outdoor venue with some 1,200 fans shelling out more than $80 per ticket for what Backyard co-owner Chris Cox described as "an absolutely electric show."
Across town at Extraco Events Center, the first two nights of a three-night One HOT Music Fest, Thursday through Sunday, drew more than 5,000 fans each night to see Texas country stars Koe Wetzel and Parker McCollum. Those numbers didn't show up for the festival's third night, with Spanish-language band La Fiera de Ojinaga, but the overall weekend delighted Wes Allison, Heart O' Texas Fair & Rodeo President and CEO. "It was awesome to get back in doing concerts again," he said.
Pent-up demand for live music may have led to the multiple sellouts, with the national and regional popularity of the artists also playing a part, but the response to the shows may change promoters' perception of Waco's support of touring acts.
The crowd for Nelly showed Cox that there may be an appetite for more than Texas country musicians and rock and country acts from the 1990s, two genres that have brought the most success for The Backyard. "It means we have a bigger talent pool to draw on," he said. "We have a lot of 30- to 40-year-olds who want to relive their high school years."
Booking Nelly was a gamble for The Backyard, in part because meeting his fee translated into a ticket close to $100, considerably higher than what's usually charged for Backyard concerts. That anxiety, however, vanished within hours after tickets went on sale: The venue sold more than 1,000 tickets within 10 hours.
"We were blown away. The promoter was blown away," Cox recalled.
What's ahead? He hints there are negotiations underway for another big name act, but nothing firm yet. In the meanwhile, The Backyard already has Uncle Kracker, Molly Hatchet and Robert Earl Keen lined up for summer in addition to its usual run of Texas country stars.
As social media posts from the concert indicated, masking and social distancing weren't the rule, a change in pace from months of past Backyard concerts where such protocols were observed. "We're wide open," admitted Cox. "We had to do some soul-searching, but with vaccines going out and the state opening up, we felt we could do so. We still go to the (McLennan County) COVID site daily to make sure (the case rate) isn't rising."
As with other community events during the year of COVID-19, it may be two or three weeks before any increase in COVID-19 cases show up. An anticipated bump in local COVID-19 cases in the weeks after colleges' spring break this year largely didn't materialize, however.
Extraco Events Center's three-day festival was planned for outdoors to allow space for fans still concerned about social distancing at group events. Going forward, masking and social distancing for events that the venue organizes will be voluntary, Allison said. Promoters and organizers can still require masking, distancing and other precautions for their events with the center's support, he added.
Does the One HOT Music Fest turnout mean a Margarita & Salsa Festival in August? Allison noted time is running out on the planning window required for that event. "Who knows? That's a hard one for us, but we're still holding the date open," he said.
This year's HOT Fair and Rodeo, however, will be closer to what fairgoers experienced for years before last year's COVID-19 limitations. New events, new exhibits, new vendors and the debut of The Base, the Extraco Events Center's new multipurpose space, will give the fair a different look and feel. "There's a lot of excitement for how the fair's evolving," Allison said. "We hope that it feels different and that we raise the standard."
The music festival sellouts suggest the pandemic may have changed a long-held perception of Waco as the town of last-minute audiences, where a concert's success often turns around scant days before a show. That occasional fickleness led HOT Fair organizers to pass on booking Nelly in 2019, in fact, but Allison noted that only 47 of the 5,000-plus tickets sold for the Koe Wetzel show were sold at the box office with an even fewer 13 tickets sold at the box office for McCollum.
"In the past, as much as 80% of our (concert) tickets were sold the week of the show," he said, attributing the shift in ticket buying to a year where closed or limited businesses and restaurants drove many people to online purchasing.
That may lead fair organizers to expand online ticketing. "We'll see how that moves to the fair in the fall. We'll be looking at incentives to buy advance tickets," he said.