Some have mocked its color scheme, and a Waco bank foreclosed on it last week, but The Containery at Fourth Street and Jackson Avenue may get another crack at redemption under new ownership.
It hits the market next week priced at $6.5 million, said listing agent Gregg Glime. Since 2017 he has pursued retail, dining and entertainment tenants for the cargo containers developer Bill Wetterman built near Fabled Bookshop & Cafe and Magnolia Market.
Design House Jewelry is the lone lessee, occupying 1,290 square feet in the 33,888-square-foot oddity some have labeled "Legoland." Shop spokeswoman Bethany Swoveland said ownership is thrilled with the space, loves the size and location, "and gets lots of visitors from the Silos and people hanging out in downtown Waco now that revitalization is underway."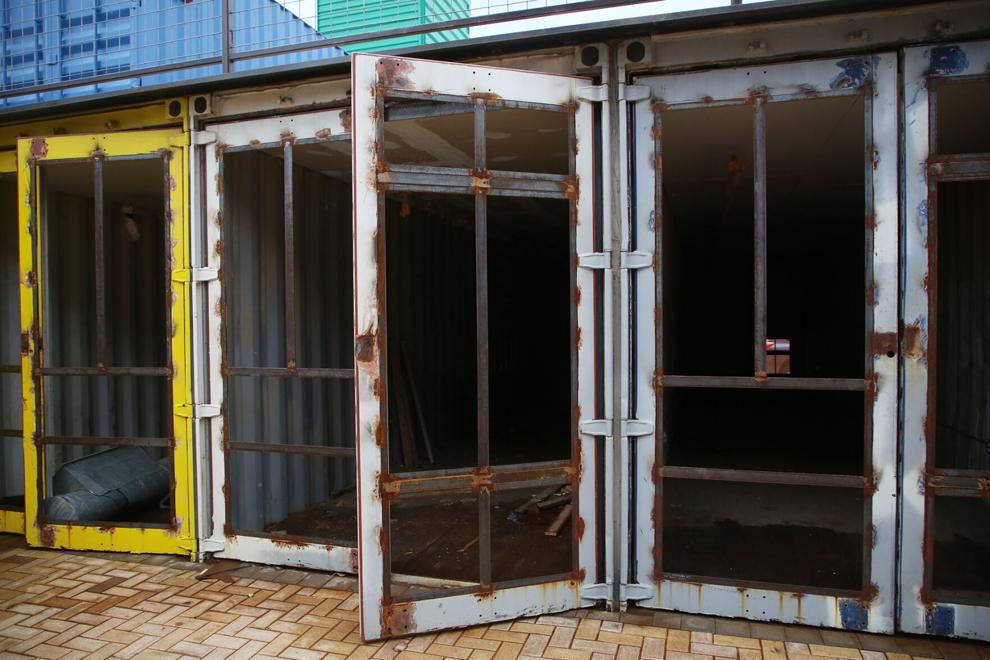 That's the case Glime made in announcing The Containery's availability.
"I've had 75 offers on lease space the last four years," said Glime. "It's always proven to be very marketable to retail, restaurant and office users. We just need to get it over the finish line. I would say construction is roughly 90% done at this point. We have two other signed leases, but we're not going to actively market the property for lease until the new ownership group arrives."
Glime said he knows The Containery has generated interest among potential buyers locally, even nationally, but is listing the property without knowing a specific group waiting in the wings to pounce. He said in an interview Wednesday he continues to prepare a marketing brochure.
"Given the level of interest and the number of inquiries we've received, I would expect to see multiple offers once it's up for sale," Glime said.
City of Waco inspection official Bobby Horner said inspectors last visited The Containery nearly a year ago, on July 15, 2020. The project's building permit expired Jan. 11 and would have to be renewed for construction to proceed.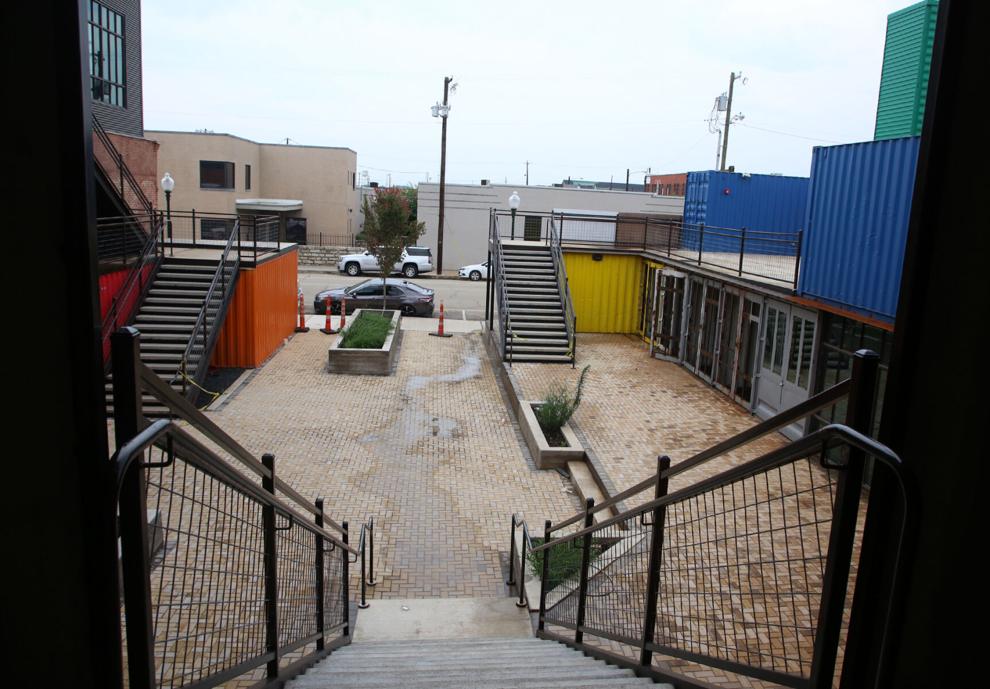 A building formed from massive shipping containers is unique, said Horner, "but the basic inspection process has been the same, looking at plumbing, electrical, mechanical and framing." He said he's not aware of a specific issue precluding ownership from securing a certificate of occupancy.
The Containery's coloring created dissension, however, with some city leaders recoiling. They made their displeasure known, and when Wetterman failed to meet a city-imposed deadline, a Tax Increment Financing board ordered Wetterman to repaint The Containery or lose nearly $500,000 in tax-supported TIF funding the city pledged early in the process.
Wetterman has not returned calls from the Tribune-Herald seeking comment, and The Containery has not seen a color change. TFNB Your Bank For Life, which financed construction, foreclosed on the property last week, claiming owner 4th & Jackson LLC defaulted on a loan of more than $4.4 million.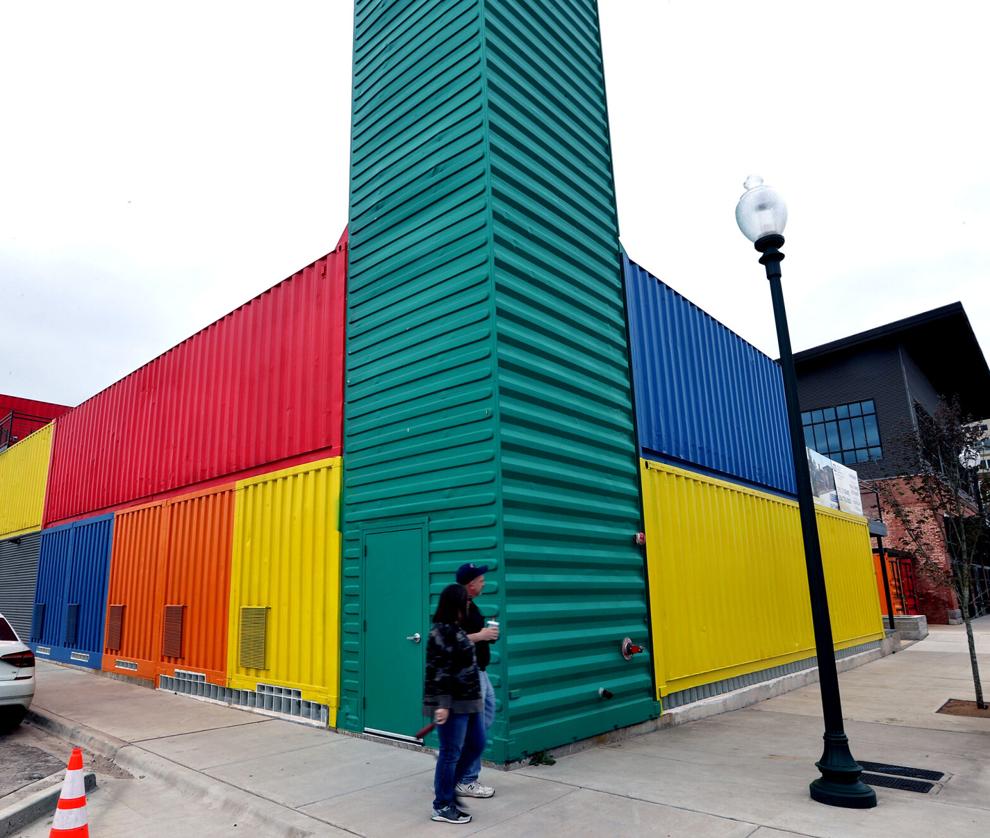 Since then, said Glime, discussions involving the city, TFNB Your Bank For Life and general contractor Mitchell Construction have taken place.
"I've talked with architects, designers and other artistic folks in town, and we've come up with a couple of ideas for maintaining the uniqueness and eclectic nature of The Containery," Glime said. "Dissatisfaction with the color has been brought up by the city, but everyone has been open in talking this thing through. Everyone wants what's best for the property."
Suggestions have surfaced that murals, ivy or creative landscaping be used to cloak The Containery, possibly eliminating the need to entirely repaint it.
"This could change the curb appeal and aesthetics," Glime said.
If the new owners get painted into a corner, so to speak, and a fresh look becomes mandatory, said Glime, the deed will get done. He's securing cost estimates, he said, and plans range from $30,000 to $150,000.
Others with a stake in downtown wonder what the fuss is about.
"Beauty is in the eye of the beholder," said Kelly Realtors commercial real estate specialist Colt Kelly, who is not involved with the project. "Some people will love the bright colors and some will not . . . I don't know how much is left to actually finish out the space, but I would think the project could absolutely be rescued."
Kelly said the new owners should have their choice of tenants.
"I am seeing a ton of activity pick back up downtown," he said.
Local developer Shane Turner, whose resume includes remodeling the Waco Hippodrome Theatre and creating the popular Union Hall food hall, said he admires what those involved in The Containery want to achieve.
"I visited Boxpark in London, and it's the same concept," said Turner. "Personally, if I started this project, The Containery, I wouldn't change it. I don't know all the details, don't know about the foreclosure, but I think it merits pushing forward. I'm not saying I'm taking it over. I'm not."
Turner said paint him unconcerned about The Containery's look.
"But if it takes changing colors to get it done, change the colors," he said.
Glime said crews using cranes stacked and positioned more than 40 containers over four floors. They were paired with a heavily renovated, decades-old garage next door to create a courtyard, retail space, food hall and event venue. Even a basement once filled with debris from Urban Renewal projects was emptied and repurposed for use.
Units from 120 to 2,500 square feet remain available.
"This is a great product for a small business wanting to move into downtown, near the Silos, near tourists," said Glime, touting its potential as an incubator. "You can cheaply build out your space, for a couple of thousand dollars, then pay rents of $1,500 a month. Compare that with securing more permanent space and paying $60,000 to $100,000 for build-out."