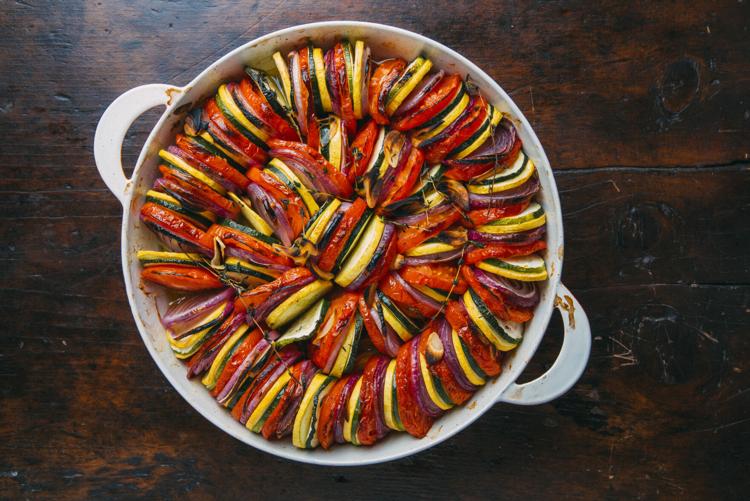 This pretty vegan layered casserole is so simple to make. Its only seasonings are salt and garlic-infused olive oil, which you make by sizzling a clove of garlic in olive oil for about a minute. This dish is lovely warm or room temperature. Serve alongside roasted meats as a side dish or with crusty bread as a vegetarian entree.
Summer Vegetable Tian
1/3 cup extra-virgin olive oil
1 clove garlic, sliced
4 medium tomatoes
3 small onions
1 medium summer squash
1 medium zucchini
1 teaspoon sea salt
1. Preheat oven to 400 F.
2. Heat oil and garlic in a small saucepan over medium-high heat until the garlic begins to sizzle, about 1 minute. Remove from heat and set aside.
3. Slice tomatoes, onions, squash and zucchini into 1/8-inch-thick slices. Standing them up on their sides, alternate the tomato, onion, squash and zucchini slices in a circular pattern around the edge of a 9-inch deep-dish glass pie pan or similar-size round casserole dish. Make a second alternating circle in the center. Pack the vegetables tightly; they will shrink while baking.
4. Discard the garlic, if desired, and drizzle the vegetables with the oil. Sprinkle with salt. Bake until the vegetables are tender and starting to brown, about 1 hour. Let cool for 10 minutes before serving.
Recipe nutrition per serving: 152 Calories, Total Fat: 13 g, Saturated Fat: 2 g, Cholesterol: 0 mg, Carbohydrates: 9 g, Fiber: 2 g, Total Sugars: 5 g, Added Sugars: 0 g, Protein: 2 g, Sodium: 376 mg, Potassium: 425 mg, Folate: 37 mcg, Calcium: 27 mg
Carbohydrate Servings: 1/2
(EatingWell is a magazine and website devoted to healthy eating as a way of life. Online at www.eatingwell.com.)
Satisfy your cravings
With our weekly newsletter packed with the latest in everything food.