At first sight, the emerald meadows dotted with blooming rye, medium red clover and wildflowers vibrate in the sun's rays.
The scenery seems impossibly beautiful, and then you see the cloud-crowned Blue Ridge Mountains framed by an azure sky and stop to take it all in.
At the mountains' base are streams and tributaries rimmed by wild grasses and deep foliage from black walnut trees and massive oaks. The South River is just a few acres away, which forms the South Fork Shenandoah River and veers east through the Blue Ridge to the Potomac River near Washington that eventually joins the Chesapeake Bay.
---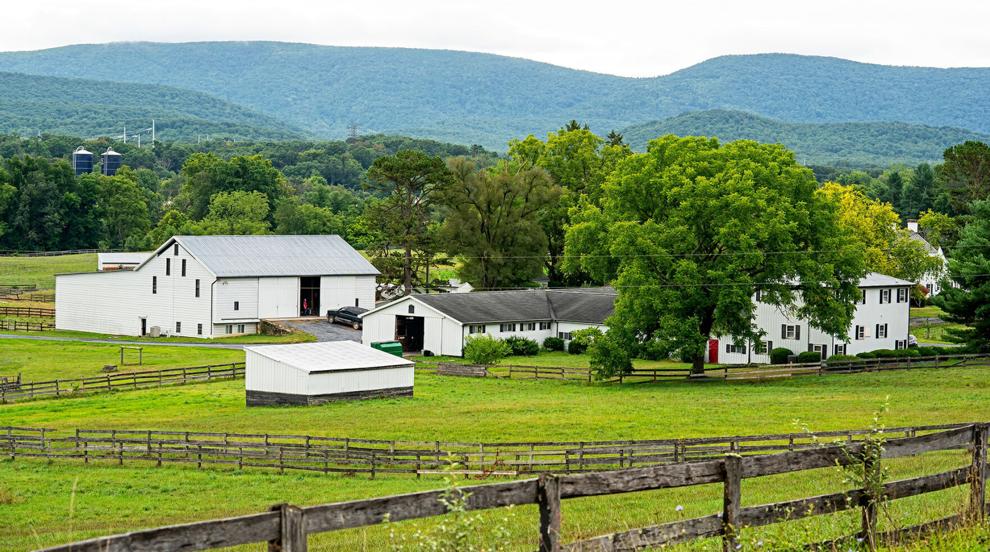 ---
Rare breeds abound at Autumn Olive Farms
This stunning setting is home to Autumn Olive Farms, a 600-acre pig farm with, on average, 1500 pigs roaming at any given time and a charming 18th-century farmhouse as its centerpiece. The farm is owned by Clay and Linda Trainum. Clay is a regenerative agriculture visionary and a steward of the land with a Renaissance approach to life. He sees beauty, wonder and new learning opportunities in everything he does, which means he's as likely to quote scientific farming journals as he is to share snippets from fellow pork lover Peter Kaminsky's book, "Pig Perfect."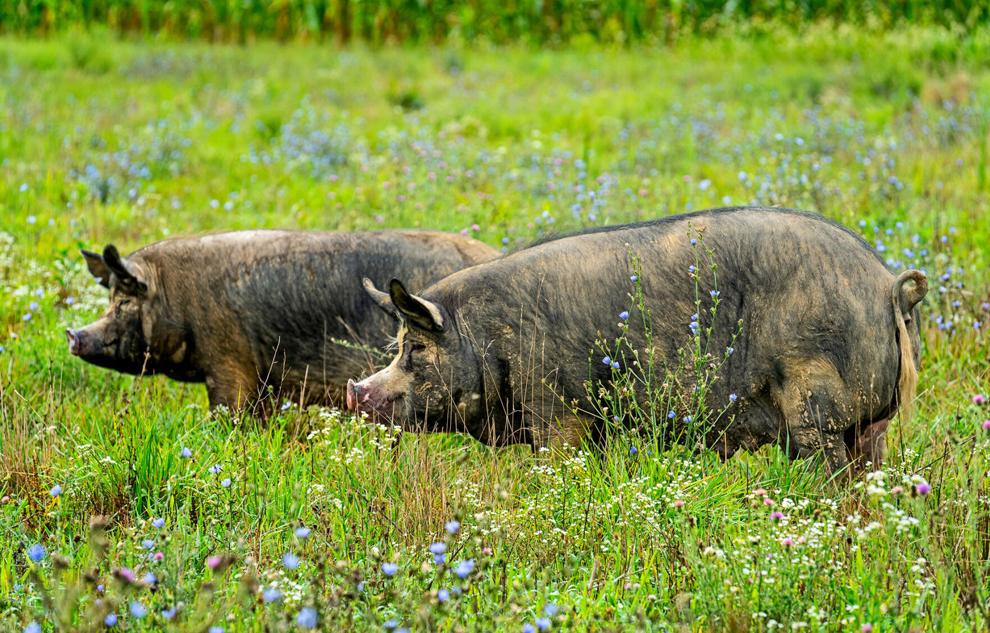 ---
Not everyone can go hog wild
In an era when almost 99% of all pork in America comes from intensive factory farms, it's not hyperbole to say Clay is as rare a breed as the pigs he raises. Wild-foraged and pasture-raised pig farming is a business with tight margins and plenty of risks. The vagaries of weather, the potential for poor crops, drought, natural predators and constantly shifting consumer demands and food trends can potentially make or break a business in just one season.
---
Breeding matters
But Autumn Olive Farms has been successful and remains dedicated to soil preservation and humanely raised, foraged, rare-breed pigs that live free of growth hormones, steroids and antibiotics. On their farm, Clay and Linda raise Berkabaw hogs, a unique cross of purebred Heritage Ossabaw Island hogs descended directly from Iberico hogs brought from Spain in 1539, and English Berkshire hogs that offer tasty, prodigious amounts of fat and tender meat.
There are also the Patterson Registered Berkshire hogs that are a large part of the farm's meat production. Clay says their proof of concept shows that "dedicating large spaces and stocking rates for pigs and planting annual and perennial cover crop forages works. In addition, our genetic program, terroir and management make us profitable, which is a trifecta. Plus, we offer a level of customer support that rivals anything anywhere. Just ask our customers."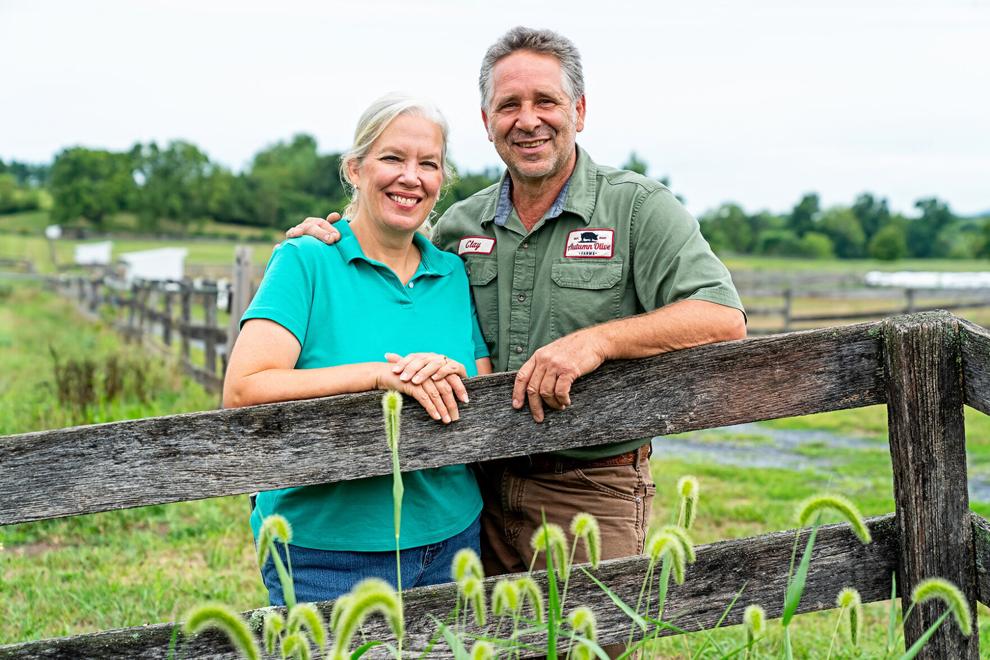 ---
The germ of an idea
If you ask Clay what his farm's philosophy is and how it inspires his work as a steward of the land, he'll begin by telling you how Autumn Olive Farms got its start. "Our goal was to raise healthy food to heal our bodies that had been damaged from a biotoxin illness," he explains of buying the property that houses Autumn Olive Farms in 2019. The couple wanted to live with fresh air, clean soils and no chemicals. Those changes turned their health and lives around. 
The couple's love of nature and farming drove them to research and implement regenerative agriculture. "Raising food as we do is naturally land-healing and happens to be delicious, and it was from this that our business was born," says Clay. "Over the last few years, we've learned what it means to be a steward of land and animals."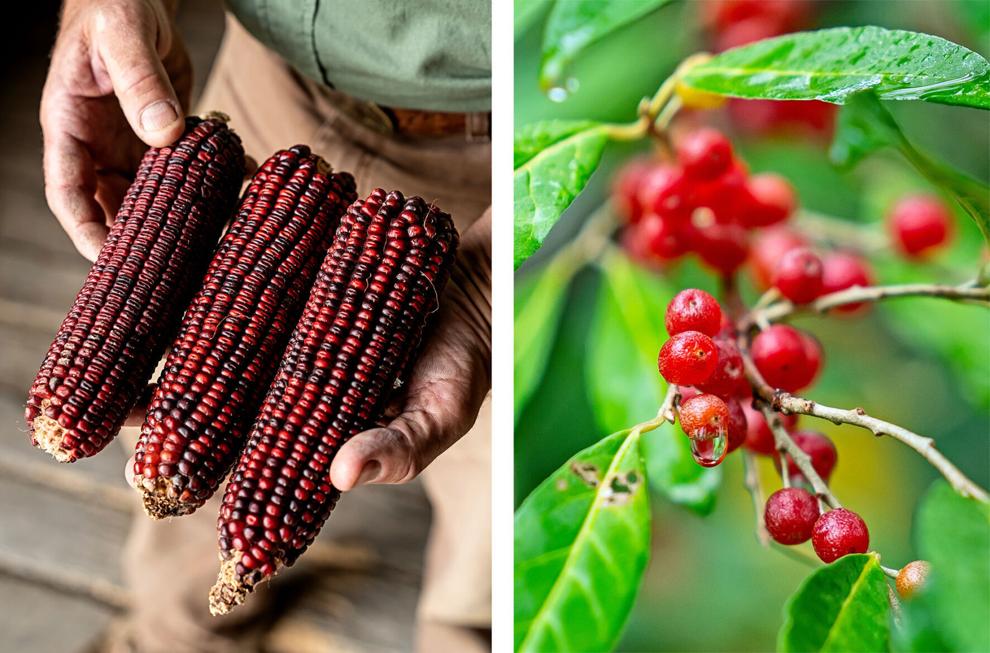 ---
The test is in the taste
The real test of any meat product is in the taste, and the secret to flavorful pork is in the diet and living conditions of the pigs. Happy, healthy, well-fed pigs make for delicious pork, and at Autumn Olive Farms, the pigs are happy and eat well year-round.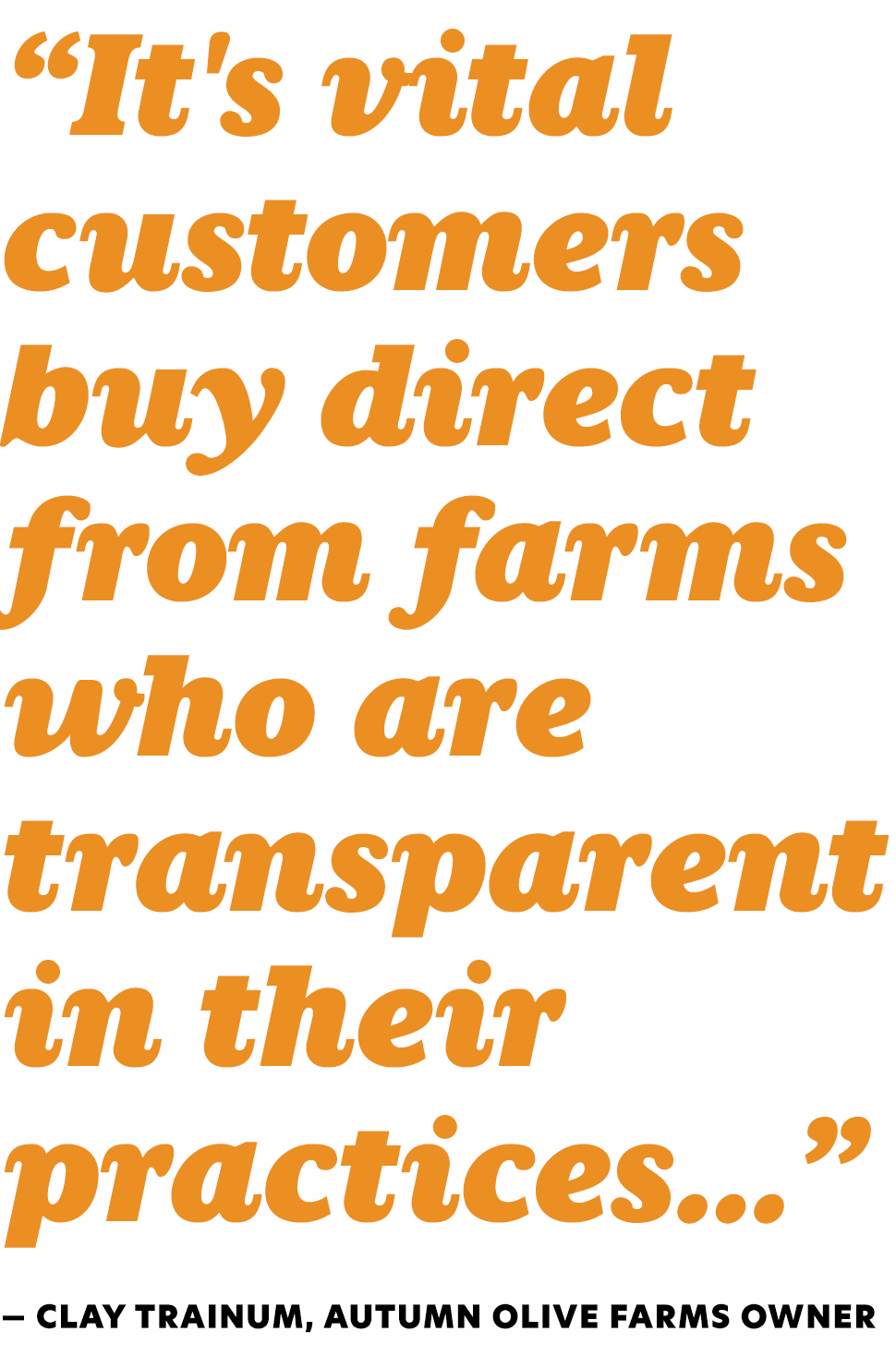 They dine on farm-grown crops following organic principles like 1840 Bloody Butcher corn, millet, sorghum, buckwheat and other legumes, especially foraged wild foods. Walnuts, hickory nuts and acorns that grow abundantly in hardwood forests are favorites. Still, a penchant for sweets is easily satisfied with wild fox grapes, autumn olives, raspberries, blackberries, wineberries and cherries.
---
Buying local makes a difference
"It's vital customers buy direct from farms who are transparent in their practices, raise animals ethically and care about the locality," Clay stresses. "Those who raise food ethically have much higher costs, not because they are inefficient but because they allocate land, pay taxes and have insurance. In addition, we all care for our animals; we absorb the cost of birthing and unfavorable weather."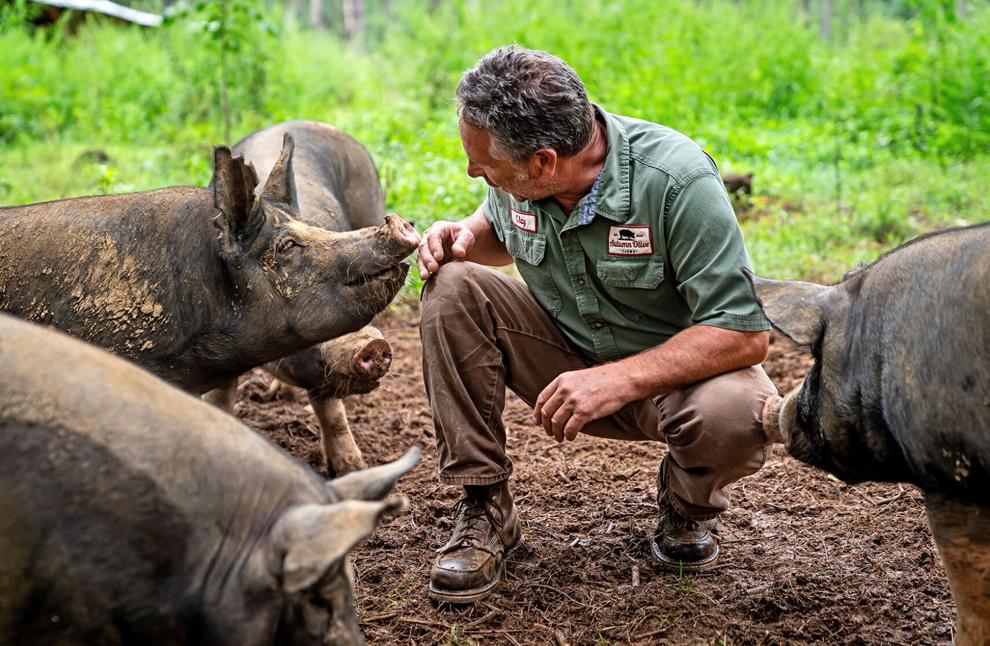 Consumers are discovering that sustainability and quality pork come at a price. If they want healthier, better-tasting meat, they have to support local farmers and food businesses like Washington's Bresca restaurant, Richmond, Virginia's Redemption BBQ and McLean, Virginia's the Organic Butcher. This approach makes buying directly viable for everyone and reinforces Clay's belief that regenerative farming and sustainable, humanely-raised pork can heal local food systems. "You get all of the health benefits and flavor from our pigs, but these high-end restaurants use their mastery of flavor and creativity to make an even better product," say Clay.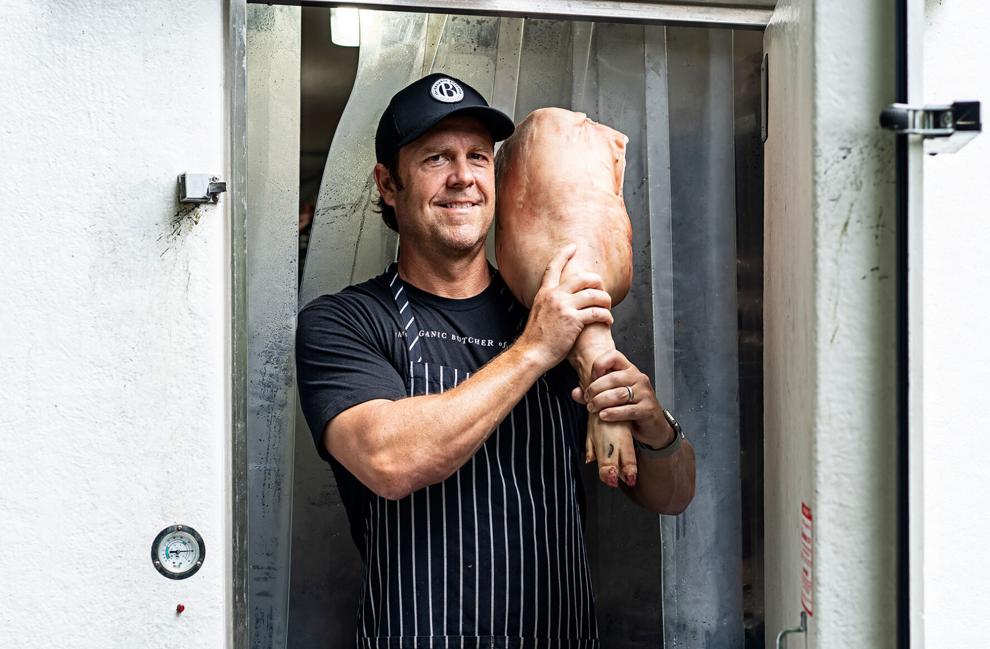 ---
From high-tech to high-quality pork
It's local butcher shops like the Organic Butcher of McLean, located about two hours from Autumn Olive Farms, that are helping carry the torch of buying local. In 2005, owner Don Roden was living in downtown McLean, a prosperous Washington suburb, when he decided to open an English-style butcher shop.
Roden knew about English butchers' respect for tradition, their dedication to personal customer service and high-quality local meats, and their passion for educating their customers. It is commonplace to offer tips and suggestions on what to cook, plus how to cook and serve it, and the Organic Butcher carries on these practices.
---
First impressions make a difference
When you approach the Organic Butcher, aromas of smoky, roasted meat and singed fat entice your senses, and then you notice the black-and-white striped awning, black-trimmed, multipaned windows and charming exterior wood molding. But it's when you step inside that the magic begins.
Polished glass-fronted refrigerator cases filled with a wide selection of mouthwatering cuts of pork and beef catch your attention first as customers jostle to choose what to buy. At one counter, customers ask the butcher what's fresh that day, while others peruse the shelves for sauces, soups and condiments.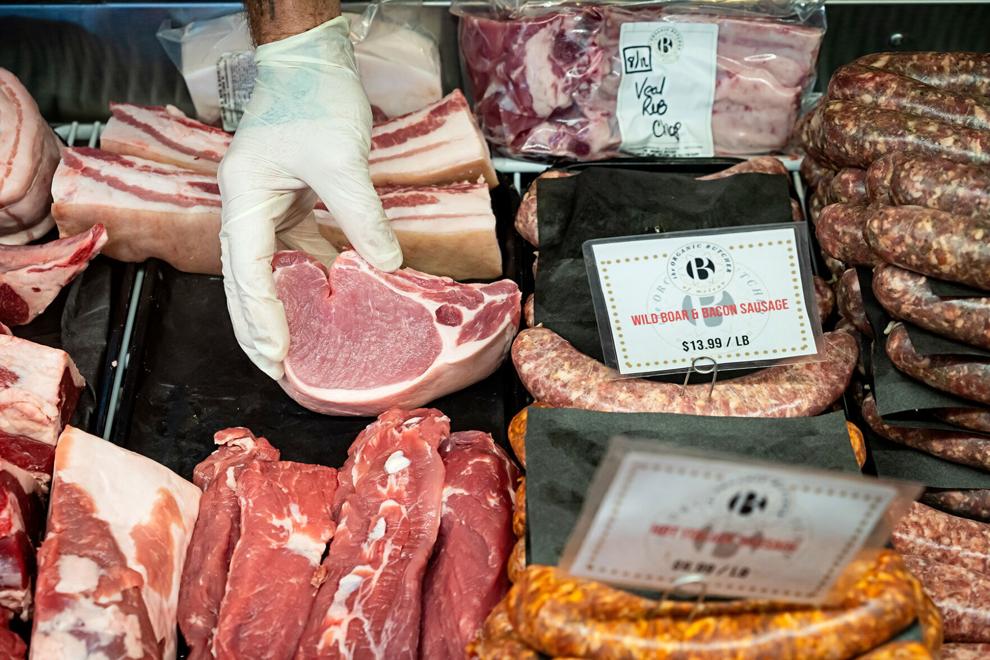 ---
Going to the source
"I source locally whenever possible," explains Roden of how he buys the products he sells. "Farms that can scale and meet the needs of local independent shops like the Organic Butcher provide consistency, which is very important.  We can't afford to sell a product that is good one week but not the next." 
Roden's busy shop, filled with happy customers, proves that for the past 15 years, Roden has done a great job staying consistent. What he loves most "is being a part of the community and getting to know our customers through daily interactions."
What is favorite thing about owning the Organic Butcher? His clients and staff. "We are like one big family," he says with a smile.