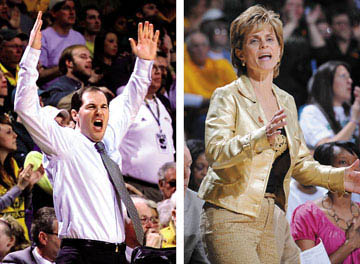 The NCAA accepted Baylor University's self-imposed penalties against the men's and women's basketball programs for rules violations and placed the school on three years probation Wednesday.
Baylor suspended men's basketball coach Scott Drew for the first two Big 12 games of the 2012-13 season. Baylor also suspended women's coach Kim Mulkey from off-campus recruiting during this year's summer recruiting period, from July 1-31.
The school imposed recruiting restrictions and scholarship reductions on both programs.
But neither Baylor basketball program received a postseason ban from the NCAA. Baylor received postseason bans in three previous NCAA investigations of the men's basketball program that began in 1985, 1993 and 2003.
The NCAA ruled in this investigation that Baylor failed to monitor its basketball programs.
The recruiting violations were major since they included 738 impermissible recruiting text messages and 528 phone calls not allowed under NCAA rules.
The case was resolved through the summary disposition process, a cooperative effort in which the involved parties collectively submit the case to the NCAA Committee on Infractions in written form. There was no formal hearing between Baylor and the NCAA.
"We are grateful this matter has been resolved, and that the NCAA Committee on Infractions has agreed to the facts of this case as reported in the joint summary disposition," Baylor President Ken Starr said in a statement. "While mistakes sometimes happen, it is important that we acknowledge our errors and respond to them in a manner that is open and honest, and that we strictly adhere to NCAA rules."
Baylor's probation comes on the heels of the women's basketball team winning the national championship with a 40-0 record last week in Denver. The men's basketball team finished with a program-best 30-8 record and reached the Elite Eight before losing to eventual national champion Kentucky.
During the 3 1/2-year investigation, the NCAA enforcement staff and Baylor reviewed nearly 900,000 phone and text message records.
The violations were deemed major because of the volume of the more than 1,200 phone calls and text messages, according to NCAA officials.
Baylor officials also said basketball coaches failed to document the number of phone calls in which no contact was made with the prospective recruit.
Drew was cited for failure to monitor the men's program, which was related to his failure to inform Baylor's administration of a potential violation and insufficient oversight of two assistant coaches' recruitment activities, according to the NCAA's report.
Baylor reduced men's basketball scholarships from 13 to 12 for the 2011-12 and 2012-13 academic years.
Baylor's official visits for recruits on campus were cut from 12 to seven for the 2012-13 academic year, and the days for evaluating recruits off-campus were cut from 130 to 115.
The men's basketball program also was found to have impermissibly used talent scouts at its basketball clinics. Most of the impermissible phone calls by the Baylor men's basketball program were in 2007 and 2008, the report said.
"As head coach, I take full responsibility for these mistakes and am disappointed that we have failed to uphold both the NCAA's and Baylor's expectations of documenting phone calls and recruiting communications," Drew said in a statement. "Our program has taken steps to correct these mistakes, and we are grateful that the NCAA has accepted those actions."
Additionally, former Baylor assistant men's basketball coach Mark Morefield committed unethical conduct when he attempted to influence two nonscholastic coaches to provide false and misleading information during the investigation. Morefield resigned from Baylor in July 2011.
Morefield received a one-year show-cause order from the NCAA for any future college coaching position, which prohibits any recruiting activity.
"I sincerely apologize to Baylor University and Baylor Nation," Morefield said in a statement. "I learned a very valuable lesson in this case. In my 13 years of coaching at NCAA institutions, I have not intentionally violated NCAA rules. I will grow from this experience with a better understanding of NCAA rules."
In addition to Mulkey's off-campus recruiting suspension in July, the school reduced women's basketball scholarships from 15 to 13 for the 2011-12 academic year.
Assistant women's coach Damion McKinney will not be allowed to place any recruiting calls during a four-month period from January through April 2012.
The women's program also violated NCAA rules with the improper employment of two players at university camps, recruiting publicity by a booster organization, and impermissible inducements and contacts with two prospects, according to the NCAA.
"I believe strongly in following NCAA rules and will always try to do so in the future," Mulkey said in a statement. "I do nothing without permission from our compliance office and will continue to ask questions to assure that things are done right. Any compliance-related mistakes, even those that are secondary, are disappointing."
Baylor did not allow any of its coaches or administrators to comment other than prepared statements.
The NCAA's investigation of Baylor began in October 2008 when national women's basketball player of the year Brittney Griner and her father, Ray, reported information concerning their contact with members of the basketball staff that were potentially impermissible. Griner was a senior at Aldine Nimitz High School at the time.
Griner and her father provided the information during an interview with the NCAA enforcement staff in conjunction with the NCAA Top Prospect Program.
Mulkey reportedly broke an NCAA rule when she sat next to Griner's father during an AAU event and discussed Baylor with him. Griner played on the same AAU team as Mulkey's daughter, Makenzie Robertson.
Baylor athletic director Ian McCaw said the athletic department has improved its compliance during the past few years.
"The university has made significant investments in compliance staffing and infrastructure both prior to and since the investigation began," McCaw said. "Moreover, we have outstanding coaches who are committed to operating their programs with integrity."