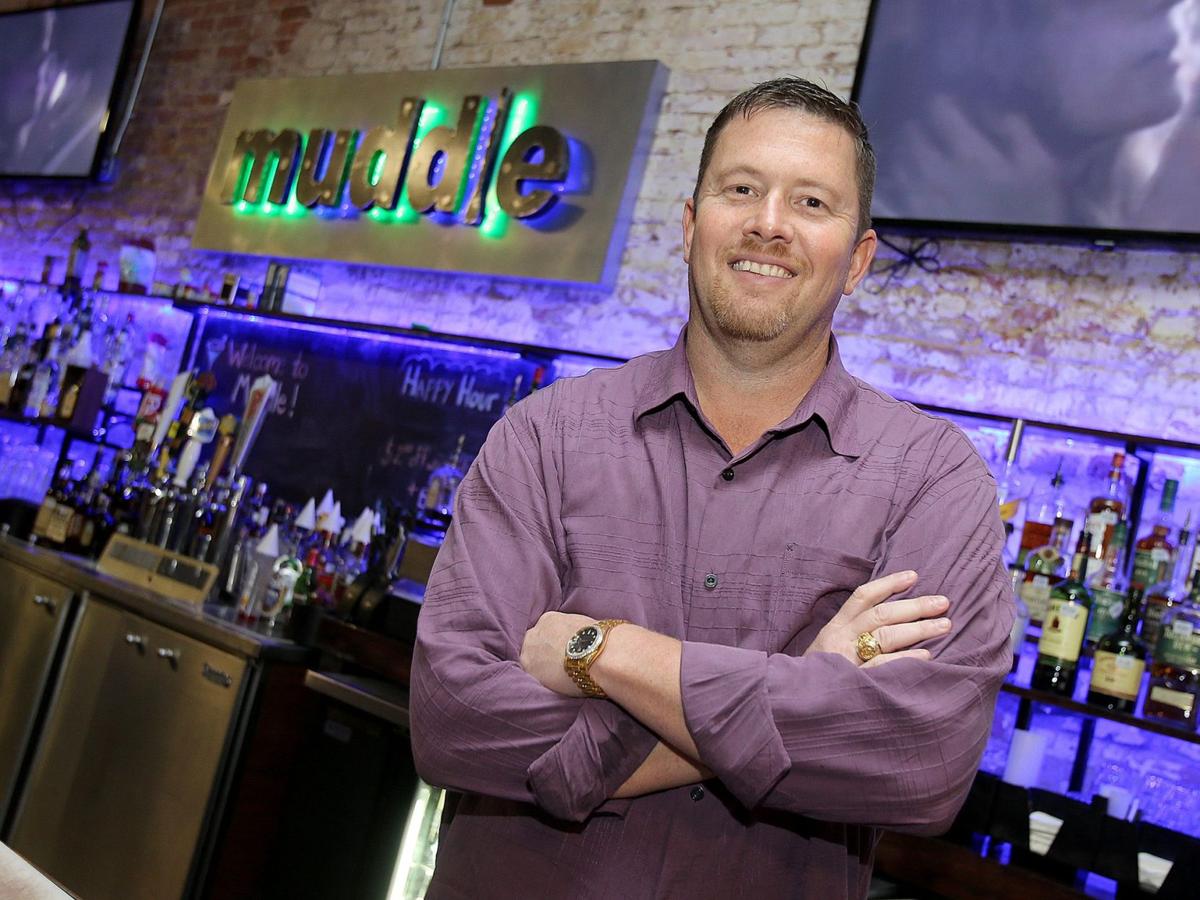 Mike Priest now is the sole owner of what he thinks is the best cocktail lounge in Waco, and he said he would be crazy to make major changes.
Muddle, 727 Austin Ave., opened in January 2014 as the pride of Waco attorney Seth Sutton and developer Jerry Dyer Jr.
Sutton and Dyer have left the picture, and 43-year-old Priest is calling the shots, having closed deals with the former owners and securing permission from the Texas Alcoholic Beverage Commission to serve as sole proprietor of an establishment known for its lounging areas and live music.
"I remember the first time I walked into Muddle. I liked the vibe, and I knew there was nothing like it in Waco," said Priest, a Texas A&M graduate who worked 18 years for Profiles International but left the executive placement firm to focus on investment properties and to run Muddle.
Priest said an establishment that is filled to capacity most nights does not require drastic measures.
One tweak has been hiring a private food truck to serve such fare as cheeseburgers, onion rings and Philly cheesesteaks on Thursday, Friday and Saturday evenings.
Muddle remains open for business from 4 p.m. to 2 a.m. Tuesday through Saturday, closing Sunday and Monday.
"I know Mike, and I know he's going to do a great job," said Chris McGowan, director of urban development for the Greater Waco Chamber of Commerce. "Muddle has a great concept and a wonderful following, and it makes a great cocktail. The place resonates with a lot of different people."
Crowds flock to Muddle on Thursday's "College Night" and on Saturdays, when "Piano Man" Matt Wilson takes center stage.
"My wife Susan and I make it a point of being there on Saturdays, and we stay until the place closes," Priest said. "It is that entertaining."
Muddle moved into a space that had been vacant for decades, but now has robust neighbors.
Portofino's Italian Restaurant moved next door in June of last year, relocating from 19th Street and Lake Shore Drive to downtown.
Nick Colaku, son of the owner, said the two establishments complement each other, generating customers they might not otherwise get.
"It's a nice atmosphere. I enjoy going there myself," Colaku said about Muddle.
Dyer and Sutton envisioned Muddle as an after-dinner or late-evening stop on a downtown visit, they told the Tribune-Herald upon the bar's opening in 2014.
The lounge has a pool table and a dart board, and an enclosed patio with its own bar for drinking and smoking. The partners designed the place with a spacious front room with a table in the shape of the signature "M" in the center. Couches are nestled in the corners, and an entire living area sits in the back surrounded by a curtain for private functions.
Sutton and Dyer kept the interior facade of the building and tried to enhance its urban feel through steel and stained wood finishes.
Priest said he has known Sutton and Dyer for about five years, having made their acquaintance as members of the same fantasy football league. He said he was "strategically" involved in Muddle as far back as last summer, acquired a third of the establishment in February, and recently closed on a deal that gave him sole ownership.
Neither Sutton nor Dyer could be reached for comment on the change.
Priest said he sees nothing but bright days ahead for Muddle and Austin Avenue.
After four years consumed by a $2.6 million renovation, the historic Waco Hippodrome theater opened in November directly across the street. It offers first-run movies, a restaurant and event food service, live music, a theater, dance and more for Waco audiences.
"I was born and raised here, and the transformation from nothing to what downtown is today is quite remarkable," Priest said. "It's nice to see downtown become a destination, where you can enjoy a meal or a drink and stay and enjoy yourself. As for Muddle, I think it's quality, and I think Waco likes that type of atmosphere."