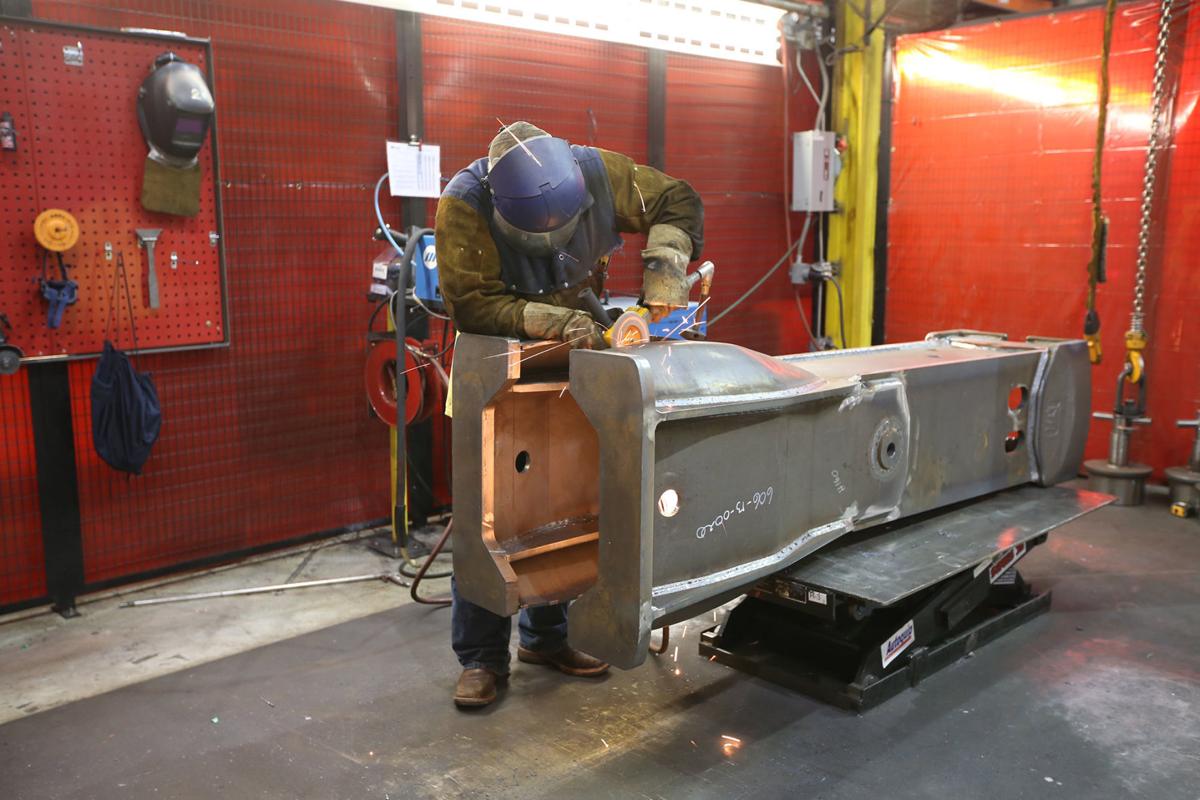 The largest dealer of Caterpillar-brand heavy equipment in the United States likely will buy the former Caterpillar Work Tools complex in Waco that went dark in December. Whether it will replace the 200 lost jobs remains uncertain.
San Antonio-based Holt Cat, which sells Cat machinery and parts in a 118-county region that includes Waco, announced in a press release Friday it had entered into an agreement with Caterpillar to acquire the 170,000-square-foot Work Tools complex occupying two buildings on Texas Central Parkway.
"We are excited for our growth in the Waco region, which is located in the heart of Holt Cat's territory," CEO and general manager Peter Holt wrote in the press release. "This expansion will give us the opportunity for a multitude of possible uses."
Renovations to the buildings should wrap up later this year, according to the release from Holt, who also owns the San Antonio Spurs basketball team.
Holt Cat, in an email response to questions, released an additional statement from Senior Vice President Bert Fulgium, saying: "These buildings will have a multitude of possible uses, anywhere from machine/component/engine rebuilds, to manufacturing, to warehouse. The leadership group is currently working on where the greatest needs are at Holt Cat, and we expect to have more of a direction for these facilities by the end of the year."
The acquisition will not alter operations at the Holt Cat store on West Loop 340.
"As plans for the new Waco facility continue to develop, Holt Cat will keep employees and the community informed of new developments and career opportunities," Fulgium wrote.
Kris Collins, senior vice president for economic development and industry recruiter at the Greater Waco Chamber of Commerce, said Friday she was aware of Holt Cat's interest in the Work Tools plant, and has been in talks with the company about possible uses. Asked about the community possibly making incentives such as tax breaks or funds from the Waco-McLennan County Economic Development Corp. available to Holt Cat as it repurposes the plant, Collins said that topic would be addressed during discussions.
Illinois-based Caterpillar announced last February it was transferring local Work Tools operations to a plant in Wamego, Kansas, as an efficiency move. The Waco Work Tools plant opened in 2005 to produce excavation buckets, couplers and hammers, among other tools on heavy equipment.
The sprawling site includes buildings 128,000 and 74,000 square feet in size, meaning it could provide remedy for a shortage of manufacturing and warehousing space, said Bland Cromwell an agent for Coldwell Banker Commercial in Waco.
"It's as tight as I've ever seen," Cromwell said.
He said he prepared an analysis of the Work Tools site, thinking Caterpillar might ask him to market it, but was later told to "hang tight," that other options were being considered.
Though Holt Cat is an independent company, Caterpillar marketing material states Peter Holt and Holt Cat President Corinna Holt Richter are direct descendants of Benjamin Holt, who in 1904 developed the first successful track-type tractor that he dubbed the "caterpillar," a name that stuck with the corporate giant.
Caterpillar also operates a 750,000-square-foot distribution center locally.
Holt Cat operates 26 Caterpillar stores in Texas and "offers total machine and engine rebuild capabilities, sells used equipment around the world and fabricates its own line of land-clearing equipment and Holt Spray King water tankers," according to its website. The Holts also operate a rental services company, Texas First Rentals, Holt Crane & Equipment and Sitech Tejas, an authorized dealer of Trimble Heavy and Highway construction products.