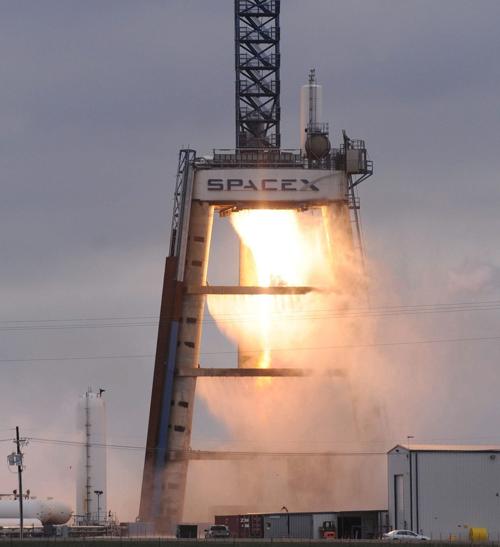 When SpaceX tests rockets at its 4,300-acre site in McGregor, the rumble has been known to rattle windows and knock pictures from walls for miles.
Working with the company, the city has placed limits on when SpaceX can put rocket engines through their paces and how much noise they can create without the company owing the city an explanation and a fine, city officials said Wednesday.
SpaceX has agreed to move its testing deadline from 10 p.m. to 9 p.m., except in special cases the city must approve beforehand. It also will abide by decibel limits the city will apply up to three miles from the center of SpaceX's leased land in the city's industrial park.
McGregor has established a threshold of 115 decibels, which is comparable to the noise produced by a loud motorcycle or power saw, according to the Center for Hearing, Speech and Language. If SpaceX exceeds that limit, it must pay a fee of $7,500 and discuss with city officials what it will do to ensure it does not repeat the violation.
City Manager Kevin Evans said the company's tests are typically below 100 decibels and have never exceeded the 115-decibel mark.
The city may or may not issue a permit to the company to proceed with testing, Mayor Jim Hering said Wednesday. He said the city wants to keep in mind the needs of both SpaceX and the community.
Other regulations would impose fees up to $50,000 if SpaceX testing exceeds 125 decibels. A typical ambulance siren is at 120 decibels, according to the Center for Hearing, Speech and Language.
SpaceX, a California-based company founded by billionaire Elon Musk, continues to create waves in commercial rocketry. It makes deliveries for NASA to the International Space Station, and Musk has announced his intention to create a craft suitable for taking men and women to Mars. NASA and SpaceX announced plans last month for an unmanned flight to Mars by 2018.
At nearly every step in the company's evolution, which includes the completion of 26 launch missions, it has relied on its facility in McGregor to ensure the engines that power launch vehicles pass muster. Its online manifest identifies 45 future missions, with most launches in California or Florida.
SpaceX pays $544,165 annually to the city of McGregor, employs 300 people there and plans to double the workforce in the near future.
Evans said the new noise rules for SpaceX "coincide exactly with a lease document we recently renegotiated."
Evans said he could not speak to any widespread annoyance the tests reportedly create in and around McGregor.
"In five years, I've gotten one complaint from someone who lives in McGregor and one complaint from someone who doesn't live in McGregor. If people are complaining, they're not doing it to this office," he said, adding in his opinion SpaceX has done everything possible to be a good neighbor.
The new ordinance establishes a Rocket Motor Testing Zone in McGregor, which is an area within a mile of the center of the testing complex.
The restrictions on sound take into consideration the decibel level testing creates within 3 miles.
Future testing generally is restricted between the hours of 9 p.m. and 7 a.m., and all tests involving a rocket engine that generates 2 million pounds of thrust must be conducted during daylight hours. Evans said SpaceX itself suggested the city adjust the late-night deadline.
"SpaceX has not come close to that 115-decibel number. Even their high-end tests typically are under 100 decibels," Evans said. "I'm telling you, they have never come close to those numbers, and I seriously doubt they ever will. Their efforts have been noise reduction, trying to be a good neighbor."
The ordinance requires that the city be allowed to inspect the facility to ensure the company is meeting its obligations and that SpaceX monitor sound and vibrations and provide data to the city upon request.
In some cases, late-night tests are to be allowed after payment of a $10,000 fee for the first test in any calendar year and $15,000 for the second test.
The ordinance also requires SpaceX to provide commercial general liability insurance of $20,000 to cover any personal injury or property damage and an additional $10,000 to cover any pollution liability.
SpaceX is not allowed to actually launch any vehicle into the atmosphere from McGregor and faces fines up to $25,000 if it does.
Evans said the city and SpaceX have worked together, and he's not worried about the new ordinance discouraging the company from staying put.
"I am not concerned about that whatsoever. What we have done, we have done with SpaceX, not to SpaceX," Evans said. "We are partners with SpaceX, just as we are with other industries."
He said SpaceX "almost every year" modifies its lease with McGregor to have access to more acreage and now has the use of almost half the city's industrial park.
Wanda Owen, who works at Cedar Chest Antique Mall in McGregor and lives on Harrison Street "a couple of miles" from the SpaceX property, said the testing occurs about four times a day and indeed shakes her windows and walls.
"Sometimes I wonder if something is going to fall off," Owen said.
She said the last test of the day typically occurs about 9:30 p.m., and the rumbling lasts 15 to 20 seconds.
As for whether it's a nuisance, she said, "In ways it is, probably more for those who aren't used to it. I'm getting used to it."
Yost Zakhary, city manager and public safety director for the city of Woodway, a 10-to-15-minute drive from McGregor, said residents there know when SpaceX is testing.
"I live right in the middle of Woodway, and I can definitely feel the vibration. It's loud," Zakhary said. "I've gotten numerous complaints from people who want to know why we can't stop it. I tell them they will have to contact the city of McGregor, because we don't have much say-so over what they do."
He said the people most annoyed complain about late-night tests "when they're trying to put kids to sleep or tending to other family issues. Those are legitimate concerns. I am happy about what SpaceX is doing for the community, but we need to balance comfort and convenience with a company trying to advance."
Messages left with SpaceX for comment on the noise issue were not returned Wednesday.
The business news you need
With a weekly newsletter looking back at local history.