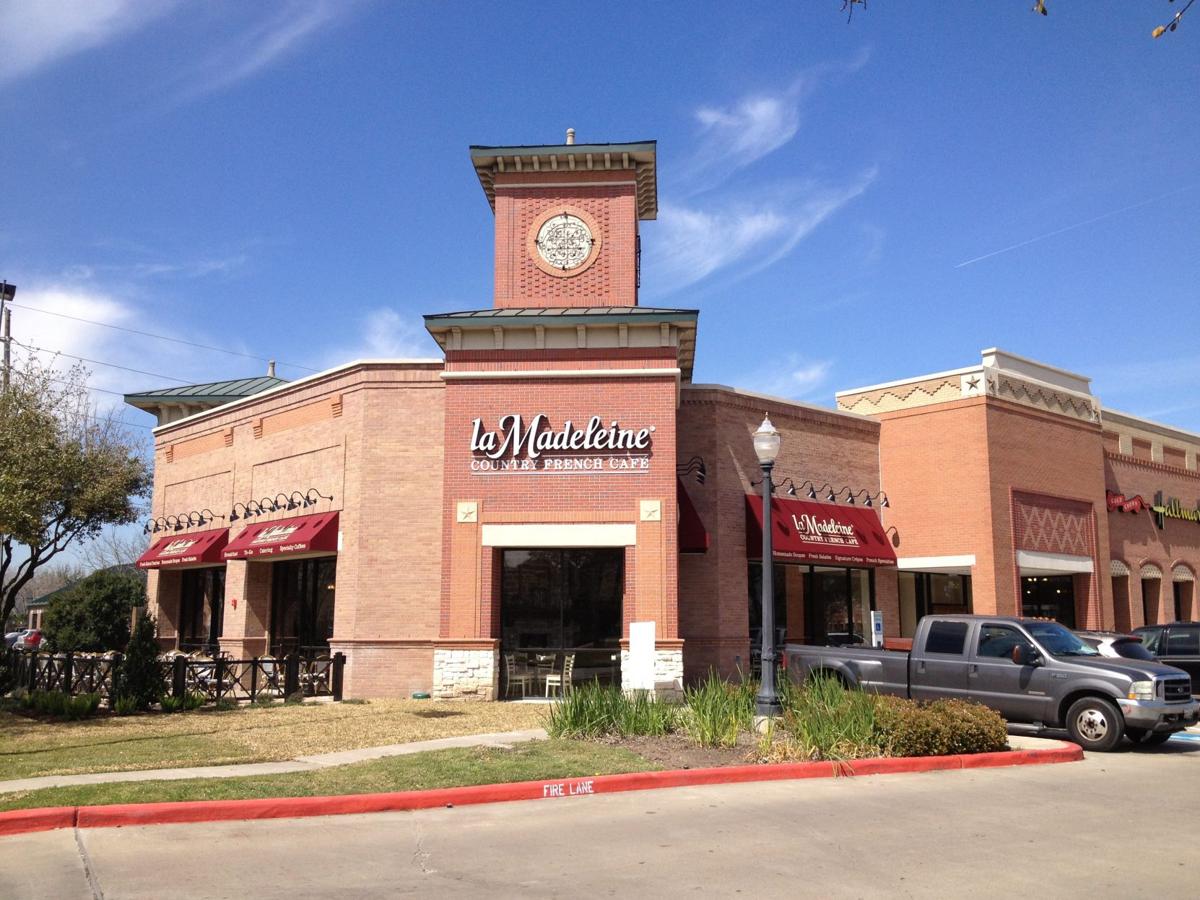 La Madeleine: Country French Cafe, an upscale, Dallas-based restaurant chain specializing in French entrees and baked goods, will place a location in Waco's Central Texas Marketplace, probably during the first quarter of next year, sources have told the Tribune-Herald.
It reportedly will occupy the vacant space behind the La-Z-Boy Home Furnishing & Decor store at the marketplace, West Loop 340 and Interstate 35.
Founded in 1983, the chain has grown to 75 locations in nine states, with 24 restaurants operating in its home city of Dallas.
Sources say Waco will get its La Madeleine after one opens for business in Tyler later this year.
La Madeleine serves breakfast, lunch and dinner in a casual but elegant atmosphere. The fare includes so-called "cafe classiques," as well as sauteed pastas, sandwiches, homemade soups and fresh-made salads. Entrees listed on the online menu include Beef Bourguignon and Quiche Lorraine, while sandwiches include Turkey & Brie, which is smoked turkey, caramelized apples and onions with brie and house-made goat cheese spread and baked on a sourdough roll.
Rumors of La Madeleine's interest in Waco have been circulating for more than a year, but now a franchisee reportedly is prepared to make it happen.
Also at the marketplace, construction is winding down on an Old Chicago Pizza and Taproom location.
The 40-year-old chain is working to increase its presence in Texas, where it reportedly is recruiting franchisees, according to Mark A. Belanger, vice president of global franchise operations and development at CraftWorks Restaurants & Breweries Inc., which is the parent of Chicago Pizza and Taproom.
"This is an opportune time for us to accelerate our growth in Texas, as the National Restaurant Association is projecting restaurant sales in the state to surpass $52.4 billion this year," Belanger told pizzamarketplace.com. In that same article, he mentions the opening of new corporate stores in Waco and Tyler.
He said the company also is targeting El Paso, Austin, San Antonio, Houston, Galveston, Corpus Christi, McAllen, Brownsville, Beaumont and Amarillo.
A free-standing Verizon Wireless store reportedly is going up at South Valley Mills Drive and Speight Avenue in the development anchored by a Gander Mountain outdoors store.
Site clearing has begun next to the Zoe's Kitchen restaurant, and sources confirm Verizon wants to place there one of its retail centers.
A local Verizon employee said the store likely will open well into 2017, giving Verizon a strategic location to complement other Verizon locations at Central Texas Marketplace and at 5301 Bosque Blvd., in the Lake Air Mall shopping center that is anchored by Target Greatland.
Also at the Gander Mountain-anchored center, a new Home2 Suites by Hilton Waco lodging establishment has opened. It features fully equipped kitchens and modular furniture allowing for guests to personalize their rooms. Other features include internet service, a combined laundry and fitness area and "grab-and-go" food items.
The hotel also offers complimentary breakfast, a pool and a patio with a grill area.
A mini gas war broke out Saturday on South Valley Mills Drive, where the Raceway convenience store at 1708 S. Valley Mills Drive and the H-E-B at 1821 S. Valley Mills Drive were posting $1.80 as the price for a gallon of regular unleaded, whereas most locations around the city were charging $1.90 to slightly above $2.
AAA Texas, the auto club, reported last week that the statewide average for a gallon of regular unleaded had slipped to $2.06, which is 3 cents less than the previous week and 50 cents less than the average a year earlier. Of the major metropolitan areas surveyed in the Lone Star State, drivers in El Paso were paying the most on average at $2.14 per gallon, while drivers in Amarillo were paying the least at $1.89 per gallon. The national average stood at $2.22, 4 cents less than the previous week.
Pump prices have now fallen for more than a month, the longest streak since late last summer, and are the lowest mark for this point in July since 2004. About 25,000 gas stations nationwide, about a fourth of the total, are now selling gasoline for less than $2 per gallon.
Gasoline prices are poised to continue to slide as both crude oil and wholesale prices turned lower last week, according to AAA Texas.
"Drivers in the southeastern quadrant of the U.S. continue to enjoy some of the cheapest prices in the nation, due to the advantageous proximity to major Gulf Coast refineries and some of the lowest state gasoline taxes in the country," AAA Texas spokesman Doug Shupe said.
The AAA Foundation reports that nearly 80 percent of drivers it surveyed had experienced "anger, aggression or road rage" behind the wheel at least once during the past year.
"The most alarming findings suggest that about 8 million U.S. drivers engaged in extreme examples of road rage, including purposefully ramming another vehicle or getting out of the car to confront another driver," according to the report, which was released by AAA Texas.
"It's normal for drivers to experience anger behind the wheel, but we must not let our emotions lead to destructive choices," AAA Texas spokesman Doug Shupe said. "Don't risk escalating a frustrating situation, because you never know what the other driver might do. Maintain a cool head and focus on reaching your destination safely."
The survey also produced the following estimates:
Purposefully tailgating, 51 percent (104 million drivers)
Yelling at another driver, 47 percent (95 million drivers)
Honking to show annoyance or anger, 45 percent (91 million drivers)
Making angry gestures, 33 percent (67 million drivers)
Trying to block another vehicle from changing lanes, 24 percent (49 million drivers)
Cutting off another vehicle on purpose, 12 percent (24 million drivers)
Getting out of the vehicle to confront another driver, 4 percent (7.6 million drivers)
Bumping or ramming another vehicle on purpose, 3 percent (5.7 million drivers)
The survey showed that drivers living in the Northeast were significantly more likely to yell, honk or gesture angrily than people living in other parts of the country. Men and drivers ages 19 to 39 were much more likely to engage in aggressive behaviors.