---
People entering the historical former St. James United Methodist Church building in downtown Waco see a message in gold lettering assuring that prayer changes things.
Lane and Amy Murphy had a prayer answered Thursday, when the board of Tax Increment Financing Zone No. 1 voted to grant $531,185 in TIF money toward a $2.6 renovation plan the couple hope will preserve the former church's iconic character, honor its place in Waco's history and create an Italian restaurant in its old fellowship hall. The Waco City Council has final approval on use of TIF money.
The Murphys bought the 13,000-square-foot St. James building at Second Street and Clay Avenue in 2016. It had become a financial burden for the historically black congregation that had worshiped there since 1924 and had seen attendance plummet from more than 600 on Sunday mornings to fewer than 60.
The Murphys are working with J. Fall Group, a design firm that has created restaurants in Los Angeles and Chicago, they told the board. The restaurant will feature Italian cuisine and a 15-seat cocktail bar called Jukebox. Menu items will include steak tartar, ricotta and toast, duck ragu and sausage muffuletta.
The sanctuary, with its sloped floor, could host live entertainment, special events, performances or church services. The Murphys are seeking to digitize old photographs taken at notable events in church history to display.
They requested a $870,075 TIF contribution, but the board agreed with a TIF staff recommendation of $531,185, believing the request exceeded board policy of funding 15 to 20 percent of a project's total cost.
"We appreciate anything we can get," Amy Murphy said after the meeting.
The project may also qualify for federal, state and local tax breaks because of the building's status as a state historic landmark, she said.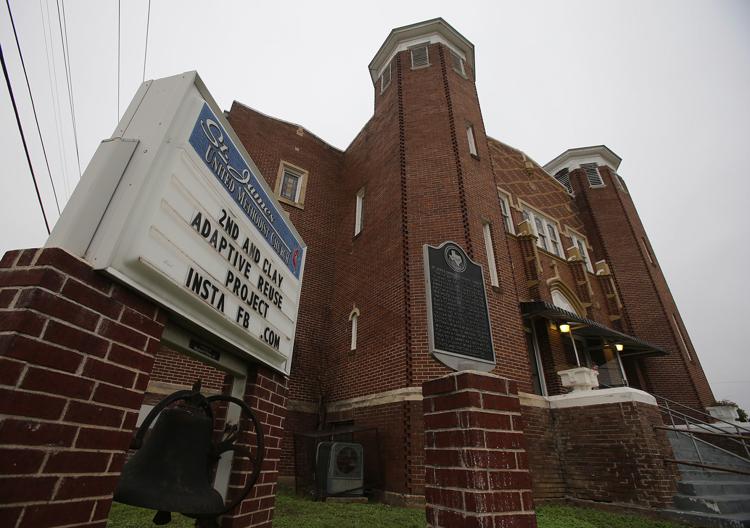 The sale price has not been revealed by either the buyers or sellers but was listed at $495,000. Lane Murphy, a Baylor Magazine editor and part-time English lecturer at the university, told board members during a tour Thursday he has shoveled out pigeon droppings and observed water seepage and damage in the Gothic-Byzantine revival structure that served as home to a prominent African-American Methodist church when it opened, according to information provided to the TIF board.
Lane Murphy said he continues to take bids on restoring the church's 84 stained-glass windows, one of which has been pierced by a gunshot.
"Frames around the windows look awesome, but you will notice termite damage," Lane Murphy said. "Many of the tin ceiling tiles are showing wear and water damage, and a few are popping out. We will install insulation and put them back in place. They are part of its historic charm."
Office development
Also Thursday, the TIF board approved $545,125 for homebuilder Steve Sorrells' $3.6 million plan to turn the old Strand Theater building on Austin Avenue, most recently occupied by Bank of America, into Class A office space.
Sorrells, a custom builder involved in residential projects including Badger Ranch, Cloister at Cameron Park, Cottages at Cameron Heights and 714 Lofts, plans to start next year on work to turn 510, 514 and 518 Austin Ave. into a 49,000-square-foot office, co-working and retail venue with a cafeteria, rooftop deck, Dichotomy-supplied coffee service, interior glass walls and 24-7 access.
He gave TIF board members a tour before Thursday's board meeting and identified his partner in the venture as Michael Biggerstaff, a San Angelo-based homebuilder. Sorrells said the property he proposes to modify was built between 1884 and 1927 and once housed a Citizens-branded banking complex that changed hands and names many times.
During the tour, Sorrells told TIF board members he hopes to preserve as many historical features as possible, including 5,000 safe deposit boxes and their keys that will be incorporated into decorations throughout. Crews will transform the holding area for the boxes into conference rooms.
He hopes to complete the transformation next year. It will include adding third and fourth floors in some areas and incorporating design, decorative and lighting features he observed while visiting Toronto Pearson International Airport and the City Winery development in Chicago's West Loop.
Other business
The TIF board also agreed to cancel a request from Magnolia Market at the Silos for $153,910 to resurface and landscape a parking lot near the Silos. April Hull, program coordinator in the city of Waco's housing and economic development office, said Magnolia indicated it is preparing a comprehensive master plan for all the property it owns in and around Sixth Street and Webster Avenue, and will address the parking lot project in that report.
The board accepted a request by Brotherwell Brewing to extend its completion deadline to June 1, 2019. Brotherwell requested TIF money to upgrade wiring, install a natural gas line and meter, rebuild two restrooms to meet accessibility standards, install $150,000 worth of equipment for brewing and to glaze storefront windows. The work has encountered delays because "licensed subcontractors are increasingly occupied in other projects," according to its report.
Brotherwell launched operations in February, "and have since produced 400-plus kegs of Waco-made craft beer," according to a report for the board.
The business news you need
With a weekly newsletter looking back at local history.