The Toby family is creating waves in downtown McGregor, where a two-year remodeling project has created space for dozens of shops selling merchandise under the VIBE Main Street Market marquee.
A ribbon-cutting ceremony unfolded Saturday, providing a formal launch to a 9,000-square-foot collection of jewelry, home products, art and vintage finds that has become a popular diversion for tourists, especially those trekking to town for stays in Chip and Joanna Gaines' Magnolia House.
In 2016, Scott Toby and his mother, Jackie Toby, hurried to the rescue when The Strand, a shop-filled retailing destination on McGregor's Main Street, closed abruptly. Merchants began searching for space elsewhere.
The Toby family from 2002 to 2009 occupied the iconic Gilmore & Davis Furniture building in downtown McGregor, operating an upscale shop called Design Gild to meet growing demand for tony home furnishings.
Gilmore & Davis for decades attracted young and old to downtown with an elaborate Christmas display in its front window.
Across the street sat the Gilmore & Davis annex, where furniture and other merchandise had been stored for years. The Toby family owns that space, and made it available to those needing a new retailing venue.
"They had no place to go on short notice. The Christmas season was approaching, and they had ordered inventory," Scott Toby said in a phone interview. "We rolled up our sleeves and vowed to make things work. We got it up and going in two months, and have been renovating ever since."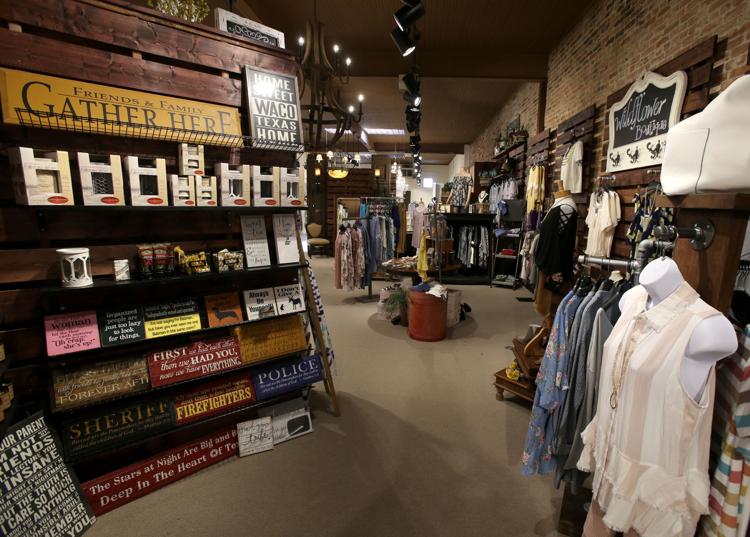 The makeover recently came to a close, prompting the grand opening.
"We redesigned the showroom to better showcase the vendors, moved out nearly all the old furniture that was still left, created nice dressing rooms. We probably have spent north of $150,000 on renovations, at least $20,000 on lighting alone, to make it as appealing as possible for our vendors."
Noted artist Lee James, a North Carolina native whose employment with IBM and Siemens has taken him around the country, now resides in Woodway and "was so impressed with the VIBE that I signed a lease on the spot."
He said in a phone interview he takes an impressionist's approach to landscapes and seascapes, and has undertaken a series of paintings dedicated to local venues of significance, including the Waco Suspension Bridge, the Waco Hippodrome, Magnolia Market at the Silos and McLane Stadium.
"I just moved into the Sun West subdivision. It's my 15th house," said James, 70, mentioning his extensive travels in the corporate world. "I most recently lived in Temple, and all I knew about Waco was Central Texas Marketplace. I had no idea there were so many cool places to visit and paint."
Scott Toby said his lease rates within VIBE range from $50 to $200 a month for booth space; $40 to $50 a month for custom shelving; and $120 to $195 a month for kiosks. He said his staff tends to day-to-day operations, including assisting customers and completing transactions. Those contracting for space are not obligated to remain on the premises, but may do so.
Customers may carry their purchases in VIBE-branded bags, and can avail themselves of curbside parking, a seating area with refreshments, renovated restrooms and operating hours Monday through Saturday.
"I would say we have 300 to 500 people walking through here on weekends, maybe 150 on weekdays. We have a lot of regulars, as well as those staying at Magnolia House," said Scott Toby, speaking by phone.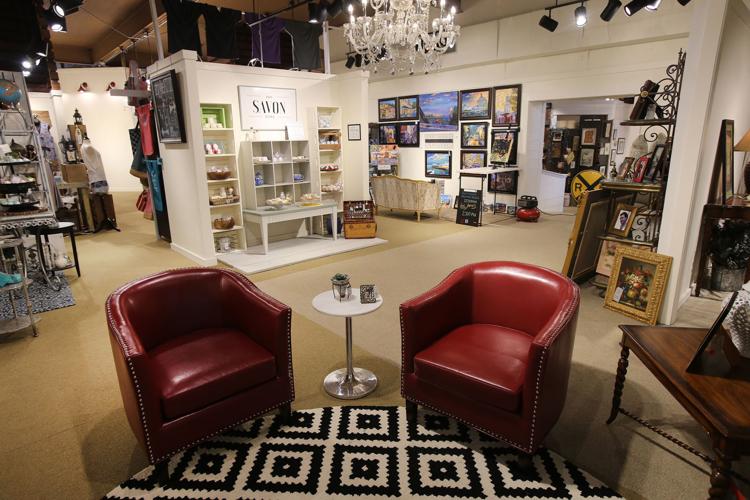 Dinah Mills, associate director of the McGregor Chamber of Commerce, called creation of the VIBE "an amazing story," and the space it occupies, with its black-and-white awnings and red planters, give it eye-catching curb appeal that out-of-towners seemingly find irresistible, judging by turnout.
Tara Ward, whose family lives on the 4W ranch near Hubbard, displays at VIBE her homemade leather earrings, cowhide purses, key chains and air fresheners. Ward, 33, said she personally crafts the items, and acknowledges they carry prices some customers may consider high-end.
"I've just been there two months, and I'm very pleased, though I would like to see an increase in sales," Ward said. "The location is great, not far from Waco, not far from Magnolia Market at the Silos, a great tourist attraction. But the competition is considerable, including Spice Village in downtown Waco."
Ward said she also shows merchandise at a smaller market in Hubbard, but views VIBE as a major upgrade in terms of exposure, attendance and demand for advertising and marketing to spread the word about 4W.
"I'm just diving in head first, hoping it will all be worthwhile," she said.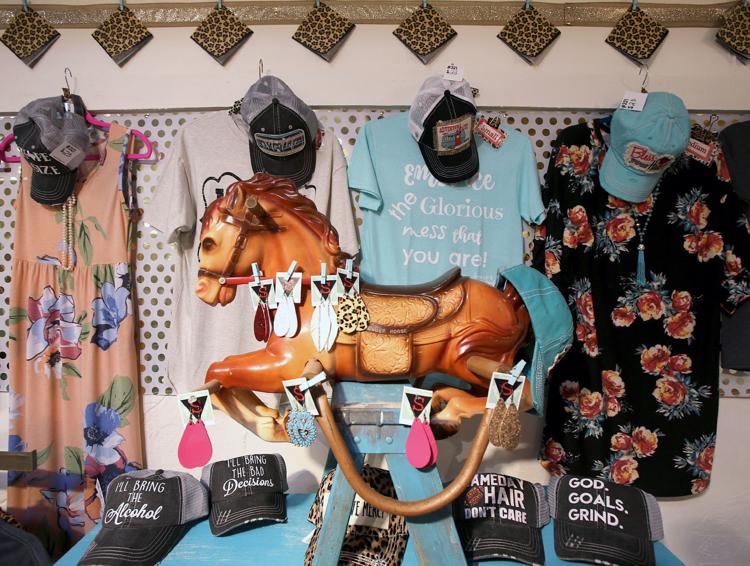 Scott Toby said VIBE will continue to evolve, saying in a news release, "We have more plans, improvements and events we look forward to presenting throughout this year, starting with McGregor's first 'Fourth Friday' event," which is scheduled this week, a follow-up to the grand opening.
"In time, I hope to open an outdoor market at the rear of the store," said Scott Toby, a senior graphics designer employed at Baylor University.
He called ownership of VIBE a family affair that involves not only his mother, Jackie, but his wife, Monica Toby, and his brother, Josh Toby.
"We opened flying by the seat of our pants, and now have remodeled the whole store. People from all over want to be one of our vendors," said Toby, a graphic designer at Baylor University.
Meanwhile, Magnolia Realty is listing for sale the five pieces of property comprising the former Gilmore & Davis Furniture company complex, with asking prices ranging from $275,000 to $125,000, the agency said.
Scott Toby said he sold the 23,000-square-foot collection of buildings in 2014 to the developer of The Strand, and now it has hit the market piecemeal.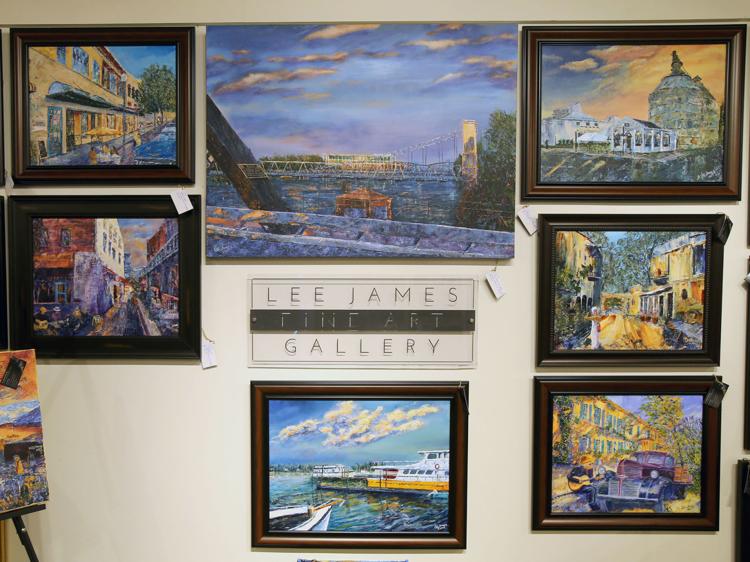 The business news you need
With a weekly newsletter looking back at local history.