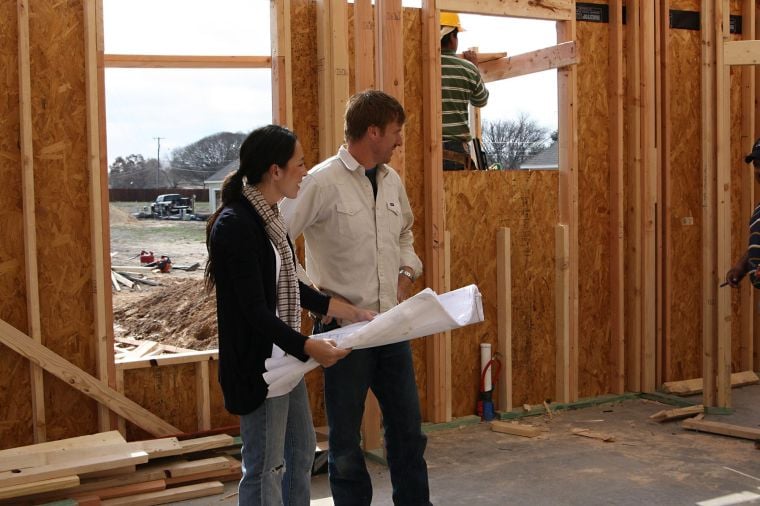 The Waco couple who showed their building and remodeling prowess in a pilot episode for a possible HGTV series has not yet heard if the network will order more episodes, but the adventure already has proven to be a vehicle for growth, personally and financially.
Chip and Joanna Gaines' handiwork was featured on the pilot episode of "Fixer Upper" that HGTV aired May 23. They were told more episodes would come if the show fared well.
The couple, their design crews and heavy lifters spent 28 days working their magic on a home in Waco's iconic Castle Heights neighborhood, all under the glow of TV lights and the watchful eye of a production crew bent on capturing the undertaking's before-and-after nuances.
"The day after it aired, the producer said he would call. There really was no time frame established for when that call might come, and so far it hasn't," Gaines said during a telephone interview late this week. "Maybe there is some stuff going on behind the scenes, but we would be excited to know what's going on.
"But you know what they say: 'No news is good news,' " she added with a nervous laugh.
If the Gaineses receive a thumbs up, they will load their tools and hit the highways to Dallas, Fort Worth or maybe Austin, where they will film more projects for airing over 
13 weeks.
Lori Scott, an executive assistant in the Denver office of High Noon Entertainment, the production company that created the pilot, said officials there have not yet made a decision on whether to pursue additional episodes.
Nevertheless, Joanna Gaines said the show brought a landslide of interest in the couple's work.
"We have received a lot of good feedback, from New York to California, and we're still answering hundreds of emails," she said. "The volume of messages online and by phone has been so great that I've had to hire an assistant to help with responses. We don't want anyone to think we're ignoring them."
A viewer from New Hampshire offered to fly the Gaineses to the East Coast for a consultation on a home improvement project. Others have asked for tips on how best to approach tasks, and Joanna plants herself in front of a computer, offers her "two cents," and charges a fee for her time and expertise, she said.
"In a few cases involving homes in Austin and Dallas, we are making appointments to meet with homeowners," she said.
To date, the Gaineses have remodeled more than 100 homes, nearly all in Central Texas. They have a small paid staff, but also have a cadre of 25 to 30 subcontractors who have indicated they would follow the 
Gaineses around the state to tackle work featured on HGTV or simply to help the couple spread their brand.
Working with a budget of about $50,000, the Gaineses designed a first-floor makeover of a home on Castle Avenue that Doug and 
Lucy McNamee purchased and were poised to make their own. When HGTV came calling, the McNamees agreed to let camera crews capture the transformation.
"We know the Gaineses, and were very pleased with their work," said Doug McNamee, who works for the Baylor Bear Foundation, which raises money for Baylor University athletics. "I'm really excited about the attention the show brought to the neighborhood and to Waco."
The McNamees were selling their former home near their new residence, and they stayed there during production, under strict orders not to visit the work scene.
"They wanted it to be a complete surprise, and it took discipline not to sneak a look," Doug McNamee said.
When shooting ended, the 
Gaineses moved their crew to the second floor, completing a full-house renovation for the McNamees in relative privacy.
In the past two weeks, Joanna said, she and her husband have been approached to build three new homes in their Magnolia Villas addition on North 46th Street, near the Extraco Events Center. She said she believes the flurry of interest is another byproduct of their exposure on HGTV.