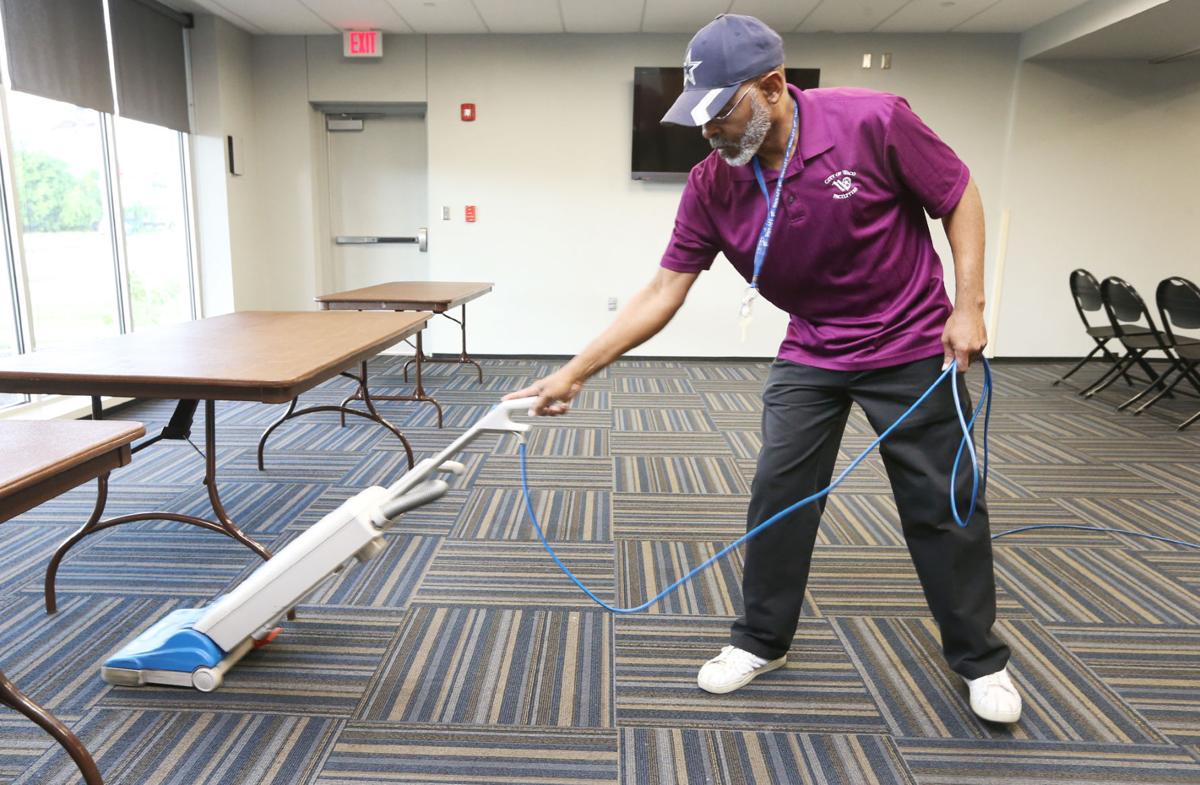 The final proposal for outsourcing the city's janitorial services will head to the Waco City Council on Tuesday with a big concession to current workers.
The council will vote on a two-year contract with UBM Enterprise Inc. to clean up to 30 buildings at a cost of up to $582,000 a year. The council meets at the Waco Convention Center's Bosque Theatre, with a 3 p.m. work session and 6 p.m. business session.
But city officials said it may be years before the firm takes over all those buildings, because current janitors will be able to choose if they want to continue as city employees.
Several city janitors, backed by other Waco residents and a couple of council members, had objected that the outsourcing would strip them of benefits, especially retirement, creating an unexpected hardship.
Deputy City Manager Wiley Stem III said UBM has agreed to work with the city to allow existing janitors to choose whether to stay with the city or hire on with the private firm. The city employees would work in the city's smaller buildings, and the private firm would gradually expand its responsibilities as city employees retired or took other jobs.
"They can continue in their jobs or go to work for the contract or do whatever else they want," Stem said. "They can take another job with the city if they want to. … I think it's a good solution to the debate that's been had about this."
District 1 Councilman Noah Jackson Jr., a staunch opponent of the original outsourcing plan, said the new proposal satisfies his concerns of taking care of employees.
"The city needs to save money, and I know that through this process we will save some money in the long run," he said. "If we are looking out for the greater majority of the staff, I can go along with the vote."
City staff had calculated that it could reduce its $1 million cleaning bill by more than $400,000 a year, but Stem said the new compromise solution will narrow those savings. He said the city would save only $50,000 this year if all existing employees remain with the city, though that scenario doesn't take into account the fact that the city would have to hire additional staff this year if the contract doesn't go through.
Six of the 19 full-time janitorial positions are unfilled, along with one of the part-time positions, and temps are doing their work for now.
Stem said he thinks the new firm will want to recruit the existing employees.
The new contractor has said it would offer health insurance, sick and vacation pay, with hourly pay at $10 to $13, close to the city's compensation.
Stem said he expects the contractor will save money through efficiency, doing the same jobs with fewer personnel.
District 4 Councilman Dillon Meek said he is satisfied that the current outsourcing proposal strikes the right balance between taking care of employees and saving money.
"I think it was a win to be able to do it through attrition," he said. "The concern that most of my constituents had was regarding those employees who had started working toward retirement who might lose those benefits. … I think the staff went above and beyond to give current employees an abundance of options."
Meek said the agreement could be a model for other departments the city of Waco is looking to outsource, including the Convention and Visitors Bureau.
Floyd King, a part-time city janitor who has been critical of the city's move to outsource the service, said he was glad to hear the news, but he's not looking to change employers.
"I would encourage people to stay put," he said. "If they're going to keep us, ride this boat as long as you can."
Be the first to know
Get local news delivered to your inbox!