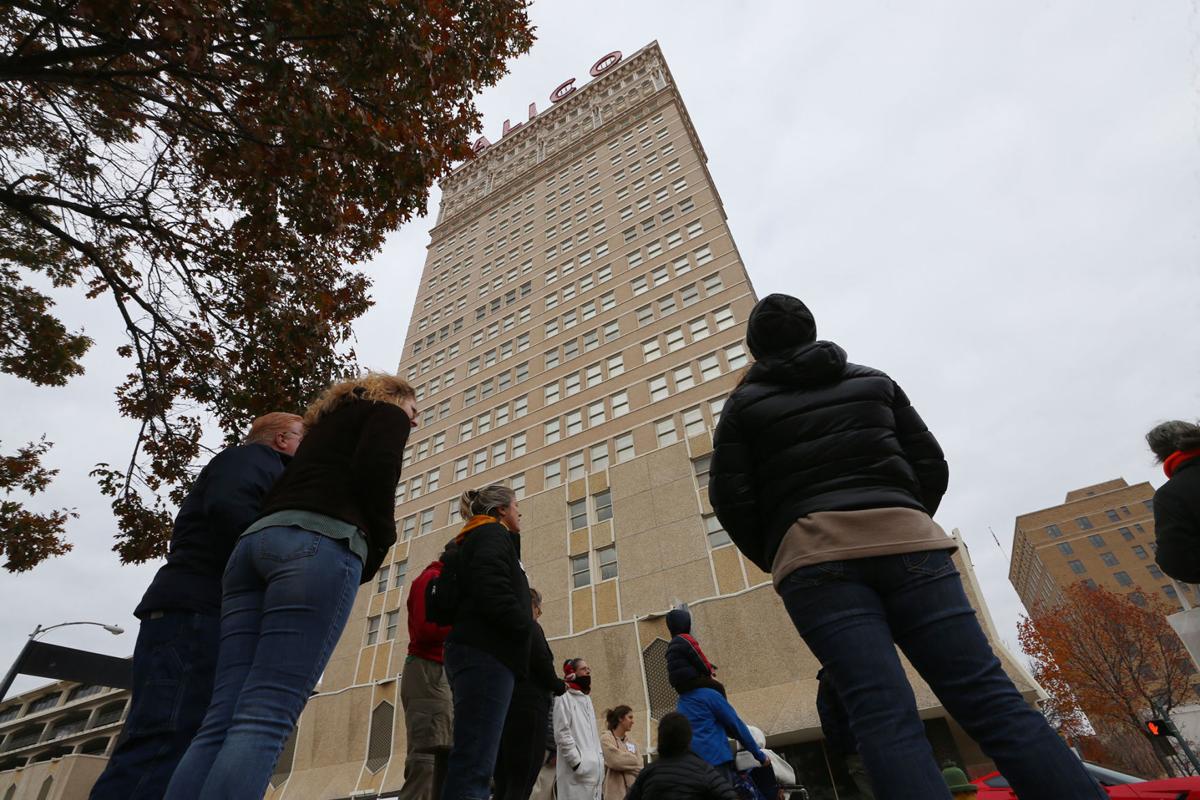 How do you sample a city's life and people? Drive down its main street and view its buildings and houses? Drill down in various places and take a cultural coring?
For Waco visitors and residents alike, tours and walks offer ways to get a sense of what makes Waco Waco, from a feet-on-ground sense of the city and its architecture to drive-by views of significant homes, shops and buildings, from shopping stops to bites and sips from Waco eateries.
More than a few organized ways of looking at the city and its history have sprung up in recent years. Here's a sample of the various views of Waco provided by tours and public walks.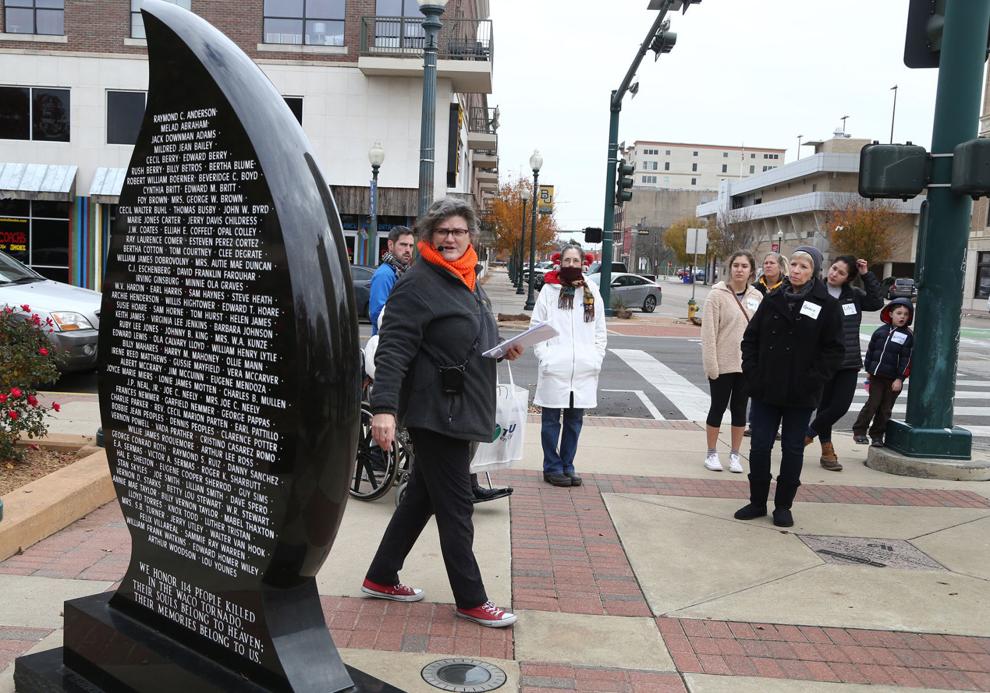 Waco Walking Tours
History on foot
What: A roughly 1.5 mile walk from the McLennan County Courthouse to the Brazos River and back, with stories of Waco history told along the way. About 2.5 hours long. Suggested $20 donation.
On the way: The McLennan County Courthouse, Waco City Hall, the Freedom Fountain, the ALICO Building, the downtown path of the 1953 Waco tornado, Indian Spring Park, the Waco Suspension Bridge, the Waco Vietnam Veterans Memorial, stories of the Reservation red light district, the Jesse Washington lynching and the shooting of William Cowper Brann in downtown Waco.
When: First Saturday of the month.
Contact: Visit the Waco Walking Tours Facebook page or by calling 313-2488.
Waco walking advocate and Act Locally Waco leader Ashley Bean Thorton says the walks offer a ground-level perspective on Waco history, geography, nature and neighborhoods.
"You notice so much when you walk," she said.
Waco Walks (the group)
Members choice
What: Periodic city walks planned and organized by Waco Walks members.
On the way: Past walks have been through parts of Waco Creek; Reynolds Park; the path of the 1953 Waco tornado; a "river walk" of local water sources; Castle Heights and Sanger-Heights neighborhoods; Elm Avenue.
When: Information on upcoming walks can be found on the Waco Walks Facebook page and an email list run by group members.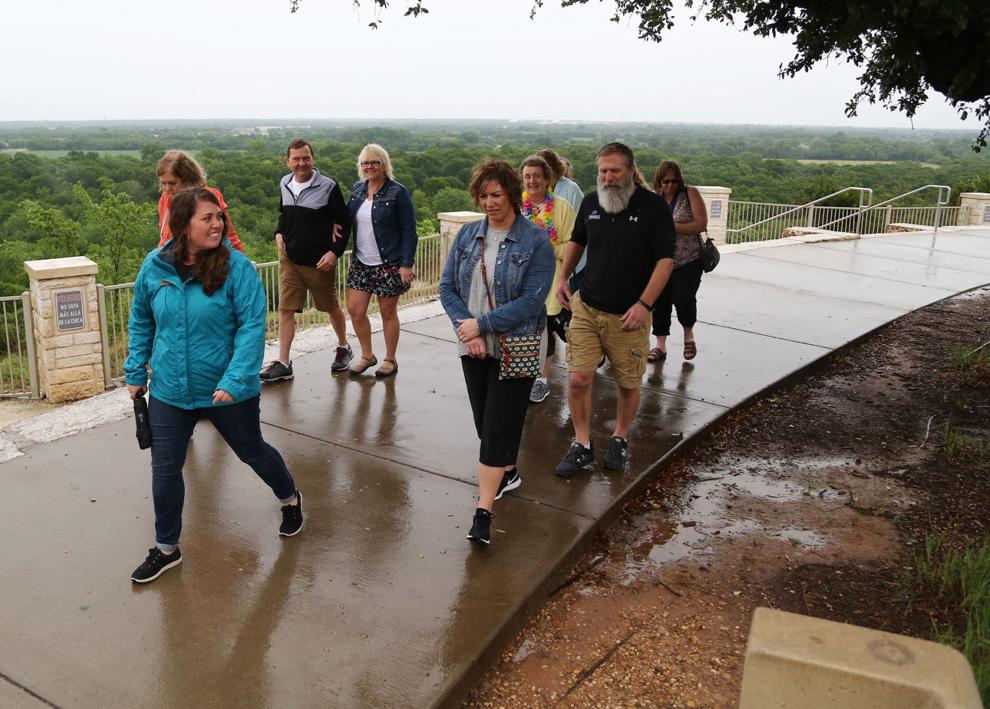 Waco Tours
Van's eye look plus a Waco Eats food tour option
What: A look at Waco, its history and culture; the Magnolia Market at the Silos and "Fixer Upper" houses; museums such as the Texas Ranger Hall of Fame and Museum, Dr Pepper Museum and the Mayborn Museum; Baylor University and McLane Stadium; Waco churches; and neighborhood transformations. A separate food tour visits local restaurants with food and drink samples and meet-the-chef opportunities. $79, $69 for children 12 and younger, food tour $89.
On the way: Magnolia Market at the Silos and "Fixer Upper" houses; Baylor University campus, Common Grounds and Heritage Creamery; McLane Stadium; Waco Suspension Bridge, Doris Miller Memorial site, Lula Jane's Bakery; Cameron Park; Harp Design Co.; Mission Waco's Jubilee Market and World Cup Cafe; Antioch Community Church; Church Under the Bridge; Lake Waco; Extraco Events Center; Valley Mills Drive; Austin Avenue and Castle Heights neighborhood. Waco Eats tour features Milo Biscuits served on the Suspension Bridge, Hecho En Waco and Lula Jane's.
When: 10-12 tours daily, depending on demand. Waco Tours also provide step-on tour guides for visiting tour buses and vans. Food tours are Saturdays at 10 a.m.
Contact: Visit waco-tours.com or call 300-8725. Also on Facebook and Instagram.
Executive operations manager Melinda Seibert said Waco Tours' intent is to share more than a look at city tourist sites and buildings.
"We want people to see not only the heart of Waco, but its people," she said.
Part of that involves stories of city and neighborhood transformation as well as attention to churches and their work. Tourist interest has caused Waco Tours to expand to six tour vans, she said.
"Our goal is to help make Waco the No. 1 destination in Texas," Seibert said.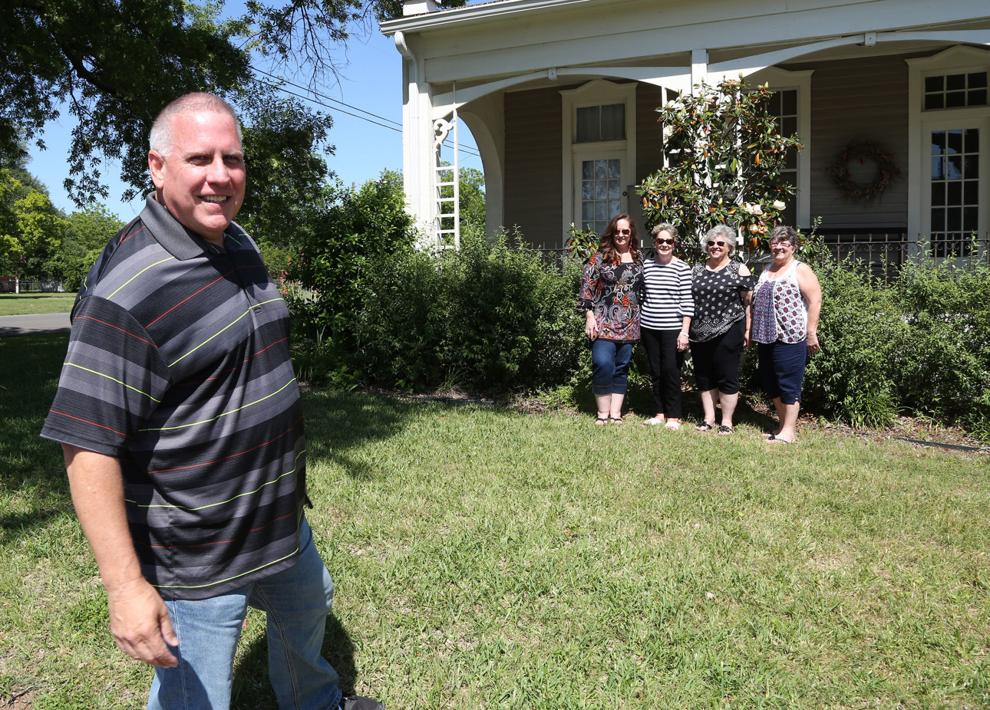 Brazos Tours
"Fixer Upper" centric
What: 10-12 renovated houses featured on "Fixer Upper;" Magnolia Market at the Silos; shops; Waco history; Mission Waco's work in neighborhood renovation. $49 a person, $39 for children 12 and younger.
On the way: Photo ops at some "Fixer Upper" houses; the original Magnolia market on Bosque Boulevard; shops such as The Findery, Junque in the Trunk, Savage Finds and Simply Irresistible; Baked Bliss Bakery; Harp Design Co.; Mission Waco neighborhood near Colcord Avenue and North 15th Street; the ALICO Building; Waco Suspension Bridge; Earle-Harrison House.
When: 2-3 tours daily Monday-Saturday, depending on demand. Brazos Tours also offers private tours and ride-along guides for visiting tour buses and vans.
Founder Scott Byrne started his tours in November out of a personal love for Waco and aims to introduce visitors to Waco history, neighborhoods and culture, he said. He has discovered a welcoming audience in tour participants.
"One of the side benefits (of leading the tours) is seeing how good the people are. They're so warm and excited to be visiting Waco," Byrne said. "There's no red state/blue state, just good people."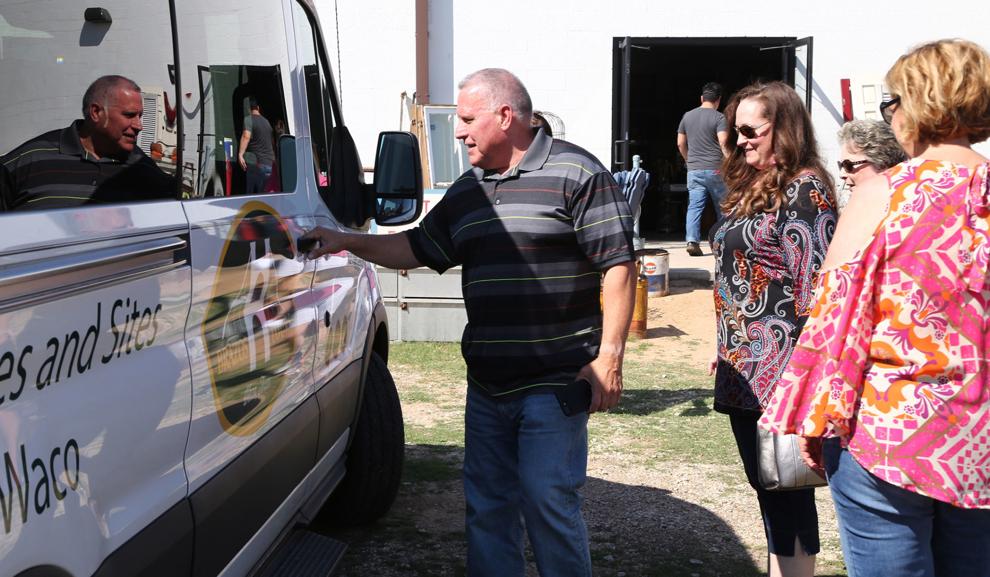 Filmmakers' tour
A camera's eye
What: A look at possible sites in Waco that filmmakers might want to consider when making a movie.
On the way: Downtown Waco business district; Cameron Park, including view of Lovers Leap from Brazos Park East; 19th century buildings at Mayborn Museum's Gov. Bill and Vara Daniel Historic Village; early 20th century church with largely open interior, the former St. James United Methodist Church; industrial tanks and tubing, Balcones Distillery.
Contact: Schedule with Carla Pendergraft, director of marketing with the Waco Convention Center and Visitors Bureau, by calling 750-5810.
Waco Pedal Tours
Outdoor tours, including evening bar crawls, on a 14-person pedal bike
What: Two-hour tours of downtown Waco and East Waco on a pedal-driven party bus with bar top. $25 Sundays through Wednesdays, $35 Thursdays through Saturdays.
On the way: The afternoon tour visits Savage Finds, Simply Irresistible, Brü, Dichotomy Coffee & Spirits and the Chowtown food truck park at University Parks Drive and Franklin Avenue. The evening tours include stops at Waco Wine Shoppe, Waco Winery, Klassy Glass Wine Bar and Bistro, The Backyard, Trojan Cork & Keg, Cricket's Draft House and Grill, and The Warehouse, with an itinerary changing accordingly to weekly drink specials.
When: 3, 6 and 9 p.m. Tuesdays through Saturdays. 3 p.m. tours are more family-oriented, 6 and 9 p.m. tours visit Waco nightlife at downtown bars and restaurants. Riders for the 6 and 9 p.m. tours must be 21 and have photo ID to drink.
Tour founder Jake Cockerill started Waco Pedal Tours in December as a fun way to tap into city nightlife, dining, drinking and shopping. In addition to out-of-town visitors, it has proven popular for birthday parties, nights out and corporate entertainment, he said.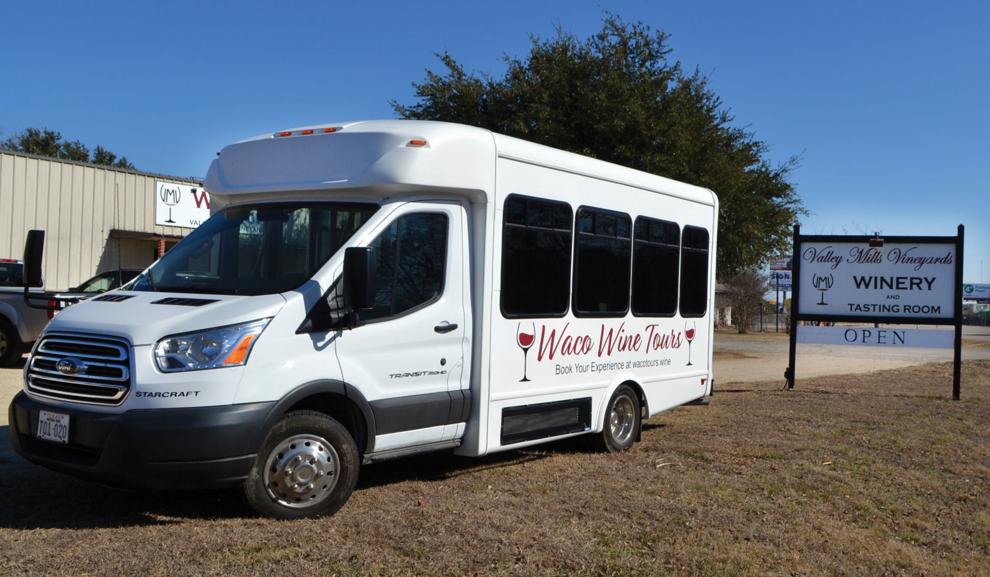 Waco Wine Tour
The wine country around Waco
What: A look at area vineyards and their operations, complete with wine tastings and a picnic lunch in a vineyard. $90 per person.
On the way: Valley Mills Vineyards, Red Caboose Winery in Clifton and Waco Winery.
When: 11 a.m. Saturdays. About a four-hour tour.
Joey Bagnasco, general manager of Valley Mills Vineyards, started this tour last fall to show off the local wine industry and finds his customers roughly split between Waco-area locals and out-of-town tourists. Given the seasonal shift of work at a vineyard — planting, growing, harvesting and the like — what's shown in the tours varies slightly over the year. Vineyards flower in the spring and are at their loveliest then, he said.
Waco Ghost Walk
Evening tour of visible, invisible history
What: McLennan County Paranormal Investigations' downtown Waco walk from City Hall to South Eighth Street, with an emphasis on buildings with ghost stories, sightings or sounds. $20.
On the way: 28 stops including Waco City Hall, Heritage Square, the Bank of America building (formerly the St. Charles Hotel), Liberty Building, Woolworth Suites, the Waco Hippodrome, "Bankers' Alley" between Austin and Franklin avenues, and Fourth Street and Franklin where the ghost of a woman killed in the Waco tornado reportedly has been encountered.
When: 9 p.m. on the first Saturday of the month. More tours added if demand is high. About 2-2.5 hours.
Mike Jacobus of McLennan County Paranormal Investigations combines Waco downtown stories from the late 19th century to the Waco tornado with photos and drawings of former downtown buildings and audiovisual findings from his group's monitoring of certain locations.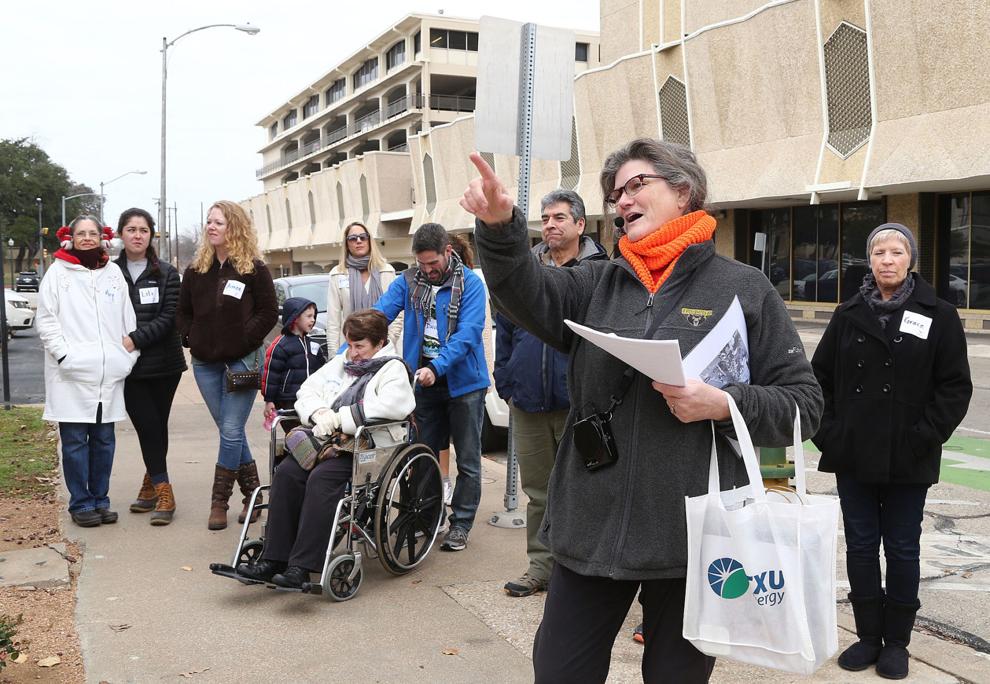 Waco History phone app
The do-it-yourself tour
What: The Waco History phone app, available for iPhones and Android phones. Interactive map of Waco providing historical notes and, in some cases, audio. Free.
On the way: More than 70 locations in Waco and surrounding communities. Many downtown Waco buildings and sites, including buildings downtown, in East Waco and Cameron Park.
When: Anytime and any place you want to walk or drive.
Baylor University's Institute for Oral History and the Texas Collection collaborated to provide the historical background for the app, created in 2015. Landmarks on the map are linked to Texas Collection photos, audio from Baylor's Institute for Oral History and text written by Baylor students and graduate students.