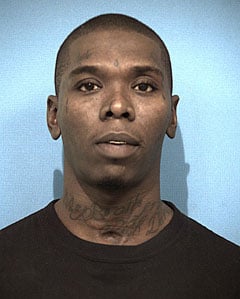 Rickey Donnell Cummings' brother, Tyrece Edward Richards, was arrested in Round Rock on a charge of retaliating against a potential witness in Cummings' recent capital murder trial.
Richards, 25, was being held Monday in the Williamson County Jail on charges of retaliation, two counts of failure to identify, bail jumping, theft of a firearm, unlawful possession of a firearm and fraudulent use/possession of identifying information.
Richards had been wanted since June in an alleged retaliation against a potential witness in the trial of his brother, who was sentenced to death earlier this month for the March 2011 shooting deaths of Tyus Sneed, 17, and Keenan Hubert, 20, at the Lakewood Villas apartment complex.
The target of the alleged retaliation did not testify at Cummings' trial, but her aunt and other residents of the apartment complex did.
They all told the jury they feared violent reprisals for their cooperation with police and the district attorney's office.
Besides Richards, two women associated with Richards and Cummings, Constance Marie Jones, 24, and Jazmyne Flowers, 24, also were arrested on witness retaliation charges related to Cummings' trial.
Cummings' and Richards' uncle, John Dwayne Richards, also was arrested during Cummings' trial on allegations he tampered with a witness.
Tyrece Richards was one of five men, including Rickey Cummings, who were charged with capital murder in the deaths of Hubert and Sneed.
Prosecutors dismissed charges against Tyrece Richards in November 2011 after his attorneys convinced prosecutors he was not at Lakewood Villas at the time of the shootings.
Several months after his release from jail, authorities say Tyrece Richards threatened a potential witness in the case while brandishing a gun at a North Waco apartment complex on May 27.
Tyrece Richards, who had been on Waco's most wanted list, was arrested in Williamson County on Saturday, but details of his arrest were not available Monday, according to officials in McLennan and Williamson counties and at the Waco Police Department.