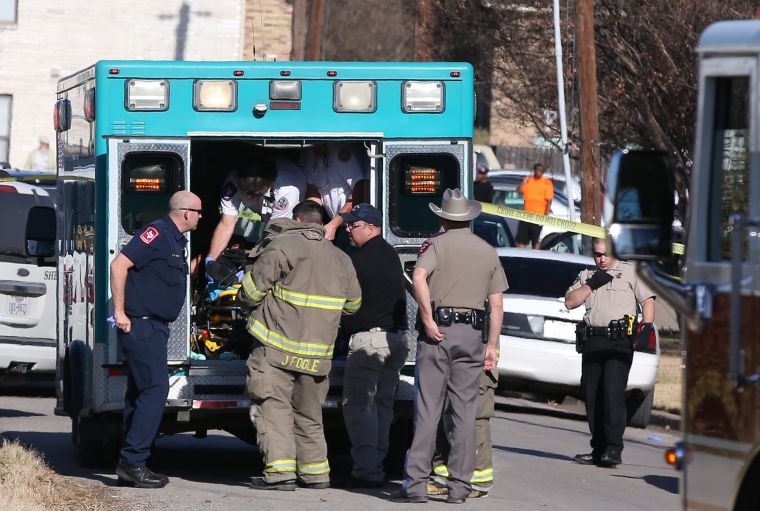 A sheriff's office lieutenant who was shot Wednesday while responding to a kidnapping call was recovering at home Thursday, while the suspect, who also was shot, was recovering in the hospital under close guard.
Michael Alvarado, 25, was charged Thursday with three counts of aggravated assault on a peace officer after allegedly shooting McLennan County Sheriff's Office Lt. Johnny Spillman in the leg during an exchange after the kidnapping of a Waco woman.
Texas Rangers and sheriff's deputies helped the Waco Police Department in a search for the woman, who reportedly was kidnapped at gunpoint earlier Wednesday. The incident led to a "light" lockdown of Bosqueville Elementary School, where her children were located, and a countywide search.
When officers were tipped off that Alvarado had taken the woman to a storage unit at 1215 Baylor Ave., authorities quickly located the two. Officers tried to move in on them, then Alvarado rammed a gate and began firing, according to sheriff's officials.
Alvarado was wounded in the ensuing gunfire and is in critical condition at Hillcrest Baptist Medical Center. It was unclear Thursday where on his body Alvarado had been shot.
The kidnapping victim sustained no injuries in the exchange.
Spillman was released from the hospital Thursday after an overnight visit. He is expected to continue his recovery from home, McLennan County Chief Sheriff's Deputy Matt Cawthon said.
Alvarado remains at the hospital.
"He was awake last time I saw him, and he's shackled to a bed right now," Cawthon said.
"We still have him under guard as he's recovering from his injuries, and he will be until if and when he's released by medical personnel to be booked into the county jail," Cawthon continued. "That'll be his next stop."
Cawthon said Wednesday's incident led to an unusual situation for the sheriff's office, as normally it is the side doing the investigating. The Rangers have taken the lead on the investigation because a member of the sheriff's office was shot.
"When you're involved in a critical incident and someone else has to investigate it, you kind of feel a little lost," Cawthon said. "In this case, our deputies and the DPS officers were the victims of this guy.
"Everyone's still sitting around thinking: 'What if? What if that bullet had been an inch different?' It could have been a lot worse. We're feeling very blessed."