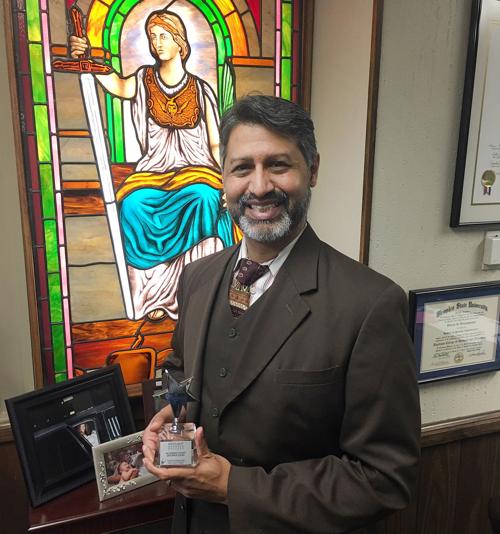 McLennan County Court-at-Law Judge Vik Deivanayagam said he should have known something was up when officials from the Texas Center for the Judiciary asked him to step back into the main room during the annual DWI-Drug Court advanced conference last week.
They wanted the judge to be present because the McLennan County DWI-Drug Court Deivanayagam presides over was awarded the outstanding program of the year for the state of Texas.
For the 47-year-old Deivanayagam, who relishes his role overseeing the DWI-Drug Court, it was an unexpected but fitting way to celebrate his second anniversary on the county court-at-law bench and an honor for the DWI-Drug Court team that is dedicated to changing lives and breaking the cycle of addiction.
Deivanayagam was appointed in February 2017 to replace the retiring Judge Mike Freeman, who started the DWI-Drug Court 11 years ago and turned it into a successful, life-changing program for people committed to freeing themselves from the grips of substance abuse. As a defense attorney for 20 years, Deivanayagam saw first-hand many of his clients trapped in the revolving door of the criminal justice system because of substance abuse.
So after he took the bench, he embraced the mission of the DWI-Drug Court, putting his own polite and respectful, easy-going stamp on the program.
"What we do here every week is hard work, but it is so satisfying," he said. "I feel like we actually change lives for the better."
A small milestone in James Gonzales' long recovery came recently when he attended his son's …
Laura Weiser, a retired Victoria County court-at-law judge who is now the judicial resource liaison for the Texas Center for the Judiciary, said Deivanayagam has a knack for "connecting" with the participants in the program.
"McLennan county has had a very successful program," Weiser said. "When Judge Freeman left, there is a tendency when a new judge comes in for the program to be diminished or even go away. But Judge Vik really took that program and not only kept it going, but I think improved it. Every judge has a different style, and he really connects with the participants. He really has a way of talking to them and getting through to them. They really listen to him and look up to him.
"The program takes on the flavor of the judge because the judge is the focal point of the team. Every judge has their own style and own way of doing things, but because he came from a defense attorney standpoint, he can really relate to them. He really gets to them in a good way."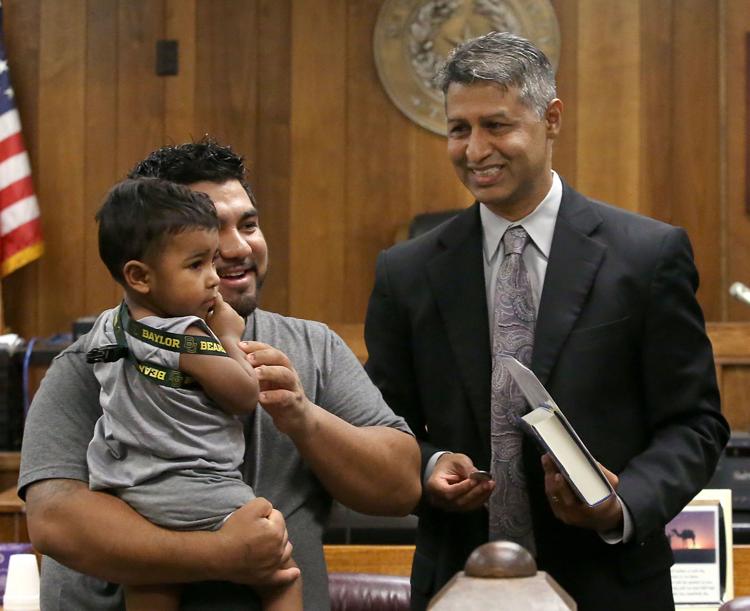 The DWI-Drug Court team includes probation officers, a defense attorney, a prosecutor, a chaplain and substance abuse counselors. Offenders selected for the intensive-supervision program, mostly those on probation after multiple arrests for substance abuse violations or other nonviolent offenses, learn ways to turn their lives around for the better through treatment and counseling.
Weiser said an important factor that sets the McLennan County program apart from the other 30 or so DWI-Drug Courts around the state is the local program's unique affiliation with Baylor University's psychology department and the doctoral students who provide valuable resources.
"One thing is that we have a great team of committed professionals," Deivanayagam said. "The consistent remark I get from the visitors who come and observe is how surprised they are about how much we struggle over the decisions we make. When we are discussing participants and whether or not to sanction them for violations or reward them, the visitors are always surprised. We really worry. If we put somebody in jail for the weekend, is this going to cause them to lose their job? Are they going to be separated from their children? What is clear is that everyone on the team is really trying to make a better life for the people in the program. It is not just checking boxes."
There normally are from 20 to 30 people in the program, which takes a year or more, depending on successes and setbacks. About 120 people have graduated from the program during its 11-year run.
Team members Ron Cole, a licensed professional counselor, and Michelle Ramirez, a licensed professional counselor and licensed chemical dependency counselor at Cenikor, a substance abuse treatment provider, said the key to the program is its focus on treatment and rehabilitation.
"I saw one of the clients yesterday, and he said this program focuses on rehabilitation instead of punishment or retribution," Ramirez said. "Its focus has helped him, in his words, plan for a better future and set the foundation for such rather that just going to jail, doing time and coming out institutionalized. He said he has learned new skills to actually prosper in society."
Deivanayagam said he called Judge Freeman last week to tell him about the statewide award and to share it with him.
"He set this all in motion," Deivanayagam said. "His leadership 11 years ago to start the DWI-Drug Court program is what led to these moments. I have been fortunate to bear the fruit from the seeds of the tree he planted."
Be the first to know
Get local news delivered to your inbox!