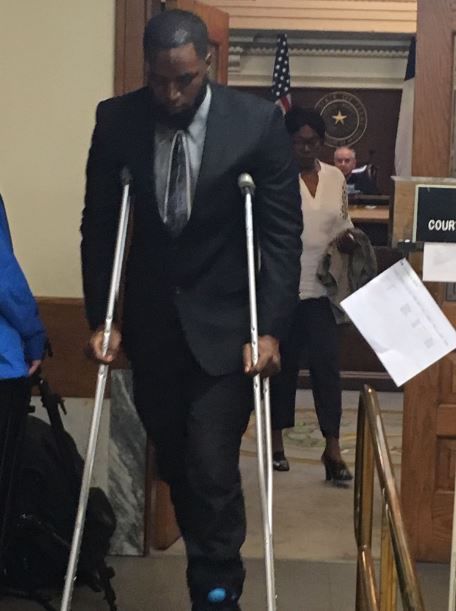 Sam Ukwuachu returned to a McLennan County courtroom Wednesday, hobbling on crutches while his attorney argued that the former Baylor University football player deserves a new trial.
Ukwuachu's sexual assault case has been bouncing among courts for years, dating to his arrest after a Baylor homecoming party in 2013, to his conviction for sexual assault in 54th State District Court in 2015, to a 10th Court of Appeals conviction reversal in March 2017 to a reversal of that reversal by the Court of Criminal Appeals in June last year.
On Wednesday, Ukwuachu, who had ankle surgery after a basketball injury, was back before the three justices of Waco's 10th Court of Appeals, who heard oral arguments in the six remaining points of appeal the Waco court did not consider before reversing the conviction two years ago.
Ukwuachu's attorney, William Bratton III, argued that the court should reverse the conviction again because prosecutors abused the grand jury process to intimidate and threaten Ukwuachu's roommate, an important defense witness.
He also alleged that prosecutors left a false impression with the jury about the roommate's phone records and improperly questioned him about the records when 54th State District Judge Matt Johnson had excluded them from evidence.
"A litigant is entitled to at least one fair trial, and I don't think we even came close in this instance," Bratton told Chief Justice Tom Gray and justices Rex Davis and John Neill.
Wednesday was the second time the court has held oral arguments in Ukwuachu's case, but Neill, who succeeded former Justice Al Scoggins, was not on the court then.
A 54th State District Court jury convicted Ukwauchu of sexual assault and granted his request for probation. The victim in the case, a freshman athlete at Baylor, testified that Ukwuachu raped her at The Groves apartments on South University Parks Drive after a Baylor homecoming party in November 2013.
Ukwuachu, from Pearland, transferred to Baylor from Boise State University. He said he had a consensual sexual encounter with the woman.
In his initial question to Bratton, Gray asked, "Counselor, would you agree with the general characterization that this is a case of he-said, she said?" Bratton said he agrees.
Assistant District Attorney Gabe Price rebutted each of Bratton's contentions and told the justices that Ukwuachu's conviction should be affirmed.
Court's opinion
In the 10th Court opinion reversing the conviction, which was written by Gray, the court awarded Ukwuachu a new trial after ruling a series of text messages between the victim and her friend sent shortly before the incident were improperly excluded from evidence and that Johnson abused his discretion by doing so.
Johnson admitted a portion of the messages but not the entire series of messages that Ukwuachu argued would have supported his defense of consensual sex and would have offered evidence about his prior relationship with the woman.
The Court of Criminal appeals ruled the 10th court erred in holding that the text messages should have been admitted under a certain rule of evidence even though Ukwuachu's trial attorney, Jonathan Sibley, did not offer the evidence under that specific rule.
Johnson did not abuse his discretion "and the court of appeals erred in holding otherwise," the Court of Criminal Appeals ruled in overturning the 10th Court.
Tactics questioned
Bratton renewed his claims that prosecutors abused the grand jury process in the way they subpoenaed Peni Tagive, Ukwuachu's roommate, a month before Ukwuachu's trial.
Bratton argued that prosecutors strong-armed Tagive and intimidated him by threatening him with perjury charges if he continued to assert that he was in his room during the incident while they believed that his cellphone records placed him in another part of the city.
Tagive ignored the grand jury subpoena at Ukwuachu's suggestion, and prosecutors contended that Ukwuachu was tampering with a witness. Tagive was jailed for a weekend and wore an ankle monitor to a subsequent grand jury session, Gray recounted, questioning the tactics.
Tagive testified at trial he was in his room and would have been able to hear if the woman had screamed as loudly as she asserted.
Quoting case law, Bratton said, "prosecutors may strike hard blows but they are not at liberty to strike foul blows."
Both Davis and Gray said they had "concerns" about that point of appeal.
Price countered that Ukwuachu has no standing to appeal how Tagive was treated and that errors in the case were not properly preserved for appeal by Ukwuachu's trial attorney. He said Tagive's testimony was thoroughly impeached by his statements to Baylor's Title IX office, investigators and prosecutors.
The court took the case under advisement and invited attorneys on both sides to brief their arguments.
Be the first to know
Get local news delivered to your inbox!