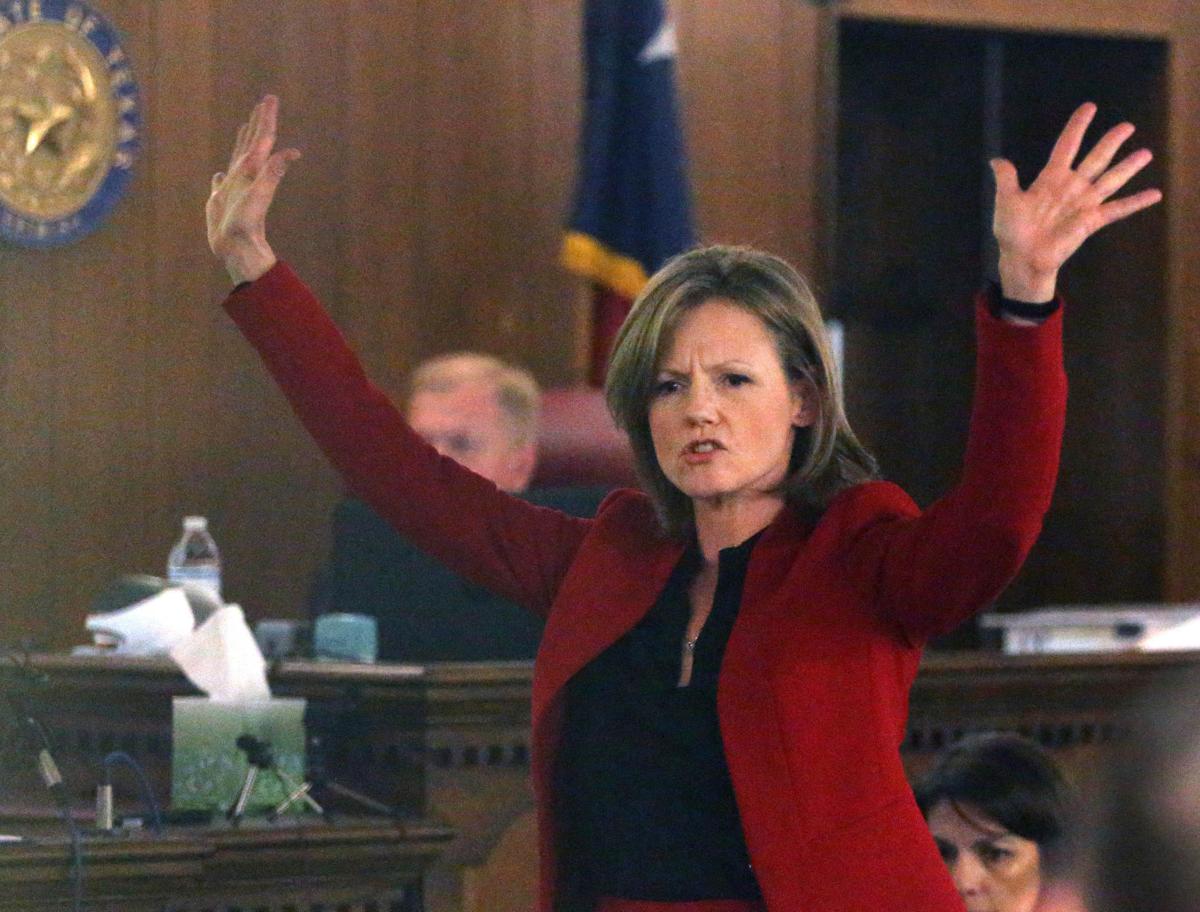 A Texas assistant attorney general said in a secretly recorded conversation that McLennan County District Attorney Abel Reyna urged a Texas Ranger to withhold evidence from Twin Peaks defendant Jacob Carrizal's trial team and said Reyna is "deluded" and can't be trusted.
A four-minute audio recording, recorded by Carrizal's attorney, Casie Gotro, was filed Friday by Twin Peaks biker George Bergman as part of a motion to "determine the scope of withheld discovery."
In the recording, Gotro is speaking with Assistant Attorney General Christopher Lindsey, who serves as a legal liaison between the Department of Public Safety and local prosecutors. The Texas Rangers are an arm of the DPS.
Since Gotro signed on to represent Carrizal and Carrizal's father in March, she has been complaining — first to 19th State District Judge Ralph Strother, and then to 54th State District Judge Matt Johnson — that Reyna's office was withholding evidence to which she was entitled to prepare for her case.
Reyna did not return phone messages left at his office and on his cellphone Friday.
After each complaint, either Reyna or First Assistant Michael Jarrett assured the judges that Gotro had been supplied everything to which she was entitled or that evidence did not exist.
However, even after Carrizal's trial started, Gotro discovered a number of times evidence was not provided to her that Johnson later ordered the DA's office to turn over.
At one point in the trial, Gotro's discoveries of withheld evidence had become so regular that Johnson ordered Reyna to instruct his prosecutors and all law enforcement agencies involved in the Twin Peaks investigation to go back and search their files to make sure all materials had been disclosed to the defense as required by law.
Gotro said she met with Lindsey on Nov. 5 at Dichotomy Coffee & Spirits on Austin Avenue to discuss her complaints that discoverable materials were being withheld from her. Her associate, Thomas Lane, joined them and Gotro said she recorded the conversation without Lindsey's knowledge.
Lindsey, who Gotro said complained to the judge about the secret recording after the Carrizal trial ended, did not return a phone message left at his office Friday. Johnson declined to discuss the issue. Texas law allows recording conversations, both in person and on the telephone, as long as one party is aware of the recording. In this case, Gotro was the party aware of the recording.
The next day during Carrizal's trial, Gotro discovered more evidence she was not given before trial and exploded during a break, shouting as she left court that the repeated late disclosure of evidence was "criminal and intentional." Johnson was forced to delay Carrizal's trial at least three times — once for two days — after the late disclosure of evidence to give Gotro a chance to review it.
Lindsey told Gotro that Reyna's office was not "assuming their responsibilities" when it comes to Twin Peaks discovery and that the office was "double dealing" and "hiding things," as heard on the recording.
Lindsey said the Ranger told Lindsey that he and Reyna got into "a bit of an argument" because the Ranger thought certain items were subject to discovery and Reyna, who disagreed, told him to "hang onto" the evidence.
"At the end of our conversation, I told him, 'You need to stop talking to Abel. You need to stop talking to Jarrett. They are not on our side,' " Lindsey said on the recording. " ... You can't trust your own local prosecutor? Not in this case. Nope. Not even a little bit."
Lindsey told Gotro that soon after he was assigned to the Carrizal case, "it became immediately apparent" that her accusations that Reyna was withholding evidence was true.
"Abel is going to start pointing the finger at my guys," Lindsey said of the Rangers and DPS officials involved in the investigation. "We know full well, and I don't want to be in a situation that when this thing craters, and it will, we get caught in the blast zone."
Gotro asked Judge Johnson during Carrizal's trial to dismiss the charges against the Bandidos Dallas chapter president because of prosecutorial misconduct and alleged prosecutors willfully hid evidence from her.
Gotro said in a telephone interview Friday that she thinks Reyna and his staff should be held in contempt of court for their actions.
"I have been lied to so many times," Gotro said. "They all represent the state of Texas, and my overall take on this is that the state of Texas, either through the district attorney's office or the DPS, are conspiring to deprive my client of civil rights. It doesn't make any difference who it is. They are all law enforcement and they are violating Mr. Carrizal's rights and it is criminal."
Reyna handpicked Carrizal's case to be tried first out of 154 bikers indicted after the May 17, 2015, shootout at Twin Peaks that left nine bikers dead and 20 wounded.
After a month's worth of testimony, jurors deadlocked on the three charges against Carrizal, forcing Johnson to declare a mistrial. Sources said the jury voted to acquit Carrizal on the first count of directing the operations of a criminal street gang before someone changed his or her mind and never had more than six votes to convict him on the second and third counts.
Reyna has vowed to retry Carrizal, while attorneys for other bikers are seeking to disqualify him from handling the remaining Twin Peaks cases.
In the motion seeking full disclosure of Twin Peaks evidence filed Friday, Dallas attorney Clint Broden, who represents Bergman, alleges, "in this case, it certainly appears that the state is purposely and with calculated design withholding discovery."
The motion recounts the recorded conversation between Gotro and Lindsey.
"Keep in mind that these are not allegations by the defense," the motion states. "These are allegations by the attorney representing the Texas Attorney General's Office. As noted above, it is difficult for Mr. Bergman to know what he does not have. Nevertheless, if Mr. Lindsey is to be believed, it may be quite a lot."
Bergman's trial is set for Jan. 22 in Waco's 54th State District Court.