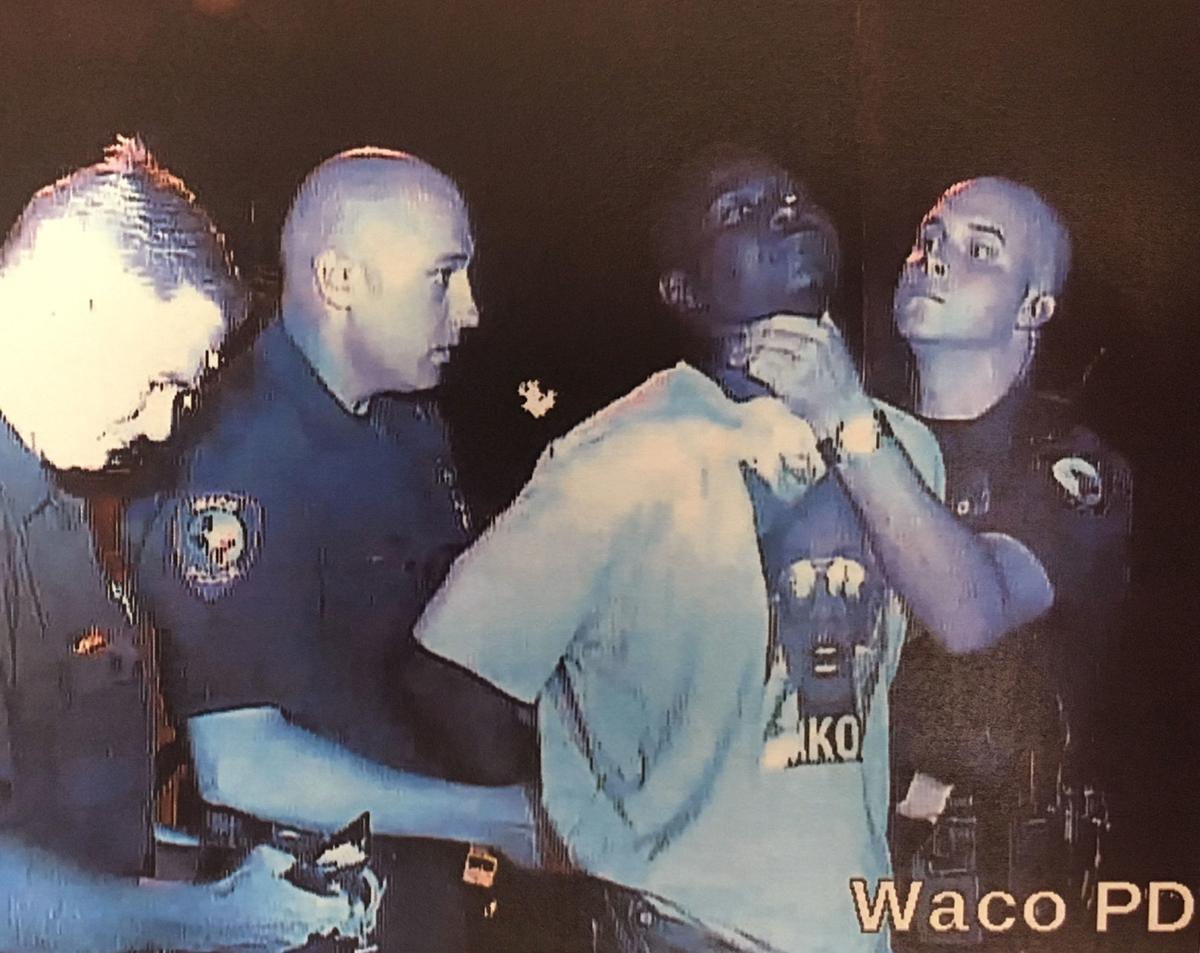 A former Waco police officer who claimed he acted in self-defense when he grabbed a handcuffed suspect by the throat after a 2016 traffic stop was convicted on two misdemeanor counts Thursday.
A six-person jury in 19th State District Court deliberated about 90 minutes before finding George Neville guilty of assault and official oppression, both Class A misdemeanors punishable by up to a year in the county jail and a $4,000 fine.
Neville elected to have Judge Ralph Strother assess his punishment. The judge ordered the probation department to compile a background report that he will review before sentencing Neville in about three weeks.
Neville was defended during the three-day trial by Bill Johnston, a former federal prosecutor, and Calvin McLean, a Waco police officer for 16 years who worked with Neville before going to law school in 2011.
"We are very disappointed with the jury verdict," McLean said after the trial. "Officer Neville served Waco with great distinction for many years. Many important legal issues arose during the case, and for those reasons, Mr. Neville will most certainly appeal the case."
Jurors convicted Neville, 35, an 11-year police veteran, of grabbing Qualon Deshon Weaver by the throat with his left hand while Weaver was handcuffed and in the custody of three other officers. While Weaver was being loud and uncooperative with the officers after they pulled him over in East Waco for a minor traffic violation, he shifted forward a bit as an officer tried to search his pockets but did not try to fight them.
Neville and Weaver exchanged words, and Neville can be heard on video challenging Weaver to "get in my face one more time." Neville called Weaver a name and Weaver responded by calling Neville the same name. That was when Nevillle choked Weaver with his left hand for about six seconds, shocking the other officers who were holding Weaver's shackled hands from behind, they testified.
Neville did not testify. However, Johnston told the jury in summations Thursday afternoon that Neville was already in a "heightened state of awareness" because an officer who requested help on the radio said it looked like they were going to have to fight Weaver. Plus, the first thing Neville saw when he walked up was Weaver resisting an officer's attempts to search him, Johnston said.
Johnston also told jurors Neville was concerned Weaver was going to head-butt him or spit on him and he acted in self-defense by trying to subdue him with a pressure point hold on the side of his neck.
Jerry Staton, a 25-year veteran of the Austin Police Department and an instructor in police tactical procedures, testified Thursday that Weaver's "active resistance," including moving his face and body closer to Neville during their argument, justified Neville's actions.
Staton said Neville's technique was not perfect, but he said it appears to him that he could have been trying to reach a pressure point just under Weaver's jawline instead of choking him.
After Weaver and his attorney complained that Weaver was choked during the incident, an internal police investigation led to Neville's firing and to the district attorney's office pursuing criminal charges.
Staton's testimony contradicted that of Ricky Bates, a former Marine gunnery sergeant who taught hand-to-hand combat during his military career and then trained thousands of Central Texas police officers over a 28-year law enforcement career.
Bates, known as "Gunny," testified Wednesday he trained Neville but never taught him to do what he saw Neville doing on the video. He said he taught police recruits to stay away from a suspect's neck area because of the high potential to cause injury or death.
He said the only time an officer is justified in using a choke hold is when the officer's life is in jeopardy. Bates said nothing Weaver did justified Neville's actions, which he described as a "C-clamp choke" and "deadly force."
Trial testimony revealed that while the other officers there that night said they were shocked by Neville's actions, they did not report it to their supervisors or note the incident in their reports. One officer said he knew if he reported what he saw that Neville would be fired.
In closing arguments, prosecutors Amanda Dillon and Gabe Price told jurors Neville simply lost his cool and that nothing Weaver did justified Neville's actions. They reminded the jury of the judge's instructions that the use of force is not justified as a response to verbal provocation alone.
"Ladies and gentleman, Theodore Roosevelt said that no man is above the law and no man is below the law," Price said. "This defendant is not above the law, and Qualon Weaver is not below the law."
Dillon told jurors that Weaver, who has two convictions for drug possession, did not resist and that his hands were cuffed behind him and he was surrounded by officers. She said Neville escalated the confrontation with Weaver, lost his temper and assaulted him.
"Who polices the police? You do. Not because it's easy. Because, Lord knows, we all would like to believe that every person who puts on a badge deserves that badge and will uphold that badge. But you know what? This man right here doesn't deserve that badge," Dillon said, pointing at Neville.