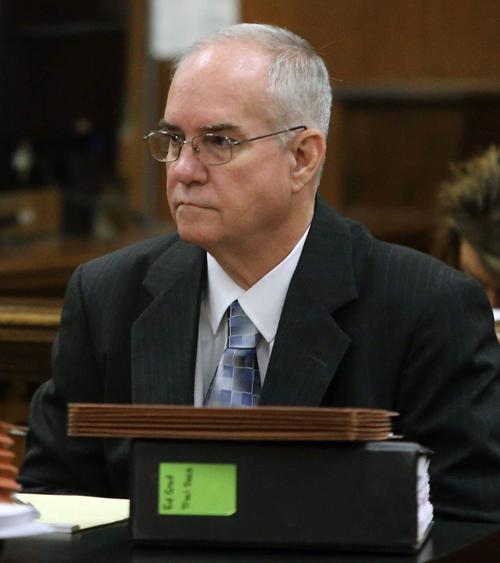 After family members, lawyers and the media waited all day Monday for Edward E. Graf Jr. to be released from a Huntsville prison, Graf was quietly moved Wednesday to a halfway house in El Paso, according to a prison spokesman.
Clare Bradburn, the mother of Jason and Joby Graf, said she got a call from parole officials Wednesday morning confirming her ex-husband's release and the change to his new location.
Jason Clark, a prison spokesman, said Edward Graf was taken from Huntsville on Tuesday night to the Robertson prison unit in Abilene. Graf left Abilene about 12:30 p.m. Wednesday and arrived at the El Paso Transitional Treatment Center at 8:15 p.m., Clark said. He was taken there by halfway house staff.
Clark said parole officials changed the original plan, which was to release Graf on Monday to a halfway house in Austin.
"Because of the nature of the crime and media attention surrounding this case, we had to find an appropriate location, but at the same time balance safety concerns," Clark said.
"We had to find an appropriate housing placement, and there are a limited number of halfway house beds across the state. Certainly that is a concern, but we also have to take into consideration restrictions placed on the offender by parole."
"I'm glad he's out," said Walter M. Reaves Jr., one of Graf's attorneys who waited in Huntsville on Monday for his release. "I wish he would have been released closer to home as originally planned, but at least he is out of prison."
Though Bradburn is not pleased about Graf's release from prison, she said Wednesday that she prefers him to be in El Paso rather than Austin.
"Ed Graf can never be too far away from us," she said in a text message.
Graf will be placed under the Super-Intensive Supervision Program and will be monitored 24 hours a day by a GPS ankle monitor, Clark said.
The Texas Board of Pardons and Paroles also has placed restrictions on counties Graf can enter and live in. McLennan, Denton, Harris, Wichita and Henderson counties are off- limits to Graf, Clark said.
Graf, 62, will be supervised by parole officials until April 29, 2048, according to Clark.
The former Waco banker, who embezzled $75,000 from the bank's customers, pleaded guilty Oct. 21 to two counts of murder for burning alive his two adopted stepsons in a 1986 shed fire behind his Hewitt home.
He was sentenced to 60 years in prison in a plea bargain struck with prosecutors just before a 54th State District Court jury reached a guilty verdict after 11 hours of deliberations.
Graf's release did not come Monday because parole officials said they had not secured a certificate of release with the signatures of at least two parole board members by closing time.
Graf's brother and sister planned to drive him from Hunstville to the Austin halfway house Monday, waiting about eight hours outside "The Walls" unit in Huntsville before going back home.
SISP offenders are required to comply with 24-hour-a-day schedules, which must be approved in writing by parole officers. It is the highest level of supervision for those on parole.
"Ed has good family support and I have a lot of faith he will abide by whatever rules they set out for him and he will be successful," said Michelle Tuegel, another of Graf's attorneys. "That is our hope and we think family support will really help with that."
Graf was eligible for mandatory release on parole because the good-time credits he earned in prison and the 26 years he served in prison and in jail combined to make his release from prison mandatory under the law in effect at the time of the crime.
The Texas Court of Criminal Appeals awarded Graf, who spent nearly 26 years in prison after his initial murder conviction in 1988, a new trial last year after ruling the arson science evidence used against him at his first trial was flawed.
Be the first to know
Get local news delivered to your inbox!