Standing in front of a banner proclaiming "Justice and Fairness for All," Barry Johnson on Thursday promised a new era of "honesty, integrity and transparency" as McLennan County's new district attorney.
Johnson, 62, was sworn into office by 54th State District Judge Matt Johnson before a crowd of about 300 at the Baylor University Law School. Barry Johnson and Matt Johnson were law school classmates at Oklahoma City University, and their fathers were longtime courthouse fixtures while serving as state district judges in McLennan County.
After Johnson was sworn in, Judge Matt Johnson swore in 19 of the 31 assistant district attorneys in attendance, including Barry Johnson's first two hires as incoming DA — First Assistant District Attorney Nelson Barnes, a former prosecutor in Bell County, and Executive Assistant District Attorney Tom Needham, the former law partner of Barry Johnson and Johnson's older brother, Joe Johnson Jr., in Dallas.
Johnson introduced his family, friends and supporters who helped him sweep into office by defeating two-term incumbent Abel Reyna by 20 percentage points in the March Republican primary.
Baylor Law Professor Jim Wren, Johnson's brother-in-law who practiced law with him in Waco before Johnson moved to Dallas, introduced Johnson at the 90-minute ceremony, which also was attended by law enforcement officers from a number of agencies.
Wren said Johnson is the "real deal" in terms of integrity, his ability as a trial lawyer and being a "real person."
"With Barry, there are no airs, no false pretenses," Wren said. "He knows where he comes from and he knows who he serves. So I absolutely believe we are getting the real deal as a person of integrity, a trial lawyer and a real person who takes his job seriously. Barry is committed to doing this job right."
Johnson and Reyna met last month, and Johnson said he appreciates Reyna's cooperation for helping make the transition in administrations a smooth one. Johnson outlined his goals for his office, saying the mission is to seek justice.
"A prosecutor's duty is not to convict, but to see that justice is done. It sounds easy. It can be easy. But it can also be incredibly difficult," Johnson said. "That is where we are going with it. We are gong to see that justice is done by protecting the constitutional and statutory rights afforded to every person in our county without respect to race, ethnicity, gender, religion or socio-economic status."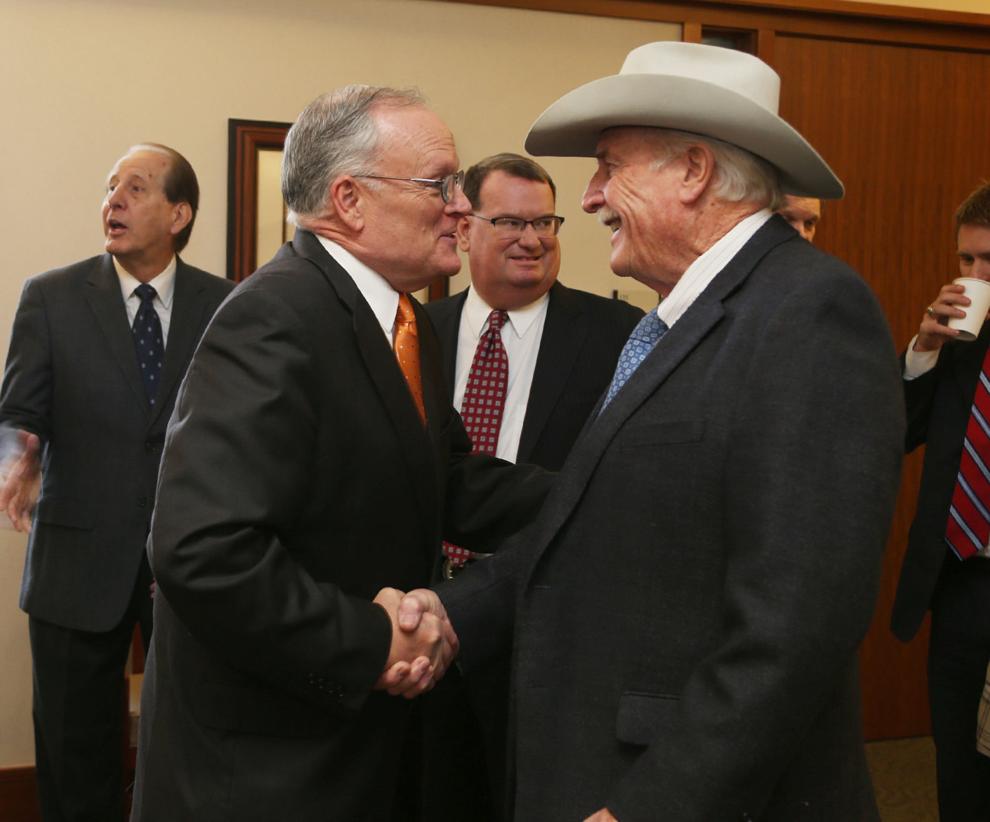 Johnson said his office is not going to be soft on crime and that it will vigorously prosecute violent and habitual offenders and strive to protect innocent victims.
"That is our job. But we are also committed to crime prevention," Johnson said. "That is kind of new-wave in criminal justice. It is not criminal justice reform. It is criminal justice evolution. Things are evolving. Times are new and we are going to be hard on crime and prosecute those violent and habitual offenders, and do so aggressively. But we will also be committed to crime prevention by implementing innovative programs to break the cycle of crime for youthful, first-time, mentally ill and drug-addicted offenders."