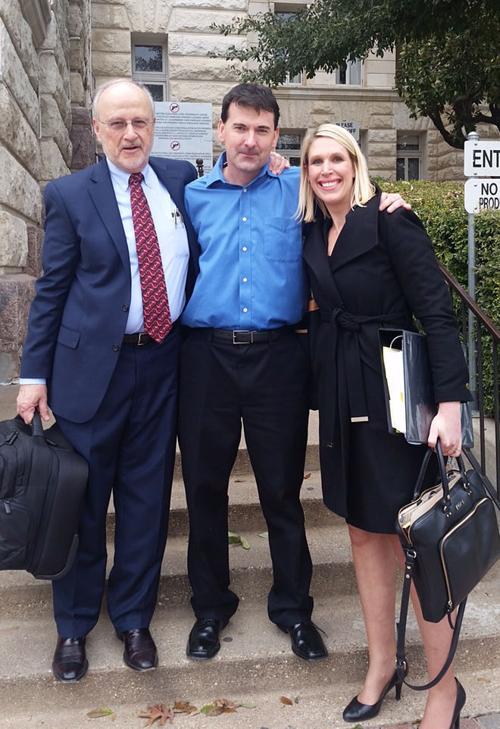 A Waco man acquitted of sexually abusing a child last year won another legal victory Tuesday after a judge disallowed the testimony of a second alleged victim.
Timothy Glen Bodie, 44, was set to stand trial Tuesday in Waco's 19th State District Court on charges of aggravated sexual assault of a child and indecency with a child.
However, his attorneys, Russ Hunt and Michelle Tuegel, filed a motion to dismiss the indictment against Bodie or to suppress the testimony of the alleged victim, arguing she testified at Bodie's first trial last year and the jury obviously did not believe either one of the alleged victims.
Strother did not dismiss the case, but he did grant the motion to suppress the alleged victim's testimony, leaving prosecutors with no apparent case for the time being.
Prosecutors Hilary LaBorde and Evan O'Donnell are expected to appeal the judge's ruling to Waco's 10th Court of Appeals, court officials said. Neither returned phone messages Tuesday.
In fact, Strother practically invited them to appeal the decision, saying he would be curious to know what the three-judge intermediate appellate panel thought of the ruling.
Strother then skipped over Bodie's trial on Tuesday's court docket and Bodie, who has worked for more than 20 years at a major Waco manufacturing plant, left the courthouse with Hunt and Tuegel.
A 19th State District Court jury found Bodie not guilty of abusing another girl after a trial in January 2016. While that trial was underway, prosecutors sought the current indictment against Bodie, which named him in the alleged sexual assault of the second victim in 1997.
The alleged victim in the most-recent indictment, who is now in her late-20s, testified during Bodie's first trial last year that he abused her.
Both alleged victims are members of Bodie's ex-wife's family, and Hunt and Tuegel argued at trial that the accusations were false and a product of bitterness spawned by the divorce.
The attorneys argued the case should be dismissed or the woman's testimony should not be allowed under a doctrine known as collateral estoppel, which prevents parties from re-litigating issues.
"It's not the same thing as double jeopardy," Tuegel said. "We were arguing that one of the issues has already been litigated and decided by a jury and they shouldn't be able to litigate that issue again because a jury has already basically made a decision on it.
"Both complainants testified at the first trial, and the state argued that you can't walk him unless you believe both girls were lying. The state made that an issue and the jury did not agree with them and we argue they shouldn't get another bite at the apple."
In the case set for trial Tuesday, the alleged victim made the allegations against Bodie in 2000, but he was never arrested. Records show Bodie passed a polygraph test and Waco police closed the case as unfounded. The alleged victim is a former employee of Bodie's ex-wife.
Bodie was not arrested in the second case until after the indictment midway through the first trial, Tuegel said.
"We question the timing of an indictment on a case that was 16 years old and one in which he was never arrested," Tuegel said. "It's a unique issue. It won't come up every day. But it's not academic when people's lives are on the line. He risked everything. He testified he didn't do it and one jury has already said they didn't buy (the alleged victims' testimonies)."