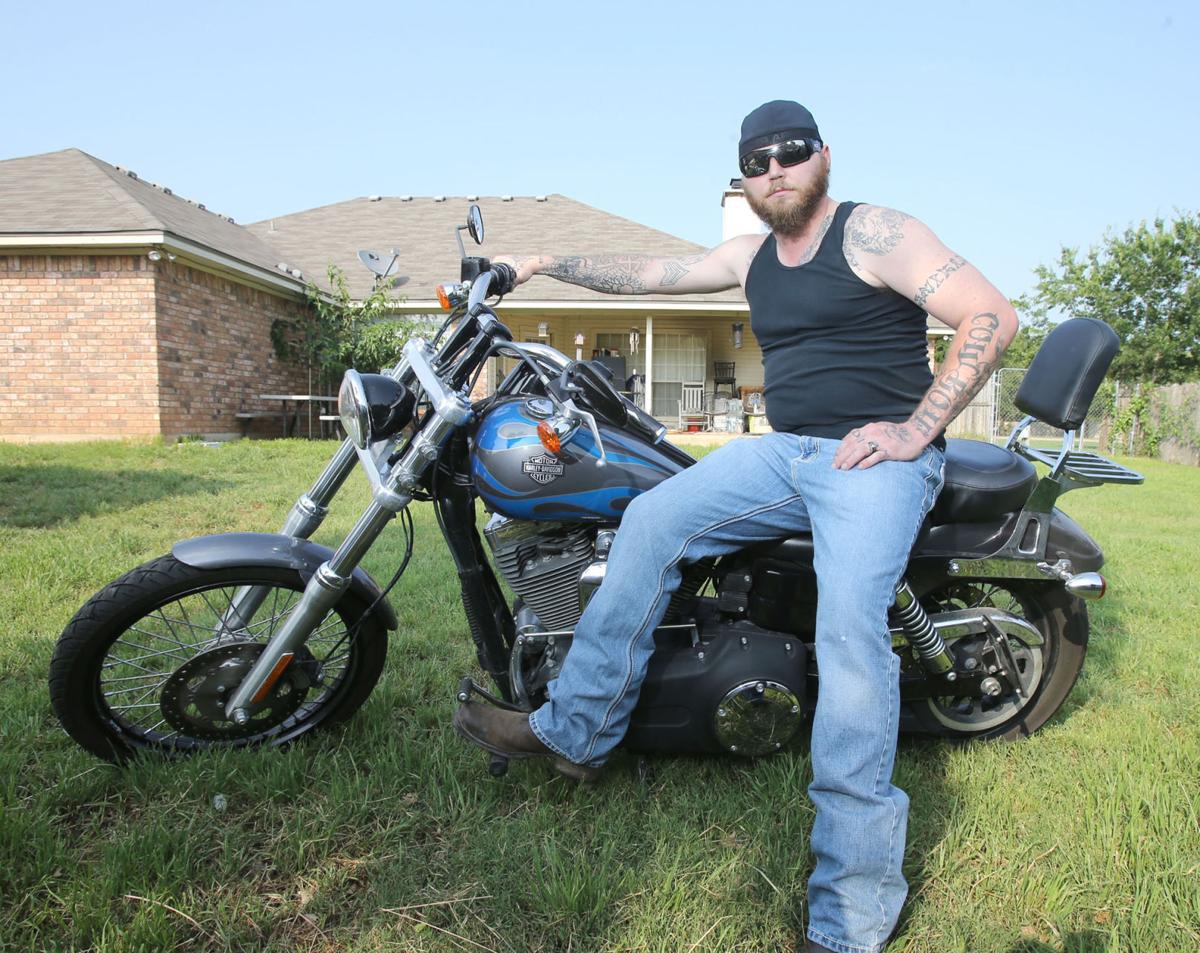 Persistence paid off for Cody Ledbetter, a biker arrested after the 2015 Twin Peaks shootout who has tried to battle his way into the courtroom for a trial.
Ledbetter, of Waco, who has been passed over on two previous trial settings, was in court again Friday to seek a trial date as soon as possible. He didn't get the date he wanted, but he got a trial date, nonetheless.
Ledbetter, a former member of the Cossacks group who saw his stepfather, Daniel Boyett, shot and killed at Twin Peaks, has had trial settings in May 2016 and September 2017. Those settings were passed by 19th State District Judge Ralph Strother at the request of the state and to the benefit of other Twin Peaks defendants also clamoring for their days in court.
After some discussion at a brief hearing Friday, Ledbetter and one of his attorneys, Clay Conrad, didn't get the answer they were looking for, but Strother did give them a trial setting for Jan. 9, 2018.
Jacob Carrizal, a Bandido from Dallas, is the first biker set to go to trial in Strother's court. He has a Sept. 11 trial date, and prosecutors and court officials said Friday they have every expectation that the first Twin Peaks trial will be held then.
Conrad's law partner, Paul Looney, has filed multiple motions during the past two years to get Ledbetter to trial. He even filed an appeal with Waco's 10th Court of Appeals, asking the intermediate appellate court to order Strother to give Ledbetter a quick trial setting. The court rejected his appeal.
"After one year, the speedy trial right kicks in, presumptively," Conrad said Friday. "We are now at 32 months when we have a trial setting. That is way after what the law allows. The state has agreed that the case against Mr. Ledbetter is not complex. There is no reason for it to be put off over and over and over again.
"The fact is the state has already admitted that it wants to try somebody with a gun first. They want to try someone who is easier to convict and will be more sensational in the newspaper than someone who they know is most likely to be acquitted. We don't think that is a legitimate reason to continually put off a trial. He could have been tried in May of last year."
Conrad said Ledbetter is the victim of a speedy trial violation compounded by a due process violation.
"Why is the state so afraid of going to trial on this case?" Conrad said. "He was there keeping his father company. He had his dominant arm in a sling. How someone with their arm in a sling is there for a show of force, I don't know. If anything, that is a show of weakness. If he is there to show strength, he was absolutely useless to anybody in a fight."
Prosecutor Michael Jarrett declined comment after the hearing. McLennan County District Attorney Abel Reyna, who did not attend the hearing, did not return phone messages Friday.
Evidence recall
Conrad also filed a motion Friday to recall some discovery evidence pertaining to Ledbetter that was disseminated to defense attorneys by the district attorney's office. The motion also sought to disqualify the district attorney's office from prosecuting his case.
Conrad filed the motion under seal in the district clerk's office, and Conrad and Jarrett both declined to discuss details of the motion, which Strother denied without a hearing.
Conrad asked for a hearing on the motion, prompting a caution from Strother that a hearing would reveal the very details he is seeking to keep from disclosure by filing it under seal.
Strother also declined to reveal the details of the motion after the hearing.
Be the first to know
Get local news delivered to your inbox!