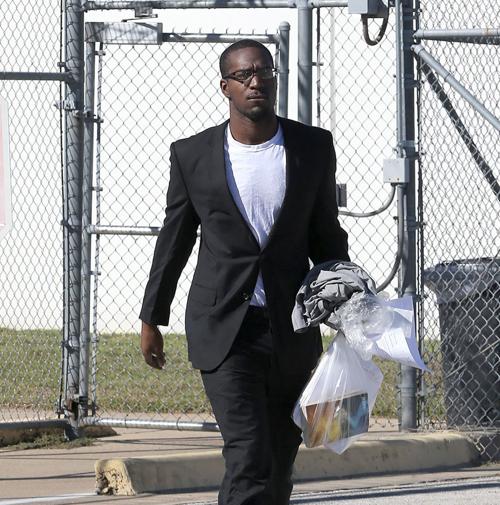 The victim in the sexual assault trial of former Baylor University football player Sam Ukwuachu has reached a settlement agreement with the school, according to a report.
John Clune, an attorney for the victim, told the Dallas Morning News that "the matter has been satisfactorily resolved," although no lawsuit was reportedly filed in the case.
Ukwuachu, a former freshman All-American who transferred to Baylor from Boise State University, was convicted in August of the 2013 sexual assault of the former Baylor soccer player, who has since transferred to another Texas university.
The school faced criticism for what prosecutors and others deemed a shoddy investigation following the victim's initial complaint against Ukwuachu. Baylor leaders have since pledged to do more and created a new position within the athletics department to monitor student-athletes' behavior. And in September, Baylor's board of regents hired a pair of high-profile attorneys to conduct an independent review of how the university handled allegations of sexual assault.
The woman and her family hired Clune and Chris Ford of Boulder, Colorado, to "investigate a number of issues surrounding the case," the lawyers said in August.
According to the law firm's website, Clune has handled ground-breaking federal lawsuits in sexual assault cases involving athletes since a 2004 case dealing with the University of Colorado.
Clune also represents the woman who accused Jameis Winston, the former Heisman Trophy-winning Florida State quarterback, of raping her in December 2012.
Waco police also investigated the complaint but did not arrest Sam Ukwuachu and instead turned the case over to the district attorney's office.
Judge Matt Johnson sentenced Ukwuachu to 10 years' probation and jailed him for 180 days as a term and condition of his probation. It was the maximum sentence allowed, given the jury's recommendation.
He was released after two months behind bars in the McLennan County Jail on a $100,000 appeal bond.
The female Baylor athlete testified she met Ukwuachu around the university's athletic complex and they dated casually. She went to his apartment after a homecoming dance in 2013 and said he sexually assaulted her as she screamed for him to stop.
Be the first to know
Get local news delivered to your inbox!