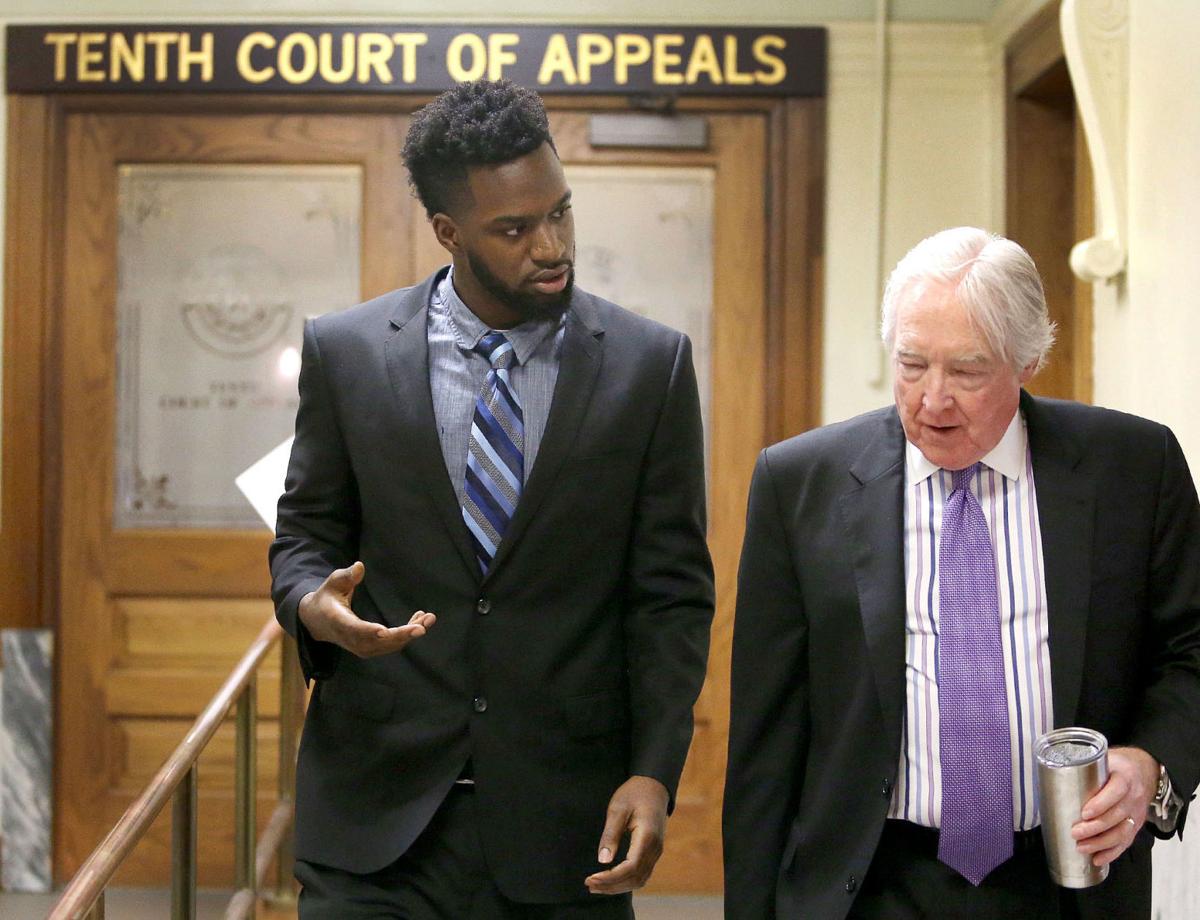 The state's highest criminal court ruled Wednesday that Waco's 10th Court of Appeals erred when it reversed the 2015 sexual assault conviction of former Baylor University football player Sam Ukwuachu.
The Texas Court of Criminal Appeals, in an opinion written by Justice Scott Walker, effectively reinstated Ukwuachu's sexual assault conviction. But the court sent the case back to the 10th Court to rule on other appellate issues that court did not consider in reversing the original conviction.
The opinion comes after the McLennan County District Attorney's Office last year asked the Court of Criminal Appeals to review the 10th Court opinion, which was written by Chief Justice Tom Gray.
William Bratton, Ukwuachu's attorney, said he is disappointed in the court's ruling and is considering filing a motion asking the justices to reconsider their opinion.
"We are disappointed, but not giving up by any stretch of the imagination," Bratton said. "We don't intend to give up on this at all and probably will file a motion for rehearing with the Court of Criminal Appeals."
McLennan County District Attorney Abel Reyna did not return a phone message Wednesday.
The 10th Court ruled in March 2017 that Ukwuachu deserved a new trial because a series of text messages between the victim and her friend sent shortly before the incident were improperly excluded from evidence at Ukwuachu's trial, and that 54th State District Judge Matt Johnson abused his discretion by doing so.
Johnson admitted a portion of the messages but not the entire series of messages that Ukwuachu argued would have supported his defense of consensual sex and would have offered evidence about his prior relationship with the woman.
The high court ruled that the 10th Court erred in holding that the text messages should have been admitted under certain rules of evidence, Rule 412 and Rule 107, even despite Ukwuachu's attorney not offering the evidence under Rule 412. Rule 412, otherwise known as the rape shield law, governs evidence of previous sexual conduct by sexual assault victims.
Johnson did not abuse his discretion "and the court of appeals erred in holding otherwise," Walker wrote in the opinion.
The order sends the appeal back to the 10th Court of Appeals to consider other points of appeal by Ukwuachu that the court did not consider after reversing the conviction. Those include whether prosecutors abused the grand jury process and whether Johnson improperly allowed testimony about extraneous offenses into evidence.
Jurors in August 2015 granted Ukwuachu's request for a probated sentence, and Johnson ordered that Ukwuachu serve 180 days in jail as a term and condition of his probation.
Ukwuachu said he had consensual sex with the now-former Baylor student. Revelations from his trial and the trial of former Baylor defensive end Tevin Elliott opened the floodgates to the sexual assault scandal at Baylor that led to the removals of football coach Art Briles and President Ken Starr. Elliott is serving a 20-year term on two 2014 sexual assault convictions.
The alleged victim in Ukwuachu's case, who was a freshman athlete at Baylor, told jurors Ukwuachu raped her at The Groves apartment on South University Parks Drive after a Baylor homecoming party in November 2013.
She said she saw Ukwuachu at the party, and he asked her if she wanted to go eat later. He came to her apartment to pick her up, but instead of going to a restaurant or to another party, Ukwuachu drove to his apartment and raped her, the woman said.
Ukwuachu remains free on appeal bond but had been under investigation in Dallas and McLennan County for writing caustic emails to reporters in Waco and Dallas that mentioned the prosecution team, media coverage and other officials. Those investigations were closed with no action.
If the 10th Court denies Ukwuachu's remaining points of appeal, he will start serving his felony probation term.
Be the first to know
Get local news delivered to your inbox!