While others rang in the new year with laughter and champagne, 25-year-old Kyndall Ramsey passed the milestone in a medically induced coma in a hospital's surgical intensive care unit with a 50 percent chance of survival.
Last week, she returned to work.
Ramsey, a Waco native, was riding to her job as a barista at Dichotomy Coffee & Spirits on Dec. 29 when an SUV slammed into her bicycle. She suffered critical injuries to her brain and leg and spent four weeks at Baylor Scott & White Hillcrest Medical Center and went through months of physical and cognitive therapy.
Days after the crash, doctors prepared Ramsey's friends and family for the worst. Against those odds, Ramsey made her way to Dichotomy on Thursday afternoon with a rose-adorned walking cane for her first full shift in three months.
"She had a 50-50 chance of survival, and then, if she survived, it was a 50-50 chance of her being Kyndall still," said Sara Hill, 25, Ramsey's childhood friend.
Waco police Sgt. W. Patrick Swanton said Ramsey was traveling east on Austin Avenue about 5 p.m. that Monday when a westbound Dodge Journey struck her while turning left onto South Eighth Street on a yellow light. The two women in the SUV were not injured, police said.
"It's usually only a five-minute bike ride," Ramsey said.
But in those five minutes, Ramsey's bare head hit the Dodge's windshield, then the ground, fracturing her skull. She suffered severe brain trauma, a broken femur, a broken nose and a chipped tooth.
The force left the Journey's windshield shattered and collapsed.
"Sometimes, just how fortunate I've been (is) surprising," Ramsey said. "I could have broken every bone in my body."
She added, "If I had a helmet, I for sure would have been wearing it. It was one of those things I had absolutely been needing to buy. Obviously, it would have helped me."
Swanton said Ramsey was not at fault for the crash. The investigation has been closed and the driver of the SUV was cited for failure to yield on a left turn.
The police report notes a contributing factor of "driver inattention." Swanton said there was no evidence of intoxication or cellphone use, and the investigators found no criminal intent.
'Chaotic scene'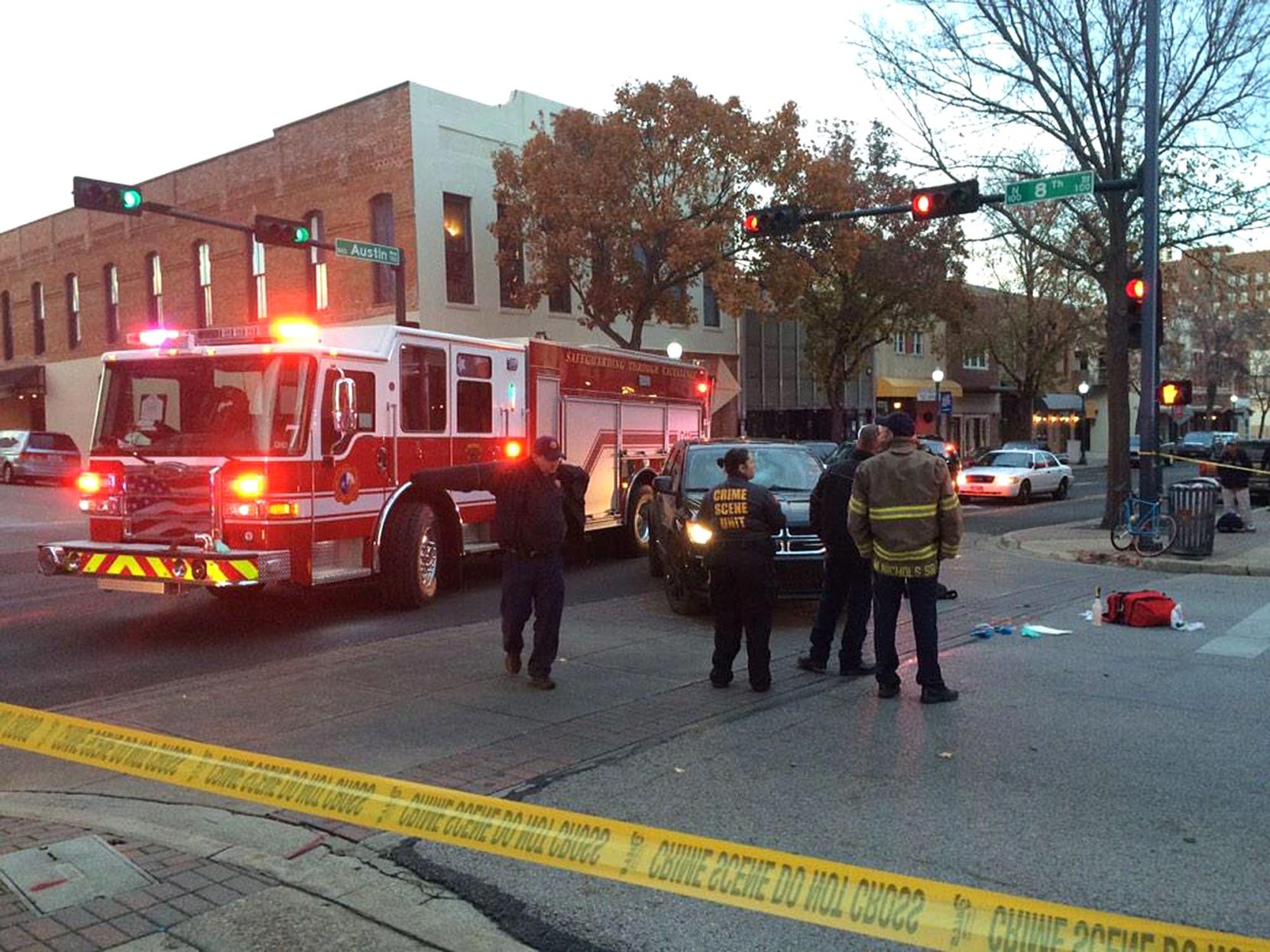 ABOVE: Kyndall Lee Ramsey suffered critical injuries after she was hit by an SUV at the intersection of Austin Avenue and South Eighth Street on Dec. 29.
BELOW: Kyndall Lee Ramsey stands at the downtown Waco intersection where she suffered nearly fatal injuries in an accident three months ago.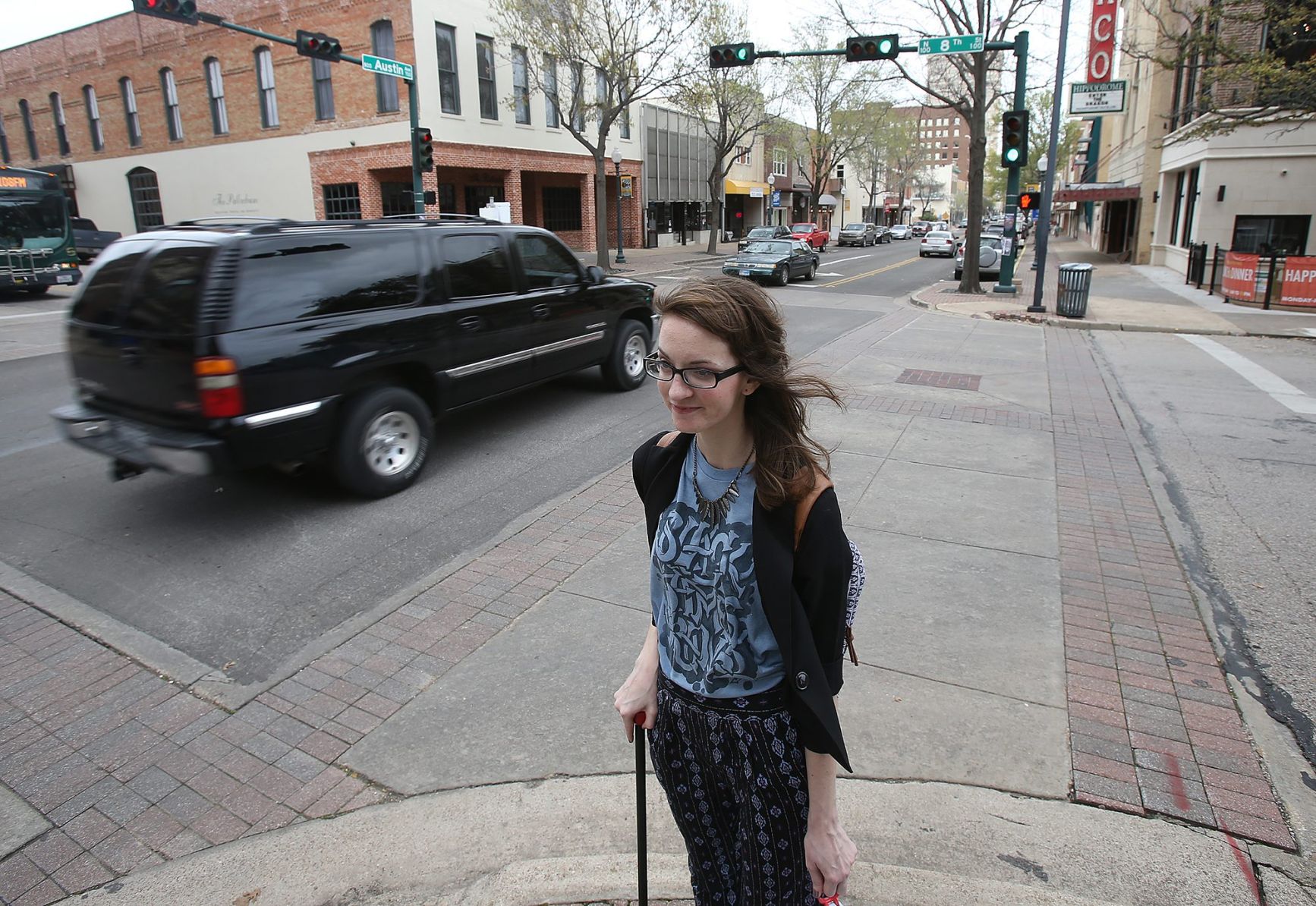 "It was such a serendipitous location," said Ramsey, who also works at the Waco Hippodrome as a training coordinator. The theater is at the same corner where the wreck occurred.
Hippodrome employees came outside while bystanders called 911, at once seeing the scene of the crash and realizing the victim was a friend.
"It was just a very chaotic scene," McLennan County Sheriff's Capt. M.R. "Bubba" Colyer said. "We had a young lady in the middle of the road bleeding from several parts of her body."
Colyer was one of several sheriff's officials who arrived from their nearby Washington Avenue office before Waco police and emergency medical personnel.
Patrol Capt. Steve Smith said he and Colyer blocked traffic and tended to an unconscious Ramsey.
"We could tell she'd been seriously injured, and we just tried to keep her stabilized until paramedics could get there," Smith said.
"It was somber," Colyer added.
A few of Ramsey's friends gathered in front of the Hippodrome, crying and asking questions.
She was loaded into an ambulance, still unconscious. Her damaged blue road bike sat propped against a stoplight pole.
"Everybody that was standing by watching was concerned for her welfare, if she was going to pull through or not," Colyer said. "At first, it did not look good."
Dichotomy owner Brett Jameson said he received several phone calls at that moment. He shut down the coffee shop and about a dozen staff members went to Hillcrest to be with Ramsey's family.
"There were more than 20 people there that night," he said. "We were just concerned. We didn't know what was going to happen or what her prospects were for recovery."
Hill, who lives in Denton, said she received a Facebook message that read, "Please call me, this is an emergency."
"I was like, 'Wow, this is really bad,'" Hill said. "I knew that she was riding without a helmet because we were just talking about how she needed one."
Hill described walking into the intensive care unit with Ramsey's mother the next morning as the most intense moment of her life.
'The scariest thing'
Kyndall Lee Ramsey said her progress has been the result of endless support from family, friends and the downtown Waco community.

 
"Seeing her in such a critical condition was the scariest thing, with the emotions of not knowing what was going to happen," she said.
Swollen from the trauma, Ramsey's brain showed no improvement after the first week. Doctors told her family she might not recover.
Hill said it felt longer, but about a week and a half into the medically induced coma, doctors prepared to schedule surgery to relieve the pressure in Ramsey's brain. Hours before she would have needed surgery, she started responding to the medicine.
Once her intracranial pressure was manageable, it was safe enough to perform surgery on Ramsey's femur, then eventually ease her out of the coma.
Hill said family and friends spent those next few days trying to discern how much of the person they knew was still there.
"It's head trauma," she said. "I was ready to take on any friendship I could have after the accident."
"The first couple of days of her being awake, Kyndall was still deep inside," Hill said. "She was very child-like. On morphine, you didn't know what was drugs and what was Kyndall and what was the brain injury."
But then, Hill said, progress came fast.
"She just snapped back one week."
Ramsey said she remembers waking slowly, with one or two close family members at her bedside. She could see a row of stitches on her left leg.
"I had no idea how long I had been out," she said.
Nurses asked simple questions, like what day it was and whether she remembered her name. When a nurse joyfully clapped at her correct answers, Ramsey was confused.
Family and friends explained, little by little, the severity of her injuries.
"Looking back now, it makes sense," she said. "(The nurse) truly wasn't sure I would get that answer right."
Pushed at rehab
Ramsey said in the rehabilitation facility, medical personnel pushed her to get better.
"I feel like I had lost all my leg muscles," she said. "But they gave me medicine. They dressed my wounds. I felt like I owed it to them to do everything they said."
Ramsey attends appointments with a speech-language pathologist to work on memory, concentration and emotions. Even swallowing, after being fed through a tube for so long, required practice. Ramsey still cannot use straws until an X-ray confirms it's safe.
Once she moved home, she set up a stationary bike to practice rotating her left knee. Ramsey may have to undergo another surgery if she doesn't improve within weeks. After that, building muscle will take work.
"I just don't want something like this to scare people from biking," Ramsey said. "It's not my fault for biking that I got hit. It's her fault for not paying attention."
Before, Ramsey said, she enjoyed not paying for gas, insurance or car payments. Now, she'll have to buy a vehicle.
"I can't rely on my body to cycle me everywhere I need to go anymore," she said.
It may be another month before she can work more than two full days per week, because of the physical strain on her leg and because mental exhaustion comes more quickly.
Still, Ramsey said, "I've got a lot of my strength and coordination back."
Nurses astounded
Kyndall Lee Ramsey walks in downtown Waco, where she suffered nearly fatal injuries in an accident three months ago.

 
Hill said surgical intensive care unit nurses who treated Ramsey and visited with her this week, "are just astounded at how she is cognitively. For her to be speaking and thinking the way she is . . . she's so bright.
"The most painful part of all of this was that Kyndall is a genius and an artist. For someone like that to undergo a traumatic brain injury . . . ," Hill said before trailing off.
Tears in her eyes, she added, "For her to pull through the way that she has, it's everything."
Ramsey said her progress has been the result of endless support from family, friends and the downtown Waco community.
While walking to Dichotomy for her first shift in months, Ramsey spotted Chris McGowan, Greater Waco Chamber of Commerce urban development director. He waved and shouted, "Welcome back!" from across Austin Avenue.
A Facebook group designed to organize fundraisers and update followers on her condition garnered 269 members. The gofundme.com account for Ramsey in the group brought in $6,541.
"It has been so helpful to have had anything raised," Ramsey said. "There's so much kindness that's come back to me without me even needing or expecting it."
Though she only began working at Dichotomy in September, Jameson said the large response to Ramsey's wreck can be attributed to her friendly demeanor, downtown Waco's welcoming community and the tight-knit "dysfunctional family" he says is Dichotomy.
Her cane, a gift from a coworker, helped transition her away from a walker, and Ramsey passed the time in the hospital and rehabilitation center with an iPad mini Jameson gave her.
"Her medical expenses are going to be catastrophic," Hill said.
Outside of the surgery to repair her femur and the month-long hospital stay, which she hopes to cover through a civil suit she intends to file against the woman who hit her, Ramsey still has lost wages, medicine, therapy and walkers.
"Even what I choose to eat became very important," she said. "I lost a lot of weight in the hospital."
She left Hillcrest about 20 pounds lighter than the 118 she weighed when admitted.
"It's up to her extended family, us, to take care of her," Hill said.
More fundraisers
Kyndall Lee Ramsey also works at the Waco Hippodrome as a training coordinator.

 
Hill organized a fundraiser at a bike shop in Denton, where Ramsey lived when she attended the University of North Texas. Hill raised about $1,200, and two other shows in Denton raised another $1,100.
Jameson created a youcaring.com account, which has raised $500, and, through donations accepted at the coffee register, about $550 more has been collected, which was funneled into the Kyndall L. Ramsey Benefit Fund at Community Bank & Trust.
A karaoke fundraiser is being organized at Dichotomy, and a charity ride will be planned by bike shops Bear Mountain and Bicycle World with help from two cycling teams, Baylor Cycling and Squadra Di Servitori.
Both events are expected to take place this spring.
Downtown's Truelove Bar owner Eric Mitchell said he was moved by Ramsey's plight and will have a booth to benefit Ramsey at the Heart of Texas Comic Con this weekend. The booth, "Comics for Kyndall," will raffle off a large comic book collection. Mitchell said 2,000 tickets will be sold at $5 apiece.
Hill said Ramsey deserves all the support she's received.
"She had a hard life growing up," Hill said. "She's always been such a positive person in everyone's lives. She surrounds herself with amazing people, and she's constantly working toward something good. She's just a good person."
"There's so much kindness that's come back to me without me even needing or expecting it," Kyndall Lee Ramsey said.