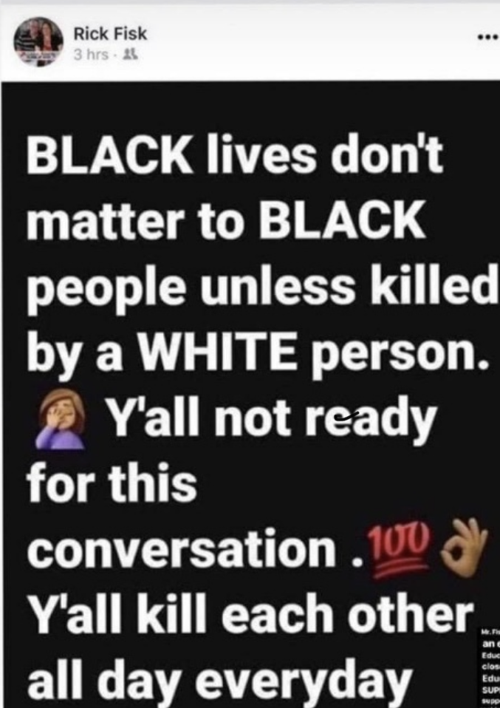 A University High School teacher resigned Friday, two weeks after he posted a racist statement on Facebook referencing the Black Lives Matter movement, a Waco Independent School District administrator said.
Rick Fisk had worked for Waco ISD since 2004. When Fisk submitted his resignation, district officials were in the process of consulting with legal counsel to determine whether Fisk's June 3 post violated the district's social media policy and to consider any possible disciplinary actions, Waco ISD Chief of Staff Kyle DeBeer said. The post had circulated among colleagues, students and parents in the two days before district administrators were made aware of it June 5.
The post read: "Black lives don't matter to black people unless killed by a white person. Y'all not ready for this conversation. Y'all kill each other all day everyday."
University administrators asked Fisk to remove the post, and he complied immediately, DeBeer said.
"I do not know what is in Mr. Fisk's heart, but I think the post that he shared is racist," DeBeer said. "It was very insensitive right now or any time, and it is disheartening that this comes at the same time we are really trying to work to create a space where we can have a meaningful conversation about race and racism in Waco ISD."
Attempts to reach Fisk for comment were unsuccessful Friday, and it appears he had deleted his Facebook page by Friday afternoon.
"I am requesting for no negative remarks to be entered in my file such as not being rehireable so that I may be able to seek other employment," Fisk wrote in an email to the district regarding his immediate resignation. "I must be assured of this. I was finally able to delete all Facebook files as requested."
Parents and other teachers had contacted Waco ISD in the weeks since the post went up to express their concerns, DeBeer said.
The post came at a time when Black Lives Matter demonstrations and other prominent protests for racial justice have filled American cities and towns since the killing of George Floyd by Minneapolis police May 25. The killing of Floyd and other black men and women at the hands of police have contributed to renewed action in pursuit of police reform. There have been at least two large demonstrations in Waco, on May 31 and on June 6.
DeBeer said the social media post was unacceptable and did not reflect the views of Waco ISD. He said Superintendent Susan Kincannon emailed colleagues last week about the deaths of Floyd and others.
"I am grieving for the lives that racism has ended, and I am grieving for the lives that racism has denied the opportunity to reach their full potential," Kincannon wrote. "I am also committed to doing the work, not just to reject racism in my own actions, but to make Waco ISD an anti-racist organization."
Be the first to know
Get local news delivered to your inbox!