The classroom full of teachers at Midway Middle School knew they were part of a drill, playing a role. But in the light of recent news reports, the scene seemed all too real once the screaming started.
"Guys, gun! There's a gun! There's a gun! Please help," yelled Tori Wardlaw, a Midway High School freshman theater student, as she ran into the classroom.
The sound of AR-15 gunshots and screaming echoed in the hallway directly outside the classroom.
Without a second to spare, teachers barricaded the doors, turned off the lights, and reminded everyone to be quiet.
More shots rang out in the hallway. The gunman attempted to open the door, but it was locked. In the dark classroom, teachers and students waited in complete silence.
"Job well done," said Midway nurse Dee Ann Kleypas as the lights came back on. "I've been doing this all day and every time I almost start crying. Job well done. You did exactly what we're looking for."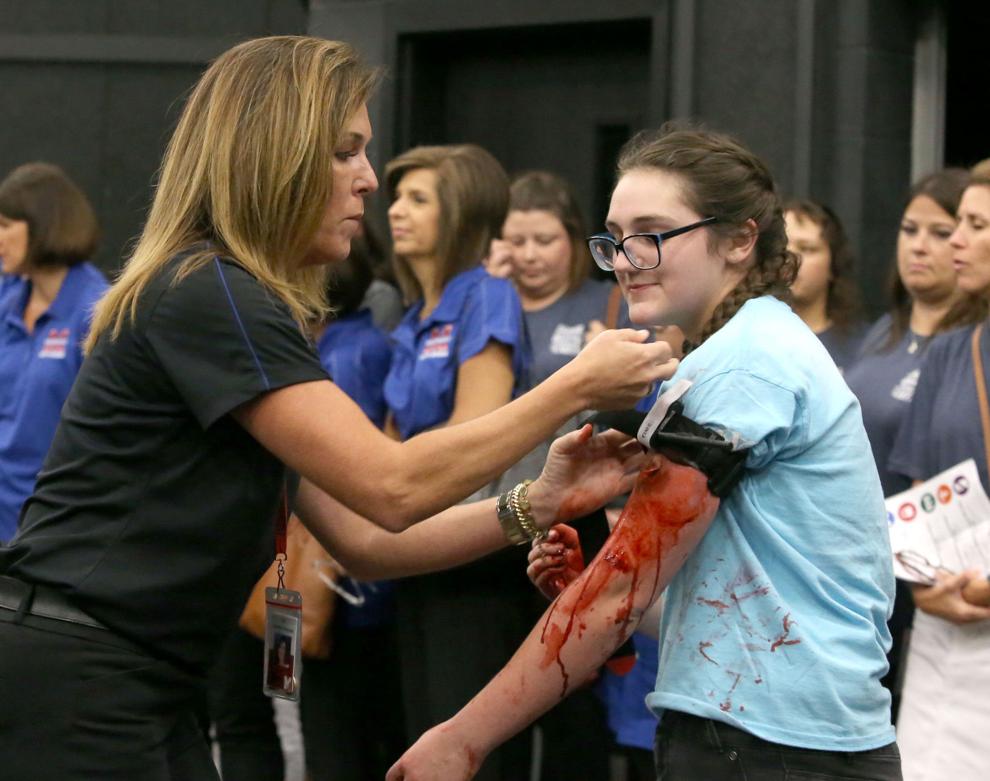 It took less than a minute for this scenario to play out during one of two safety training events held in recent days for Midway Independent School District employees. The active shooter scenario was followed by instruction on how to properly secure a tourniquet and pack a cavity wound.
"The goal is to stop the bleeding," Kleypas said. "Unfortunately, it's the world we live in and I hate it, but in the unlikely event, you'll be ready to go because a quick response will save lives."
Two hundred Midway Middle School employees completed a four-part safety training Monday, after a similar event Friday at Midway High School with 900 employees. Teachers and staff learned how to react in the event of a heart attack, anaphylactic shock, an unarmed intruder and an active shooter.
Dressed in camouflage and armed with an assault weapon, school resource officer Kelly Painter played the part of the active shooter. He and three Midway High School theater students acted out a scenario where he came through the back door firing bullets — blanks — into the hallway.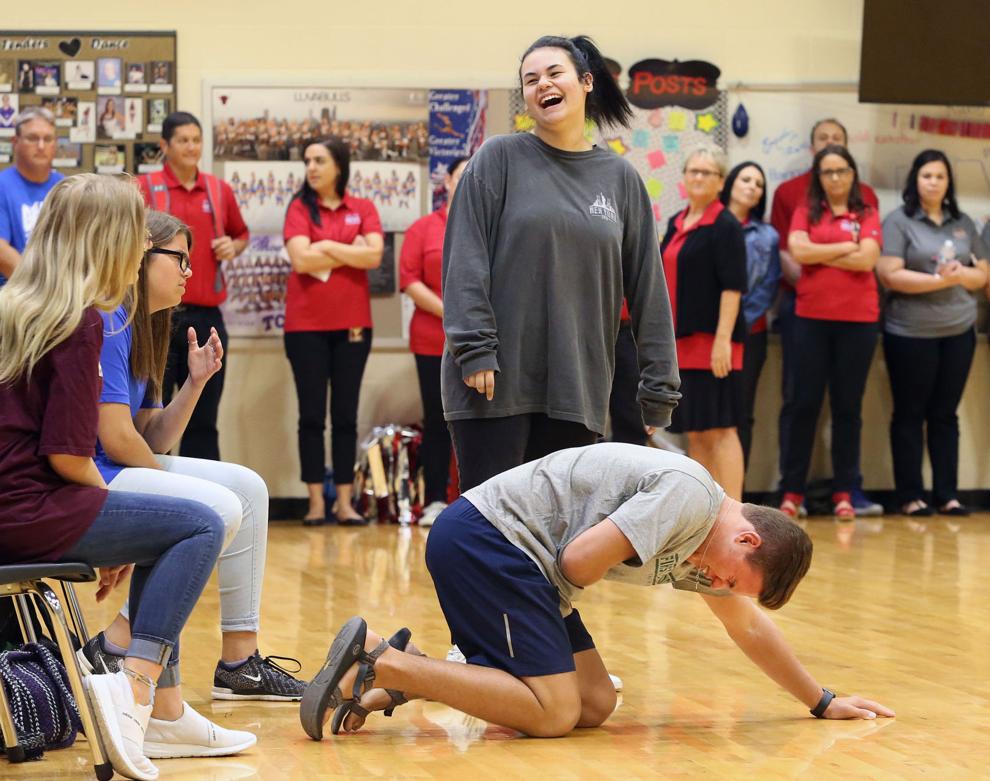 The protocol can be used for a variety of threats ranging from weather events to active shooter scenarios.
Throughout the training, employees were encouraged to stay alert and be able to quickly decide on a course of action depending on the threat.
"What we want is to train our staff to do option based scenarios where they can evaluate what's best to do for the kids," said Midway spokeswoman Traci Marlin.
This year, each Midway ISD classroom will have a red emergency bag equipped with a tourniquet, bandages, water, and emergency information.
Midway ISD Superintendent George Kazanas' educational career spans 28 years. As a first-year teacher before the Columbine High School shooting, he said, he never imagined active shooter training would be a part of the back-to-school process decades later.
"It's unfortunate where we are," he said.
But because shootings are a reality, Kazanas said he wants Midway ISD staff to be as prepared as possible.
"This is really the first time that we have simulated the use of a firearm on campus just so the staff gets an idea of what it sounds like in different parts of the building," he said. "It's also so that you can have an experience and feel the same emotions that you might at the time."
In a question-and-answer period after the active shooter drill, teachers and staff had a chance to talk to Assistant Superintendent Jeanie Johnson and Hewitt Police Officer Kayla Fletcher.
A special education teacher asked what she should do in the event of a shooter. The answer: Lock down, get the kids as far away from the door, keep them as quiet as possible and wait.
A custodian asked what she should do in the event of a shooter. The answer: Run or hide in the custodian closet.
Another teacher asked how long you should wait before you offer aid to victims in the hallway.
"You don't," said Hewitt Police Officer Crystal Fletcher. "You stay in your room until someone tells you you're okay. … It's going to be hard. I'm not saying it's going to be easy, but it's something you have to do."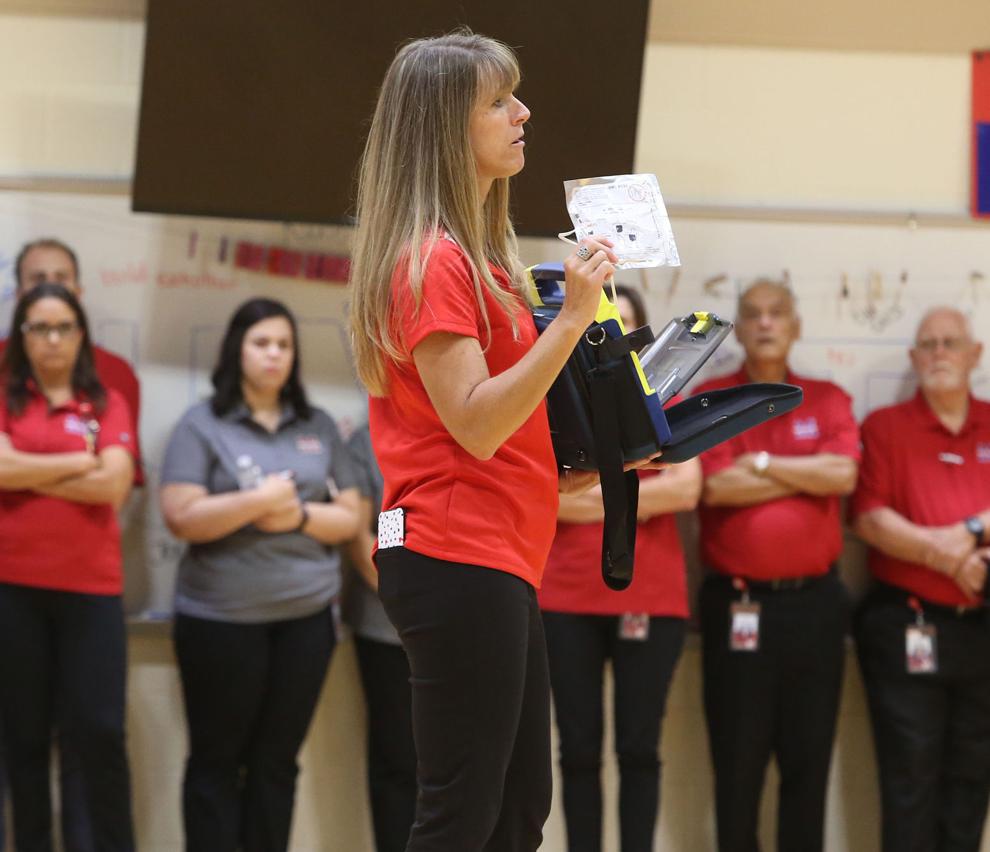 Debbi Barnett, a seventh-grade teacher at Midway Middle School, said teaching has changed considerably with the rise of school shootings.
"We used to just think about nothing but happiness and joy and having fun with our students and teaching," she said. "But now we have to constantly have that thought (active shooter training) in the back of our mind should that happen."
Even so, she said, Midway ISD went "above and beyond" preparing teachers for the worst. Having worked in five other districts, she said Midway ISD has offered the most in terms of training.
"It's not just a rewarding job but it is a blessing that a school district cares this much and is invested this much in the staff and in the students," Barnett said.