At her summer camp on Tuesday, Brooke Griffin, 11, learned how to create and design her own board game.
"It's called School Escape," Griffin said. "The mission is to escape school."
With school out for summer, Griffin said she is happy to be at camp "making things" and not at home "doing nothing."
As Griffin designed the game's logo on a computer at Maker's Edge Makerspace, 18th Street and Austin Avenue, she explained that her board game concept involves two players and a variety of cards.
"There's a detention card where you can make a player go to detention and skip one turn, and I haven't figured out how the principal is going to work, but if you get caught by the principal you lose," she said.
At Maker's Edge, under the guidance of trained professionals, Griffin cut the materials for her board and fastened them together. When finished with her design, the instructors showed the campers how etch their personal logo onto the wooden boards.
The summer camp teaches students to use 3D printing, laser cutting, computer numerical control machines and more traditional metal and woodworking tools to design and fabricate a variety of projects. There will be four weeks of camps, each with its own theme.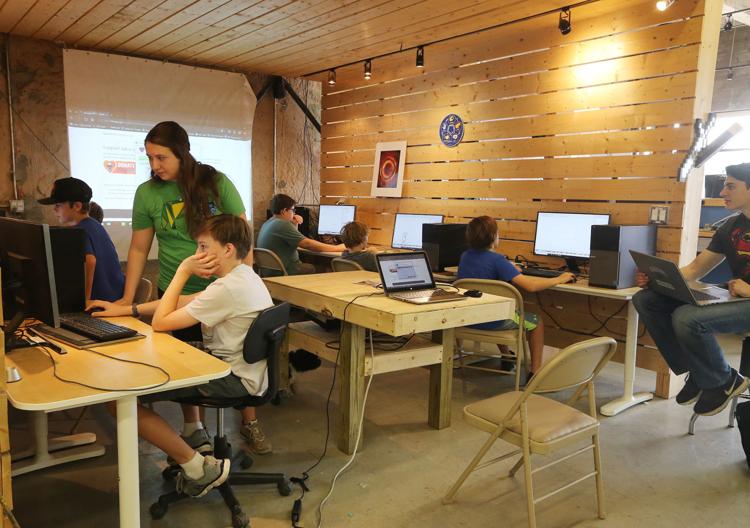 This week, week one, is called "FTW (for the win) Gaming Summer Camp" with a focus on gaming and programming skills. Campers made cornhole sets and board games from scratch. Tuesday, the students painted their assembled products.
"Next week is a space themed camp," Maker's Edge office manager Jessica Escobedo said. "They are going to take VR (virtual reality) goggles and learn how to program a rover and they won't be controlling it like a drone. It will be a smart functioning robot, and they will get to watch it go through various obstacles and terrains as well as rockets and stuff. That's the big project."
Each week the students get to work on a big project and take home smaller projects they create daily, Escobedo said.
During week three, the campers will create their own Polaroid camera using 3D printing. The photography themed camp will focus on light, how light works, the basic mechanics of a camera and the fundamentals of photography.
The final week of camp, students will learn how electricity works while making steam-punk goggles and a mini Tesla coil.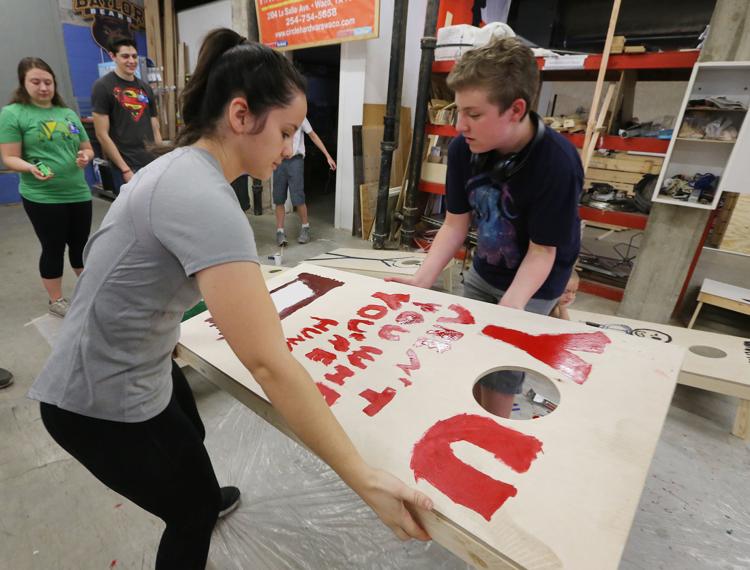 Lydia Pardun, a Marker's Edge worker and daughter of the owners, said she enjoys the creativity the summer campers bring.
"They are always really creative in ways that you wouldn't even think of," Pardun said. "They always come up with really cool ideas."
The campers leave with more than just their DIY projects. They leave with a sense of accomplishment, Escobedo said.
"It cultivates creativity, I'd say, and this is technically the future," Escobedo siad. "If you're going into engineering, you are going to want to know how things are made if you are going to design things to be made."
Regardless of the industry a child wants to go into, the ability to take a concept from idea to reality is an important skill, instructor Zack Manweiler said.
"It's a great place to take stuff in your head and make it real," Manweiler said.
The next three Maker's Edge summer camps are open for enrollment. Each week costs $159 with an additional supply fee that varies depending on the week's theme. The camps are open to children ages 11 to 17 and last from 9 a.m. to 3:30 p.m. Mondays through Fridays. For dates of upcoming camps and more information, visit https://bit.ly/2yfmPKG.
Be the first to know
Get local news delivered to your inbox!