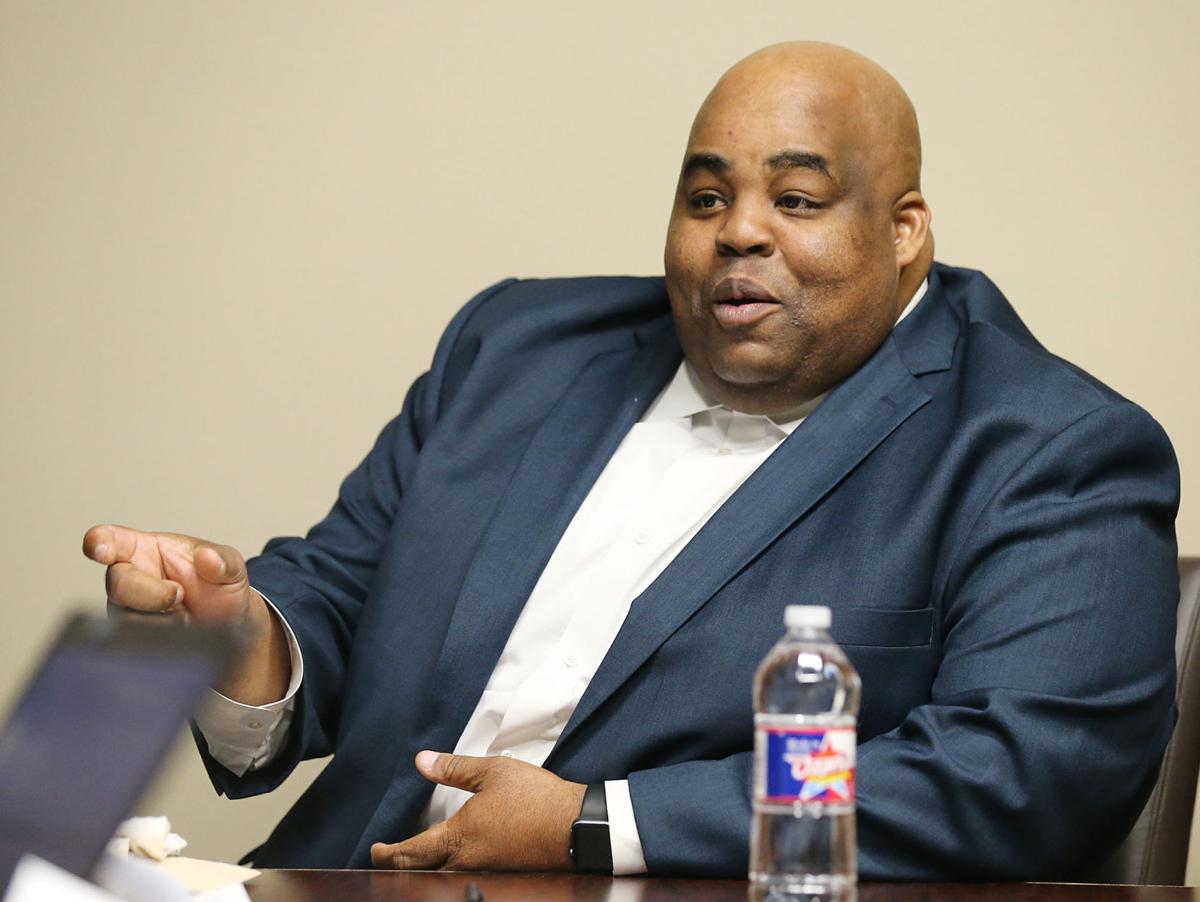 The subdued, somber tone that filled the Waco Independent School District boardroom Thursday night when the board of trustees announced the resignation of now-former superintendent A. Marcus Nelson lingered among his supporters long after the meeting adjourned.
Pam Fischer, president of the Texas State Teachers Association's Waco chapter, described Nelson's departure as funereal. Others said his resignation was disheartening.
"I was hoping there was a way for him to stay," Fischer said Friday. "Dr. Nelson has a unique gift to inspire workers to do more, and I'm going to miss that. He created an atmosphere where we all felt like our input was needed, wanted and accepted, no matter what level you were at in the district."
Nelson was arrested March 6 on a misdemeanor marijuana possession charge in Robertson County. He told the Tribune-Herald last week that he was returning to Waco from meeting the Houston Independent School District school board about its vacant superintendent position when a state trooper stopped him on U.S. Highway 190/State Highway 6 outside of Hearne.
The trooper smelled marijuana, which gave him cause to search Nelson's vehicle, and found less than 2 ounces of marijuana, according to an arrest affidavit. Nelson said he procured the marijuana from a friend in Houston after complaining of chronic back pain.
The Waco Independent School District Board of Trustees accepted Superintendent A. Marcus Nel…
After seven hours in closed session split between a meeting Tuesday and one Thursday, the Waco ISD school board unanimously voted to accept Nelson's resignation and a voluntary separation agreement that will pay him $96,000.
When board President Pat Atkins announced Nelson's resignation during the meeting Thursday, the audience remained completely silent. After the vote to accept his resignation, people got to their feet and slowly shuffled outside.
Atkins did not respond to a request for comment Friday. Neither did board members Cary DuPuy, Stephanie Korteweg and Norman Manning.
Trustee Angela Tekell said the closed sessions Tuesday and Thursday lasted so long because of the complexity of the situation. Details needed to be worked out, and the board and its attorney had to hammer out the details of the separation agreement, Tekell said.
The board did not discuss the possibility of resignation Tuesday, she said. She did not know who initiated talk of Nelson's resignation.
In a written statement, Nelson said he decided to resign because of division in the community caused by disagreement over what consequences people thought he should face for his arrest.
"The discussion has become more about me and my poor decisions than our schools, our students and their success," Nelson wrote. "I have to acknowledge that people disagree about what consequences I should face, and if this debate continues, I fear that it may end up dividing this community and distracting us from what should be our focus — the kids."
Nelson did not respond to a request for comment Friday.
In announcing the resignation Thursday, Atkins said enthusiasm and support for local education should remain the community's focus, rather than reflection on Nelson's tenure.
Tekell said she was disappointed when she heard the news of Nelson's arrest.
"He is the superintendent of Waco ISD and holds a position of public trust, and I believe the arrest and the charge of possession of marijuana would be a breach of trust," she said.
Tekell said she had concerns about "inconsistencies" in Nelson's story. She said there were inconsistencies in the stories he told the Tribune-Herald and a local television station and the version of events he gave board members.
"My focus was our kids and our staff and what was right for them and our school district," she said.
Anita Phillips, mother of a Waco ISD student, said the school board underestimated the children in the district when it decided to accept Nelson's resignation.
"It's a loss for our children and a loss for the community," Phillips said. "Some of them are not listening to the children. In the end, they think they are doing what's best for the children by taking Dr. Nelson away."
Phillips said she spoke with her daughter, a senior at University High School, and other students about Nelson's arrest. She said their response was that he made a mistake.
"You can break somebody's trust, but you can earn it back," she said. "They (board members) were so worried about punishing Dr. Nelson they punished their own children."
It's unclear how Nelson's resignation will affect the in-district charter system, Transformation Waco, he helped create, said Malcolm Duncan Jr., president of the charter board.
"We're sure going to do everything to preserve the foundation and build on what he started because I think he made a tremendous difference in the classroom," Duncan said. "He's laid the foundation, and we're going to continue to do the work."
Duncan said he spoke with Nelson after his arrest and that the former superintendent was remorseful. Duncan told Nelson he has to apologize to himself because Nelson let himself down.
Duncan said he does not know whether Nelson could work for Transformation Waco in any capacity but that the topic has not been discussed.
Fischer, the local teacher association chapter president, said Nelson built up his workers from the ground up and took the time to get to know teachers and staff.
"There's an atmosphere people build," she said. "Either it's an atmosphere where you're built up or it's an atmosphere where you're torn down."
Fischer said she has worked under six superintendents in her 26-year career and only one other, Rosanne Stripling, had an impact comparable to Nelson's.
"He was an inspiration to a lot of people," said Pam Cooper, president of the Greater Waco American Federation of Teachers. "I may not always have agreed with everything, but I think he has pushed people to be the best."
Cooper said Nelson always listened to her when she had a concern and that she had other members of the federation go to him with issues that he helped with. She said a parent came to her Friday "nearly in tears" over Nelson's resignation.
"We weren't just a paycheck for him," Cooper said. "It's our loss."
Be the first to know
Get local news delivered to your inbox!