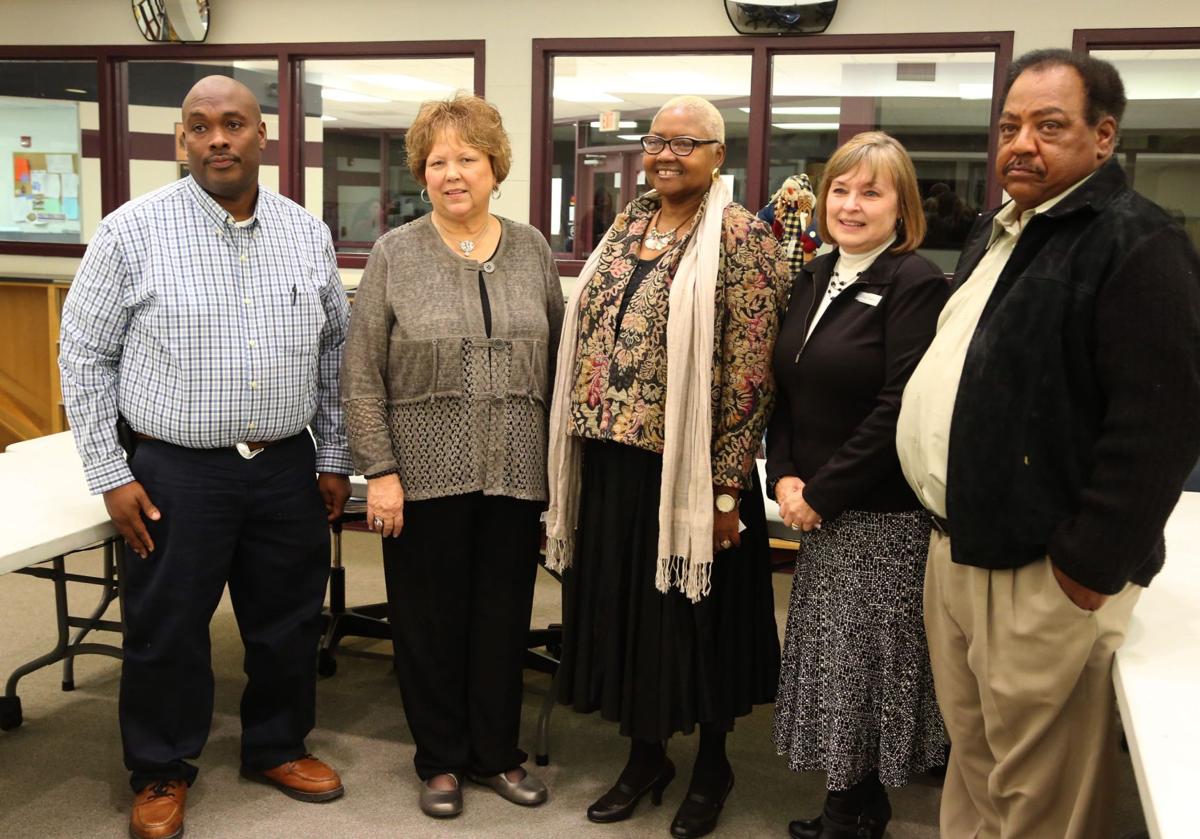 Members of the new state- appointed board of managers for Marlin Independent School District said they're ready to be the driving force that helps the district get back in line with state standards after it failed academic accountability ratings in the past five years.
Marlin Mayor Elizabeth Nelson swore in the five-member board during a public meeting Thursday night at Marlin Junior Academy, a day after Texas Education Commissioner Mike Morath named the members. The managers are taking over for the district's elected board of trustees and are expected to serve at least two years, according to the Texas Education Code. At the end of those two years, the commissioner must announce the expiration of the board's time, Texas Education Agency spokesperson DeEtta Culbertson said Thursday afternoon.
"I don't think there's anyone in this room who isn't wanting Marlin kids to excel," manager Rose Cameron said after the meeting. "Hopefully, through our partnership now, we'll be able to do that and help him (Superintendent Michael Seabolt) do his job. That's our job, right? It's a great district. We have just got to keep it moving forward. Baby steps."
Seabolt was hired more than a year ago to turn the struggling district around. Morath appointed Cameron in September to help govern the district and guide it through the transition from trustees to managers. He also appointed her to the board herself.
Morath's decision to install the board comes after the state announced in August that Marlin ISD failed preliminary academic accountability ratings for the fifth year in a row. Marlin officials had signed an agreement last year saying the state could appoint the board of managers if the district did not meet academic accountability ratings for that fifth year.
The other board members include Kevin Benjamin, a corrections officer and 1990 Marlin ISD graduate; Billy Johnson, a local business owner and retired educator and coach in Marlin; Maggie Majors, president of the Marlin Rotary Club, vice president of the Lions Club in Marlin and a retired educator from the Seattle Public School System; and Byrleen Terry, a former Marlin trustee and former employee at the Falls Community Hospital and Clinic.
Majors will serve as president of the board, with Benjamin as vice president and Terry as secretary.
Johnson has a grandchild in the district, and with more than 30 years of education experience in Marlin ISD, he knows how critical the future of the district is, he said. This is his first time to serve on a school board, he said.
"They're not doing too good, and maybe we can get them back on track. I don't know, but we're going to try. The overall goal is to get everybody up to state, and that's about it. Get all schools passing," Johnson said. "It's a little nerve-wracking, but I think I'm going to enjoy it."
Seabolt said he doesn't have any doubts the new board will help move the district toward the right path.
With measures implemented last year, he has already seen test scores improve. A couple of more years like last year should get Marlin ISD right where it needs to be, Seabolt said.
"(Tonight) was kind of a relief, honestly. We've been sitting here waiting for months and months and months to go through this process, looking for some kind of closure," Seabolt said. "I think we finally got some closure, and there are a lot of things we've got to get done. Spring is the busiest time for a board. January through June is really when we do the most work, and we lost January. We're going to have to make up some time.
"We're a July 1 budget, so we've got contracts to renew, contracts to not renew, budgets and tax rates to pass. They're going to be drinking out of a fire hose for a while. There's board training that has to occur, but on the other hand there's some things only experience gives you. They'll be OK. It's a good solid crew."
In the meantime, the elected school board members will retain their positions, but their governing power has been suspended, Seabolt said. When an elected trustee's term ends during this two-year period, the district still will hold elections, he said. Whether someone applies for an unpaid position that temporarily doesn't have any power is another story, he said.
The next school board meeting is set for Feb. 21, and the new board will run the meeting, he said.
Be the first to know
Get local news delivered to your inbox!