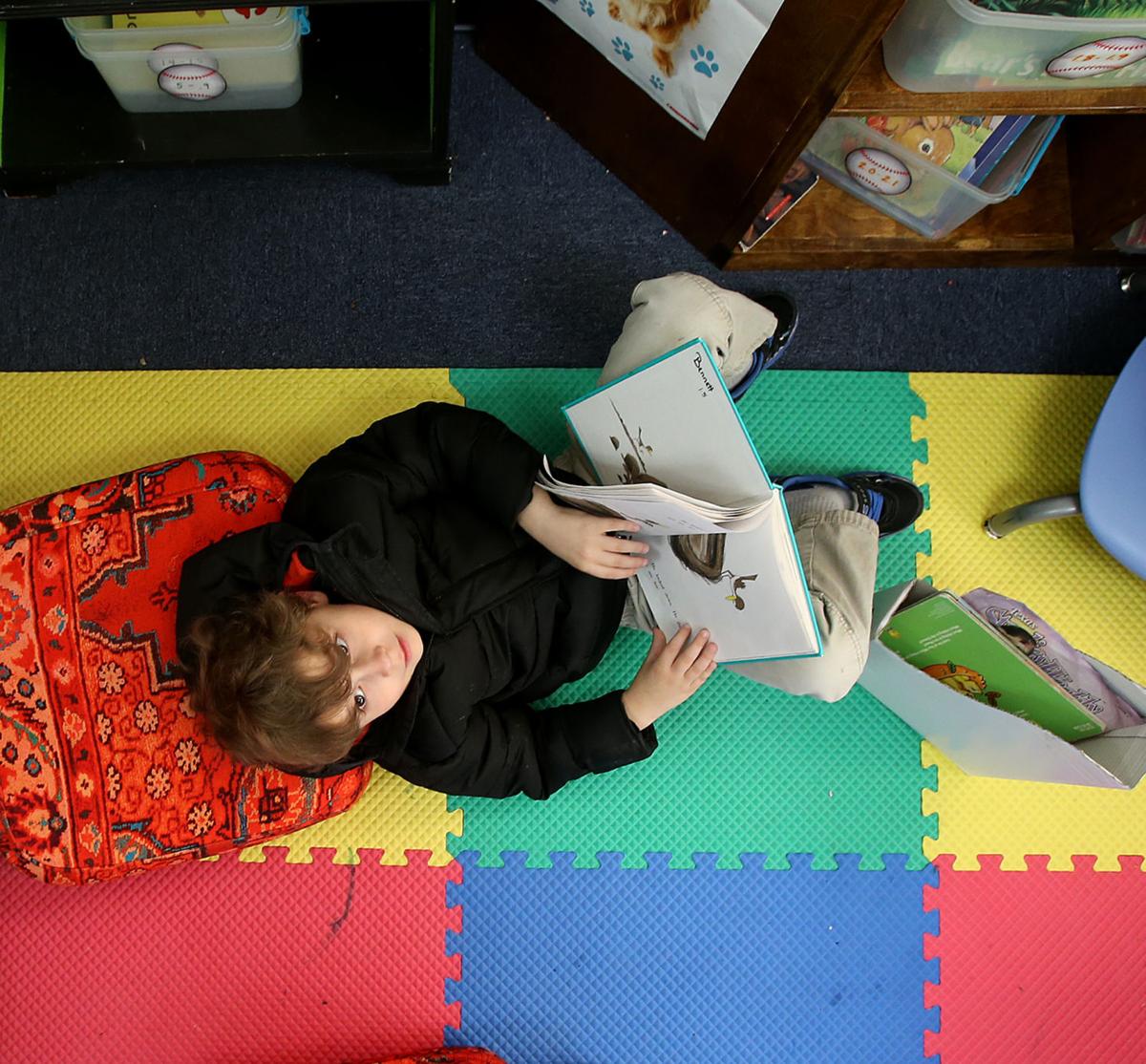 Researchers with Baylor University and Region 12 Education Service Center plan to conduct a yearlong longitudinal study at Midway Independent School District on the effects of flexible learning environments on student engagement and achievement.
The longitudinal study will expand on a pilot study done at Spring Valley Elementary School during the fall semester that showed positive results on increasing student engagement.
The semester-long pilot was a follow-up on two years of lab work by Baylor Research and Innovation Collaborative's Learning Experience Laboratories, and Huckabee Inc., a Fort Worth-based architecture firm that developed the furniture for the classrooms.
"We want to see the yearlong benefits that students have when they're in these type of learning environments because again this a trend that we're noticing. These children have never lived a day of their lives without Wi-Fi," said Baylor University's Shanna Attai, the key researcher on the study. "A lot of workplaces are moving to these learning environments with an open concept and allowing for flexible seating and remote work, so it gives our students a little bit of exposure to more real world situations."
The longitudinal study will focus on 30 classrooms, with more than 600 students participating. Half of those classrooms will be outfitted with flexible furniture. Eight of those classrooms will be at Spring Valley and seven will be at Woodway Elementary School.
"We have found a lot of promising data as we move into our longitudinal study," Attai said. "In our longitudinal study, the classrooms will have exposure to the the furniture for an entire year."
The pilot at Spring Valley focused on 14 classrooms and 336 students in second, third and fourth grades. Those 14 classrooms were split into three groups: One group had flexible furniture for eight weeks, then switched back to traditional desks in rows. The next group started with traditional desks, then switched to the flexible furniture for eight weeks, and the final group, the control group, had traditional desks the entire time.
Attai said the primary research objective was looking at how teachers can use their learning environments to improve student engagement and the overall learning experience, while learning how to utilize the furniture to its full potential through training.
"Do we improve academic outcomes?" she said. "But more importantly, do we improve student engagement?"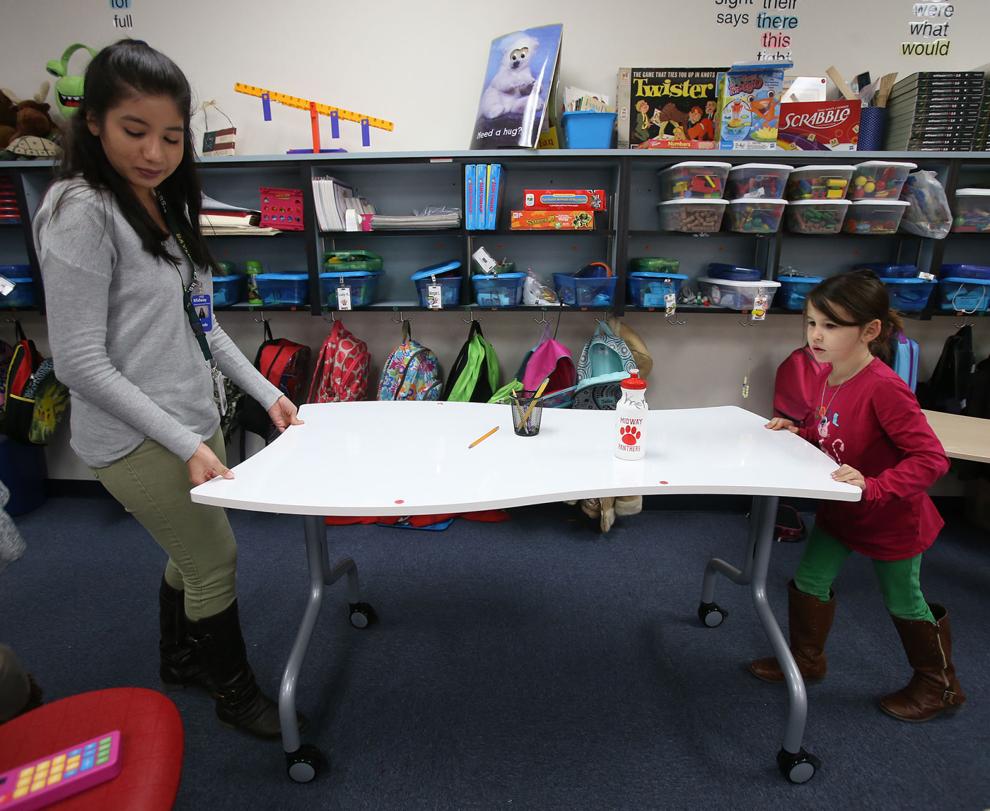 The flexible furniture consists of swivel chairs, wobbly stools, movable cushions and whiteboard tables that can be written on or flipped up into a traditional whiteboard. A lot of the furniture is on wheels or casters, so it can be moved to accommodate classroom activities or cleared to allow the use of the entire classroom's square footage, Attai said.
Aaron Peña, Midway's assistant superintendent of curriculum and instruction, said the furniture is designed to encourage collaboration, communication and creativity among students.
"You can reconfigure the class very easily from one activity to the next," he said.
But Attai said one of the most important themes the researchers noticed was that teachers were not moving or reconfiguring the furniture throughout the school day.
"Teachers need additional professional development in order to enhance the benefits associated with these flexible furniture and flexible learning environments," she said. "What we observed is that 84% of the observed time students were allowed to move and have a choice; however, less than 10% of the time the furniture was reconfigured. So, the teacher was moving the furniture and having it set in place, and it would stay that way the entire day. That really wasn't utilizing it to its maximum benefits. Then it was condensed only 4% of the time, so they weren't utilizing the entire square footage of the room or clearing the room to do a whole group activity."
Baylor's Center for Astrophysics, Space Physics and Engineering Research gathered the information in the classrooms through interviews and observation. Teachers also reported their students' level of engagement in the classroom, and students self-reported their feelings of engagement.
"We're able to see all the different pieces to the picture," Attai said.
Researchers honed in on the four Cs in the district's daily curriculum: collaboration, communication, creativity and critical thinking. The flexible furniture and learning environments not only provided teachers more opportunities to include the four Cs in daily activities but also for students to actively engage in them, Attai said.
"Students in flexible learning environments reported higher overall on our definition of student engagement," she said.
They also performed better academically, Attai said. The students in the flexible learning environments showed more linear growth in their academic outcomes, specifically in math.
Critical thinking
Regardless of the learning environment or classroom furniture, most Midway teachers provided multiple chances for their students to use critical thinking skills, and most students remained on-task throughout the day, Attai said.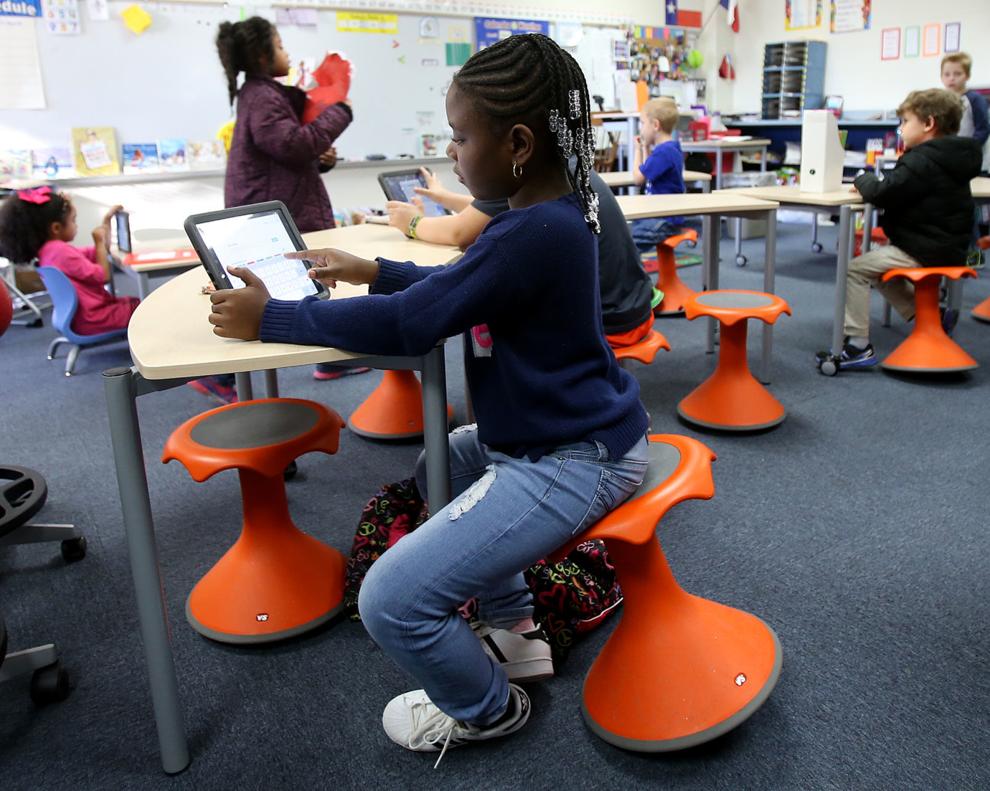 But students in the flexible learning environments reported liking their classrooms more, thinking their classrooms were fun and feeling comfortable in the class.
"There appears to be an immediate effect on students' perception of their environment," Attai said. "What we're noticing is that in the control classrooms — in the classrooms that had traditional furniture the entire time — their perception of their environment and how they viewed their environment, their level of comfort, whether or not they felt their environment was fun — and this is student-reported data — it didn't change. It stayed the same, but if they had that exposure to the flexible furniture after the traditional furniture, their perception of their environment increased."
The flexible classrooms also allowed students to make more choices about where they sit, how they sit and how much they move around the classrooms. Attai said permitting students to have control over their environments made it less of a distraction and increased engagement for some students.
"We hear a lot about allowing students to have a choice and allow them to make these choices, so it gives them a little freedom and it lets them have ownership of their environment," Attai said. "Students are allowed to choose seat and work surfaces more often in flexible learning environments and allowed to move without reprimand in the classroom, and that's a huge component for a lot of students who have the wiggles or need to move around or prefer standing desks as opposed to sitting desks."
The Midway school board already approved a budget amendment to buy more flexible furniture for the longitudinal study. Teachers participating in the yearlong study will receive more training on how to use the furniture to meet academic achievement standards than the pilot study teachers did, as well.
"This data is so exciting and so promising, not only for Midway but for all students in the future," Superintendent George Kazanas said.