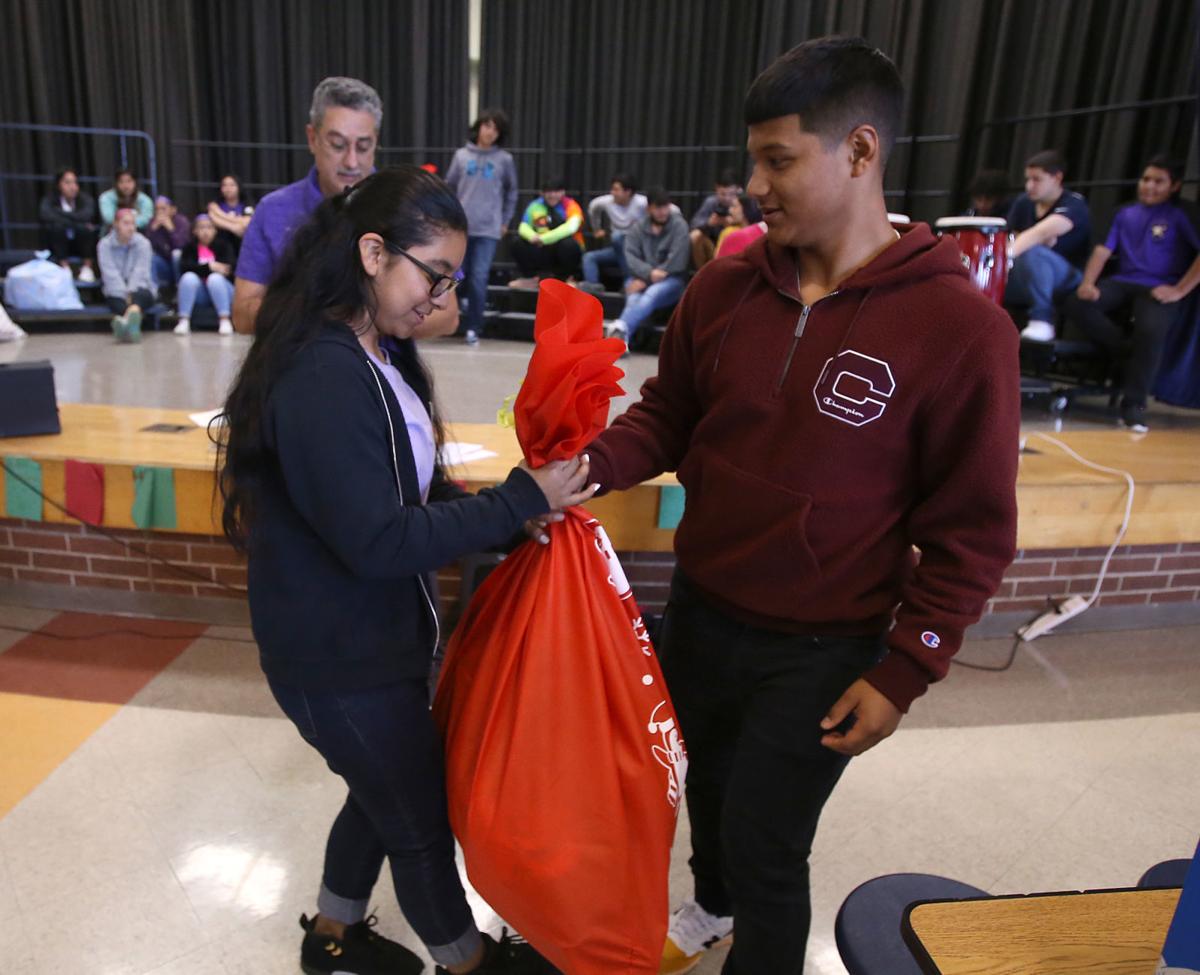 Cesar Chavez Middle School student Diana Zuniga may have to wait until Christmas Day to open the presents she received through University High School's Make A Wish Come True program, but she's OK with that.
The sixth-grader is just happy to have some gifts to put under the Christmas tree.
The University High School soccer and Junior ROTC programs sponsored the 11th annual Make A Wish Come True event this month, presenting donated gifts to hundreds of elementary and middle school students who may not have Christmas gifts otherwise.
The high school students presented gifts to 26 children at Cesar Chavez on Thursday afternoon. The Make A Wish Come True program also sponsors students at Bell's Hill Elementary, Kendrick Elementary, South Waco Elementary and Alta Vista Elementary.
The Bowen Family Foundation sponsored all 75 students who made a wish at Bell's Hill Elementary School, while Cesar Chavez teachers and the McLennan County Sheriff's Office sponsored the middle school students.
Lt. Jason Davis said University High soccer and Junior ROTC students reached out to the sheriff's office again this year, and officers and other staff were able to donate enough to buy extra gift cards for students.
"They just opened their hearts," Davis said. "We hope to do this for as long as we can."
To be eligible for the Make A Wish Come True program, students had to submit a short essay describing what they would buy and why if they had $100 for Christmas, said 1st Sgt. Leonard Montelongo, University High's senior JROTC instructor.
"Most kids ask for gifts for family members and friends, not themselves," Montelongo said. "They ask for jackets and blankets to stay warm and sometimes food."
Diana asked for some memorabilia from her favorite band, the famous Korean pop group BTS, but she also asked for a warm blanket for her sick grandmother who lives in Mexico. She said she was happy to receive the gifts, although she does not know what they are yet.
Eighth-grader Jared Mendez said he asked for pots and pans for his mother and a blanket, as well. He wanted to say thank you to everyone who helped him and his family this Christmas.
Diana and Jared said they hope to return the favor someday, when they are in high school, to pay it forward.
Montelongo said the University High soccer and Junior ROTC students find sponsors for students via social media and word-of-mouth, but the program has been around long enough that people reach out to him this time of year.
"It has a ripple effect," he said. "It grew a life of its own, and all we had to do was water it. People want to help. It's a true blessing."
Junior ROTC Cadet Lt. Col. Maria Nava, a senior, said she has participated in the program all four years of her high school career. She and her family have sponsored a student, and she even got some friends interested in helping.
"It's really good to see kids receive their gifts," Maria said. "When you read their essays, it's heartwarming to see what they want because often it's not for themselves."