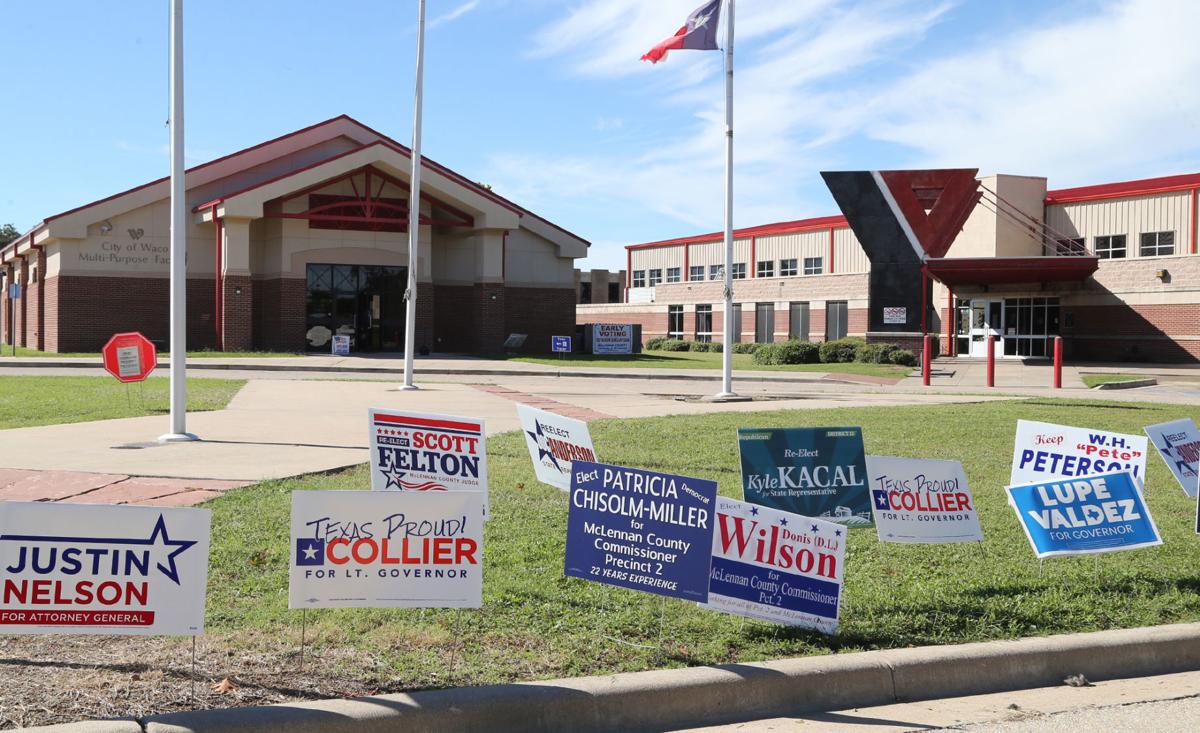 Anita Phillips thought she had seen it all, working elections 14 years in McLennan County. She learned otherwise last November, when she served as election judge at the Waco Multipurpose Center on Elm Avenue, which became ground zero for allegations of intimidation tactics and rule breaking.
Emotional races included one that pitted Democrat Pat Chisolm-Miller against Republican Donis "D.L." Wilson in the Precinct 2 McLennan County Commissioners' race. Chisolm-Miller won to succeed her longtime boss, Lester Gibson, and become the first woman elected to serve on the court.
Phillips addressed commissioners on Tuesday, sharing her thoughts about the turnout in East Waco and her uneasiness about daily incidents that, in her opinion, threatened the sanctity of the polling place and disrupted the sense of security voters of every stripe should feel in exercising their right and duty.
She pointed no fingers at any person or party, just the process in general.
She recalled having to be escorted to her vehicle at night, and asking the Waco Police Department to visit the site "multiple days" to restore order when she felt the badgering and electioneering had crossed the line.
"I had candidates and poll watchers making voters feel uncomfortable and intimidated as they voted, both curbside and inside the vote center," Phillips said, reading from a prepared statement. "Candidates and poll watchers acted outside their scope to intimidate staff and attempt to intimidate me. My vehicle and license plate were aired on the news as unfounded accusations of voter fraud were reported (and) left me questioning the safety of my family and myself. … In a community I grew up in and always felt safe, I was now having to be escorted to my car at night. After the election and even as late as last night, I suffered nightmares about what occurred at the vote center."
Phillips appeared before commissioners as the court voted on a proposed list of judges, alternates and clerks to work the Nov. 5 election. After postponing a decision on at least two occasions, commissioners agreed to send Phillips back to the Multipurpose Center when election season returns. The vote was not unanimous. Precinct 3 Commissioner Will Jones voted against the list as presented, and Precinct 1 Commissioner Kelly Snell abstained. McLennan County Judge Scott Felton, Precinct 4 Commissioner Ben Perry and District 2 Commissioner Chisolm-Miller formed the majority.
Jones, reached later for comment, said his vote reflects his concern about assigning Phillips again to the Elm Avenue location, which McLennan County Republican Party Chairman Jon Ker said he opposed during a commissioners meeting July 16. Ker did not attend Tuesday's meeting and could not be reached later for comment.
Jones said he would have preferred Elections Administrator Kathy Van Wolfe's initial proposal to reassign Phillips to Waco First Assembly of God Church on Bosque Boulevard, where she would assist an election judge. Van Wolfe reportedly prepared a list sending Phillips back to the Multipurpose Center on Elm after meetings with Chisolm-Miller and McLennan County Democratic Party Chairwoman Mary Duty. Commissioners rejected that list July 16 but approved it Tuesday.
Jones said acknowledging Ker's misgivings and agreeing to reassign Phillips "would be the appropriate thing to do, would have been good policy, following all the controversy that happened at the Multipurpose Center last time."
Van Wolfe did not return calls seeking comment Wednesday.
Ker said July 16 that accusations of inappropriate activity at the Multipurpose Center were rampant.
"There were accusations back and forth, and there were things that went on that, frankly, if not illegal were highly inappropriate," he said. "Electioneering was allowed within the 100-foot limit. People were talking with voters. A couple of women came in and shot a video and put it on Facebook. Anita Phillips was the election judge. Kathy (Van Wolfe) has moved her to First Assembly. All I wanted was for her not to run the location on Elm Street. I do not think the lady knew enough about election laws to have run a voting location.
"I want to make it clear. I'm not trying to remove anybody. That's not even an issue. I do believe there is an argument to be made that more training and experience is needed before a person is appointed to serve as an election judge."
In talking with commissioners, Phillips said she has attended "countless" training sessions sponsored by the McLennan County elections office, studies the Texas Election Code in her spare time and regularly visits the Secretary of State's website to read updates and changes to election law.
'Very heated'
"Anita Phillips can do the job. We wouldn't have suggested her otherwise," Duty said in an interview after the commissioners' vote Tuesday. "The election in November became very heated. There were a lot of accusations flying both directions. We did our due diligence, took sworn statements from our people and forwarded them to the Secretary of State's Office. As Anita mentioned, at one point, one of the news stations put her car on the news, with the license plate visible. It was a tough two weeks for her, but she held her own."
Chisolm-Miller said Wednesday that she thought reassigning Phillips would serve to unfairly sully her reputation.
"Kathy (Van Wolfe) was comfortable enough to revise her initial recommendation," Chisolm-Miller said. "We didn't want there to be a perception in the community that Anita Phillips did anything wrong. I think these incidents were an outlier, and moving forward we may not see the situations surface again. I think putting Anita back at the Multipurpose Center can be part of the healing."
State election rules stipulate that the respective county party chairs, either Democrat or Republican, have an advisory role in choosing election judges. Voting history comes into play, meaning in the case of the Multipurpose Center, Duty, as Democratic chairwoman, could voice her preferences.
Chisolm-Miller said she sees room for improving the training of election workers, "so they will be able to see things coming before they escalate."
After the meeting, Phillips said remembering basic standards of behavior during election season is critical.
"Everyone, including the candidates, need to learn there is a certain decorum, a certain professionalism and a way to behave," Phillips said. "Your conduct must not disrupt the voting process. It's not about providing more security. It's about understanding that everyone involved in the process should be treated with dignity and respect. We have to learn to treat each other better."