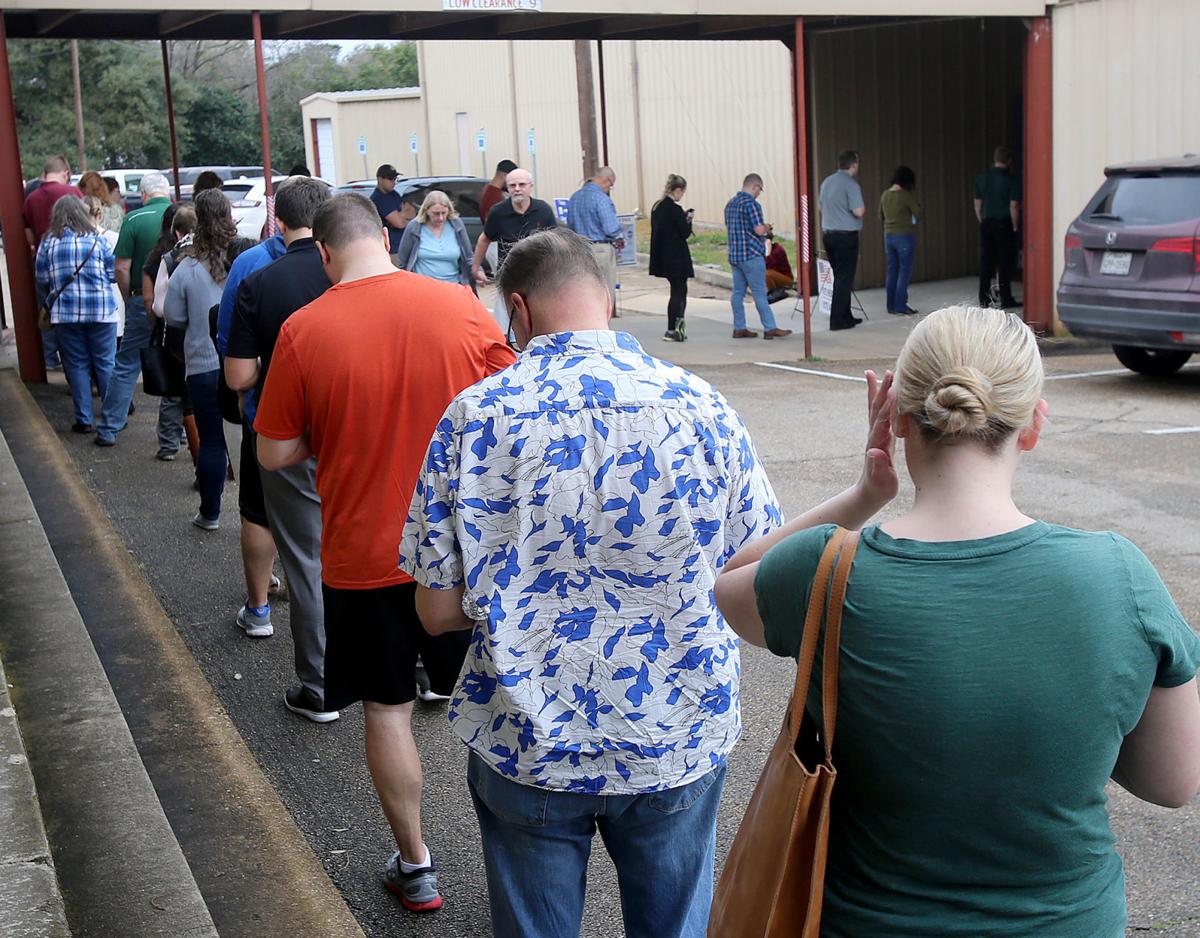 Waco wants to hold its own election on Nov. 3, apart from the choice shaping up between President Donald Trump and presumptive Democratic nominee Joe Biden.
McLennan County elections coordinator Kathy Van Wolfe said Tuesday that Mayor Kyle Deaver approached her about the city's desire to have separate ballots on Election Day — one highlighted by the presidential election, the other featuring city races, including the vote for mayor, as well as contests in the Waco Independent School District and Midway ISD.
Van Wolfe, during a discussion with McLennan County commissioners and an interview with the Tribune-Herald, laid out her concerns about such an arrangement. She said Waco voters might find themselves standing in two lines at the polling places. The additional election workers needed to work separate elections could lead to cramped quarters, not an ideal situation especially if the COVID-19 pandemic remains a health threat.
Too, said Van Wolfe, the city will shoulder the burden of additional costs. She also expressed concern the process would prove confusing to voters.
Commissioners agreed they would welcome a visit by a city representative.
Precinct 2 Commissioner Patricia Miller said she will need a lot of convincing. "I'd like to hear their rationale. I can't fathom the justification for it," said Miller, during the commissioners' live-streamed meeting.
Considering the turmoil associated with COVID-19, which prompted the postponement of elections from May to November, and looming challenges facing those working the hotly contested presidential election, "I don't know why the county has to be saddled with these complications," Miller said.
"We would like a city representative to address the court if they want to move forward," said McLennan County Judge Scott Felton on Tuesday. "Concerns raised by Kathy are significant. I'm not saying they can't be overcome, but I want to know more about it. The May election got canceled, and efforts were made to hold an election before November, but they didn't work out."
Felton said timing is very important, as the county's elections office is preparing for the July 14 runoff, which includes Texas' U.S. House District 17. It must navigate the runoff while taking steps to protect voters and election workers from coronavirus spread, and with the general election looming in November.
Voter turnout in McLennan County
| | 2018 | 2016 | 2014 | 2012 | 2010 | 2008 |
| --- | --- | --- | --- | --- | --- | --- |
| Turnout | 54.20% | 59.08% | 35.11% | 58.82% | 43.90% | 62.11% |
| Total voters | 75,787 | 80,544 | 44,983 | 75.698 | 55,588 | 81,012 |
| Registered | 139,837 | 136,333 | 128,120 | 128,686 | 126,638 | 130,428 |
| Early voting | 50,359 | 55,140 | 20,200 | 42,850 | 29,020 | 49,020 |
| % Early | 66.45% | 68.46% | 44.91% | 56.61% | 52.21% | 60.51% |
Van Wolfe predicted the presidential race will see a huge turnout.
"Normally, school and city elections in May generate a smaller turnout. In the presidential race, we might see 60% turnout," said Van Wolfe, who deferred comment to Waco representatives when asked about the reason given for preferring a separate election and separate ballot. She theorized the lengthy double-sided ballot may have played a role in the city's efforts.
"Some races are way down at the bottom," Van Wolfe said.
Should Waco hold its own election, it will need the county's help. Waco, Waco ISD and Midway ISD would use the county's polling places. They would hire election workers and train them to use the rented equipment.
Those factors could hit the three entities in the pocketbook, Van Wolfe said.
She said $165,000 was spent to hold the November 2016 election that included eight entities and McLennan County. Van Wolfe said no entity paid more than $4,816, as the county covered 85.4% of the costs.
"Voters want things simplified," said Van Wolfe. "In Georgia recently, there were people standing in line three hours. We want to prevent that. What we're seeing with this is the possibility people will have to stand in two lines. Some voters may walk away, not wanting to stand in line again."
Also, said Van Wolfe, the county has gone to a system that allows voters to cast ballots at any polling place within the county. No longer are they assigned polling precincts near their homes. But such an arrangement, said Van Wolfe, means county voters must have access to every ballot.
The county's database, said Van Wolfe, tracks voter history in real time, practically eliminating the possibility a person could vote at multiple locations. She does not know if the city's system would be compatible.
She said she has not spoken with Midway ISD or Waco ISD representatives, but said Deaver indicated they would join Waco on the ballot.
Deaver could not be reached for comment Tuesday. The Waco City Council had meetings scheduled Tuesday afternoon and evening.
In other business Tuesday, commissioners agreed to allocate $1 million in Waco-McLennan County Economic Development Corp. funds to SpaceX, which plans $10 million in infrastructure improvements at its McGregor testing facility that employs about 500 people. SpaceX also plans to create a permanent exhibit at the Mayborn Museum Complex on University Parks Drive, and to secure office space in Waco for top executives.
SpaceX plans to use the money, in part, to install equipment that would muffle noise created by the frequent testing of rockets.
Waco City Council was scheduled to vote on matching that $1 million.
Projects are not funded without approval from both the Waco City Council and the McLennan County Commissioners Court.
Be the first to know
Get local news delivered to your inbox!