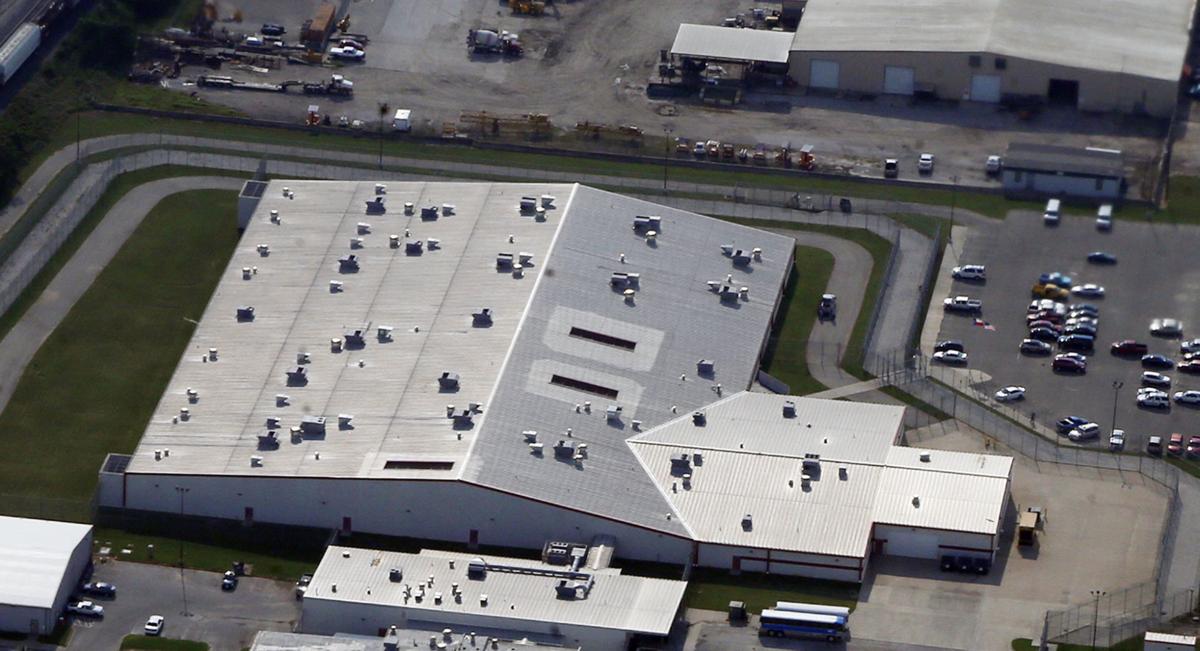 McLennan County will spend more than $850,000 preparing to run the now privately operated Jack Harwell Detention Center, a figure that includes hiring and providing training, uniforms, physicals and drug screening for 96 people to staff the facility on State Highway 6, McLennan County commissioners heard Thursday during presentations on the 2020 county budget.
After the transition, estimates show the county could see a savings running the jail itself, though a sheriff's office official said he expects the county to break even on annual costs.
LaSalle Corrections is scheduled to relinquish control of the jail Oct. 1. The troubled facility in June passed its first inspection by the Texas Commission on Jail Standards since August last year, county officials said. The county built the 1,162-bed jail in 2010 and has hired private for-profit companies to run it since it opened. State jail regulators have cited chronic problems, including failure to follow inmate identification protocol, failure to maintain the 1-to-48 jailer-to-prisoner ratio and inappropriate mental health screenings.
Now the county itself will try to reverse that trend.
Startup costs aside, the sheriff's office estimates running the detention center will cost $10.2 million during the fiscal year beginning Oct. 1. That includes $8.06 million in salaries and benefits for those at the Jack Harwell jail, kitchen and medical facilities. An estimated $2.2 million is proposed to go toward operating expenses and supplies, not counting personnel. That includes almost $657,000 for food services, almost $492,000 for medical services and $601,000 for utilities, according to a preliminary budget summary.
Commissioners continue to schedule hearings to more closely examine the numbers and to hear presentations from staffers and department heads.
The county pays LaSalle Corrections $8.06 million a year to run Jack Harwell Detention Center, according to a budget summary presented Thursday by the auditor's office, which also used requests from the sheriff's office to estimate the county would spend $10.2 million next year. The office also estimated the county would see $4.6 million in revenue from housing federal prisoners at the detention center, creating a $2.45 million savings to the county compared to LaSalle running the jail and receiving the federal revenue.
But Capt. Ricky Armstrong took issue with that projection. He said during the meeting and during an interview afterward that the savings estimate is based on housing an average of 260 federal inmates daily. The federal prisoner count at Jack Harwell runs closer to 170 to 220 daily, Armstrong said.
He said he believes the county will just about break even from a budget standpoint, at least initially.
"I see close to a clean slate. It will not cost us any extra," Armstrong said. "I also think it's a good idea, the county taking over. I believe we will be able to offer more programs to help integrate inmates into the community and not come back. The numbers we talked about today are what we're asking for. It's a preliminary budget, just a starting place. We'll come back next week."
He said the county welcomes interest from LaSalle Corrections employees.
"We have 40 to 50 who have indicated an interest in working for us, and at least 30 are in the background stage," Armstrong said.
The county is working to hire at least 80 jail staffers in the next 30 days, he said.
Of immediate concern to commissioners is the estimated $851,574 transition cost, which is not reflected in the current county budget.
"We know that's going to be a hit," Precinct 4 Commissioner Ben Perry said. "If there are things we could do without or put off until next year or the year after that, I would like to see a discussion about those."
Perry said commissioners might be well served to invite District Attorney Barry Johnson to meet with them and discuss the possible impact of his prosecutorial philosophy on jail occupancy rates.
"I know several commissioners had such a meeting with his predecessor," Perry said, referring to former District Attorney Abel Reyna.
In other budget discussions Thursday, commissioners tentatively agreed to increase the county's annual contribution to the Waco-McLennan County Economic Development Corp. incentive fund from $2.25 million to $2.5 million, contingent on the city of Waco matching the increase.
A proposed $1.4 million capital outlay requested by the sheriff's office would buy several new vehicles, including nine Chevrolet Tahoes, a 15-passenger transport van and three trucks for use by the Jack Harwell facility. Other expenses include buying a drug dog, renovating the evidence room, buying a food warming cabinet and a license-plate recognition system that would include two vehicles and a trailer. The license-plate recognition system would assist in searches for missing people, fugitives and potential terrorists.
Precinct 1 Commissioner Kelly Snell questioned the need for so many new vehicles. He asked the sheriff's office to provide information about the after-hours use of assigned vehicles. He later said in an interview there are events at which the county provides security or a presence, but he does not want county vehicles subjected to wear and tear without reimbursement.