McLennan County took control of the Jack Harwell Detention Center at midnight Tuesday after months of planning and discussion.
"At midnight, we started moving in," McLennan County Sheriff's Office Maj. Ricky Armstrong said. "We will be moving in and setting up offices, repainting and putting in new flooring in the next several weeks still."
The Harwell jail is connected to the McLennan County Jail by a shared kitchen facility and has been operated by private, for-profit companies since the county built it with proceeds from a $49 million bond package issued in 2009. McLennan County commissioners started formally discussing the transition to county operation as early as January of last year, and Harwell's previous operator, LaSalle Corrections, agreed earlier this year to let its $8 million contract expire, effective Tuesday. The county already operated the McLennan County Jail and will continue.
"Considering the job we've undertaken, the men and women out there are doing an exceptional job of handling the transition," Sheriff Parnell McNamara said. "We are going to run a tight ship out there. We are going to run it properly with pride and with the safety of our officers, the public and the inmates."
Armstrong served as administrator of the McLennan County Jail and will now oversee operations at both facilities.
"It's been a long night," Armstrong said Tuesday. "We are getting staff in place, new computers hooked up and there is a lot of this process that still has to go on, but we are going to make sure we run this place right."
The county has hired more than 100 people in the past five months to prepare for the transition, Capt. Mike Garrett said. He served as a lieutenant at the county jail and was promoted to overseeing day-to-day operations at Harwell.
Inmates will still be processed at the county jail, then will be placed in either facility, depending on warrants, mental health needs and other circumstances. Officials have said operating both jails will allow them to offer more mental health services and more programs aimed at reducing recidivism.
The ability of Harwell's private operators to turn a profit hinged largely on the number of federal inmates housed there, and county officials have said the facility will continue to house federal inmates.
As of Tuesday, the Harwell jail and the county jail housed a total of 1,396 inmates, including 202 federal inmates at Harwell.
A sheriff's office analysis presented to commissioners in September last year showed the county could save more than $1 million in annual operating costs by running Harwell itself. Armstrong said he still expects the county to save money once one-time transition costs are absorbed.
"I absolutely think we can save the county money," Armstrong said. "We have to get our routine down with the inmates and obviously we do things a little different than the previous operator with different philosophies on how to run a jail, but once we get our routine and teach the inmates our routine, things will smooth out."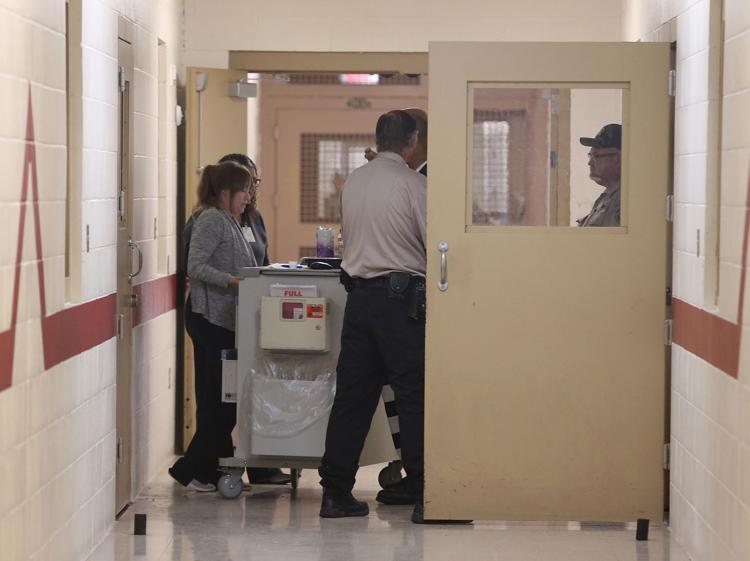 Jailers Curtis Busby, Sammy Cortasie, and Brooke Wolske checked on inmates late Tuesday morning, walking down dormitory-style halls of Harwell. While the county jail is set up with pods for inmates with a jailers overseeing activities in a more centralized location, Harwell jails will do inmate checks at least every 45 minutes by walking up and down hallways.
Busby, who worked at the county jail before transitioning to Harwell, said in his 18 years of experience, the transition will be something everyone has to get used to. Cortasie, a former state prison employee who recently began with the county said the set up is more like a state prison.
"It's been kind of hectic," Busby said. "We'll be used to it by the end of the day."
"But protection is protection," Cortasie added.