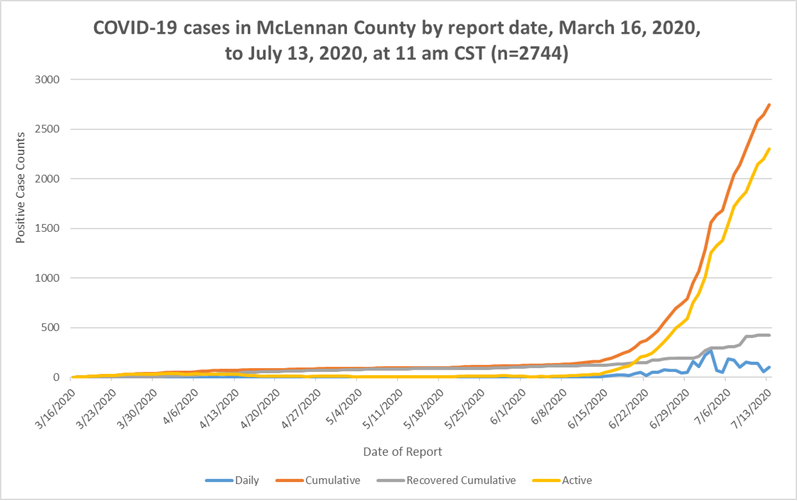 Editor's note: Based on information provided by the Waco-McLennan County Public Health District, a previous version of this story reported two local deaths Monday. One of those fatalities was not a McLennan County resident, so the total has been corrected to 18.
---
McLennan County's growing COVID-19 case count is straining daily reporting, officials said Monday as the county added 101 new reported cases and two more deaths attributed to the outbreak.
The Waco-McLennan County Public Health District also revised this past weekend's case numbers after acknowledging communication and reporting issues among local healthcare providers that underreported total numbers.
The district announced that 144 people tested positive as of Saturday, followed by 57 on Sunday.
The death toll now stands at 18, following the death of a 42-year-old Black woman Sunday and a 73-year-old white man on Monday.
Mayor Kyle Deaver said the delayed reporting was a result of a software update at one hospital and miscommunication with the other.
"We've got that corrected and I've been assured that won't happen again," Deaver said.
"Having the cases go as high as they have after being so low for so long has caused us some reporting issues and some messaging issues that are unfortunate, because we want to be as accurate as we can possibly be," Waco Mayor Kyle Deaver said. "The health district wants that, the city wants that, I certainly want that. We're just working through some human issues right now."
Testing numbers and the county's positivity rate were not available of Monday. Sunday's report showed that 25,184 people had been tested over the course of the pandemic.
City of Waco spokesman Larry Holze said reporting from local healthcare providers has been consistently sluggish over weekends.
Meanwhile, Texas Juvenile Justice Department reported Monday that 29 juveniles and three more staff members tested positive for the virus at the McLennan County State Juvenile Correctional Facility. In all, 31 juveniles and eight staff members have tested positive.
Monday's numbers show that 2,299 of the county's 2,744 cumulative cases were still active. Of 64 COVID-19 patients hospitalized in the county, 10 were on ventilators, according to the health district.
Figures were not available Monday for how many people are being monitored for COVID-19 in McLennan County, a number that the health district formerly reported daily.
Texas Department of State Health Services is now assuming all contact tracing duties for McLennan County, including those who have tested positive and those who have had direct contact with them, said DSHS spokesman Chris Van Deusen.
After a record-breaking weekend for infections statewide, 5,655 more people tested positive in Texas on Monday, bringing the total number of active cases to 264,313. Forty-three more people died, bringing the number of deaths to 3,235.
On May 11, Governor Greg Abbott ordered the Texas Health and Human Services Commission, the Texas Division of Emergency Management and the Texas Department of State Health Services to test every nursing home patient and employee in the state. Since then, the Waco-McLennan County Public Health District reported 13 nursing homes in the county have had either patients or employees test positive for COVID-19.
Kelly Craine, spokesperson for the district, said more information on the nursing homes will be available at the city and county's weekly joint press conference, slated for Wednesday afternoon.
Dr. Ben Wilson, an associate chief medical officer for the Family Health Center, said nursing facilities should keep residents separated as much as possible to protect against spreading the virus, and testing in a timely manner is key.
"All the typical precautions a staff can take about hand hygiene, changing gloves between patients, staff wearing masks, if possible nursing home patients wearing masks," Wilson said. "Certainly, things can be done."
According to data.cms.gov, a website maintained by the Centers for Medicare and Medicaid Services, several McLennan County facilities had reported confirmed or suspected cases as of June 28. The information has not been updated since.
As of June 28, Wesley Woods Health and Rehabilitation had reported two confirmed cases, The Brazos of Waco reported three, Regent Care Center of Woodway reported one and St. Catherine Center reported 11 suspected cases, but no confirmed cases.
Wilson said it's not unusual for test results to be delayed by several days, something that's been an issue for health care providers throughout the state.
Concerned about COVID-19?
Sign up now to get the most recent coronavirus headlines and other important local and national news sent to your email inbox daily.